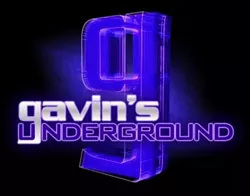 As the podcast community grows, so do the tastes of local listeners, which has started to influence the content of new shows hitting the digital airwaves. --- One of the more prominent shows from 2011 that's been talked about a lot has been The Cultural Hall. Taking its name from the multipurpose room and gym found in most churches, the show interviews members of entertainment as well as high-profile Mormons about their faith and lives, plus LD- related news of interest from the show's group of personalities.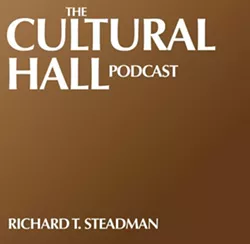 Today, we're chatting with founder and primary host Richie T. Steadman about starting the show and early episodes, expanding both on the Website and in content, thoughts on podcasting today and a few other topics along the way.
Richie T. Steadman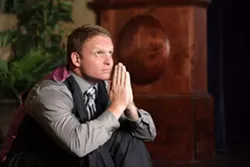 Gavin: Hey, Richie. Just to catch up, how have you been since the comedy fest?
Richie: I couldn't be more fantastic! Normally, when I hear people say that, I want to punch that person in the face, but since it is me I don't really have a problem with it. The Salt Lake Comedy Festival 2.0 is set for May 31-June 2, and we have added a Comedy Short-Film Competition this year in conjunction with the Salt Lake Film Society.
Gavin: Getting right to it, how did the idea come about to start your own podcast?
Richie: Kerry Jackson -- from Radio From Hell) -- started The Geek Show Podcast, I think, like, four years ago. At the time, I thought, "Hey, I wanna do a podcast! What do I know a lot about? Mormonism." So the idea really just came from copying someone else's idea and putting my own Richie T-wist on it.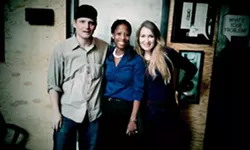 Gavin: How did you and Lauren first meet each other and become friends? And what made you decide to work together on the show when you first started it?
Richie: Lauren and I actually met at a party back at "The Stud Stable," a nickname for an old house where I lived. We met over a bowl of mint-chocolate-chip ice cream. A couple of friends of mine were trying to set us up, and when we finally met we hit it off pretty well. There were a couple of things that made me want to work with Lauren. First, she was willing to do it. There was no promise of money coming in or that would we would ever get anything out of it except the joy of just doing a podcast -- so I would say her commitment. Second, she was very well connected, she knew a lot of people and knew how to talk to people. And third, she had studied reporting at the University of Utah, and I liked that she could bring "newsworthiness and authority" to my "jockularity and irreverence."
Gavin: How was it for you figuring out the show's format and how you'd record it?
Richie: Well, when we decided we wanted to do the podcast, we didn't know what format we would do, we just knew that we wanted to do it. It has evolved from being just one big, long podcast into two bi-weekly podcasts -- each are separated into three blocks, like a Latter Day Saint Sunday meeting would be, and those breaks allow us opportunities to play messages from sponsors. But we never set out to do it that way, we just felt our way along the path. Who knows if we will keep how we are doing it right now?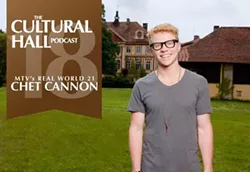 Gavin: How did you go about deciding which guests to bring in and what topics to cover? And what made you decide on Kirby Heyborne as the show's first guest?
Richie: Honestly, it is just my gut. I try to keep an eye on the news or what people are talking about and bring in guests and cover topics of what is in the news and on the street. I want The Cultural Hall to be current. I knew Heyborne would be good. I knew he would be funny. And he is someone who has a little controversy around him but has been strong in the church.
Gavin: How was it for you after the first recording, and what made you decide to continue afterward?
Richie: After the first recording, I remember saying, "Well, that was fun. I wanna do this and get paid for this." It felt good to be doing my own project and having a platform to share what I have to say.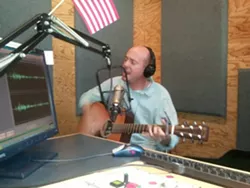 Gavin: Considering the content and topics of the show, was there any hesitation on your part on what to cover for fear that it may alienate some listening audiences that don't get Mormon culture, or did you view it more as a necessity to have that in there to educate?
Richie: It is a necessity to cover ALL aspects of Mormon culture; a view from the inside looking out, but also important to me was the outside looking in. Semi-active, less active, fully active, excommunicated, gay, jack-Mormon -- ALL are welcome inside The Cultural Hall.
Gavin: What eventually led to Lauren departing the show, and what made you decide to bring in additional co-hosts?
Richie: Lauren eventually left the show because we had differing opinions on the future of The Cultural Hall. I wanted it to be a community of thought where several minds and voices added input as hosts. She did not. Along those same lines, I felt that additional co-hosts could tell different stories of faith, making The Cultural Hall a more encompassing arena.
Gavin: You've also incorporated news episodes, as well as the Molly Mormon blogger. How did those decisions come about to expand the content on both the show and Website?
Richie: People wanted more of what we were doing. It seemed a natural fit to do a once-a-week segment of news about Mormons, so it just naturally came to be. As for the Molly Mormon blogger and Catie (another additional blogger), these people were added into "the hall" to just add another voice. I want The Cultural Hall to be exactly what it was intended for within the Church of Jesus Christ of Latter-day Saints, which is: "A place for members and non-members to be able to fellowship and discuss life and various aspects of the gospel."
Gavin: How has it worked out for you switching out between hosts and balancing out the conversation between those taking part and guests invited on the show?
Richie: I love it. I am lucky enough to be in every episode, and I love to talk to about the gospel -- which I love -- with really good friends of mine. I feel like with every episode there is better chemistry and we truly make a better product week in and week out.
Gavin: You've had both high-profile guests such as Jim Gaffigan and more hometown guests such as Mia B. Love. What's the reception been like to the guests in general, and how is it for you having that kind of mix of people to discuss Utah and LDS topics?
Richie: People love the guests. People love hearing their stories, where they come from and how they view life. I think LDS people take a little extra bit of pride in who is among their own -- did I mention Mitt Romney is a Mormon and running for president?! As for the mix of backgrounds, etc., I couldn't be more pleased. I like to always keep people guessing as to who we might have next on The Cultural Hall.
Gavin: Just out of curiosity, have you heard anything from higher LDS officials or representatives about the show and what they think of it, or is it just something they don't pay attention to?
Richie: As to this point, we have not had any sort of response from LDS officials or reps ... BUT, the Bishop of my ward LOVES IT!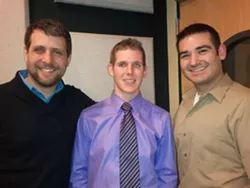 Gavin: How much of the show do you plan in advance, and how much ends up being spur-of-the-moment?
Richie: It's completely organic. Every episode, all we know going into it is who is going to be on. We don't discuss what we will or won't talk about, we just go for it and enjoy the ride.
Gavin: Do you prefer the open-mic conversation style of the show, or do you wish it were more of an edited and heavily produced format?
Richie: Open mic is how I was raised in radio, and it is the only way for me to not make it feel like I am forcing a view on the audience or trying to make them feel a specific feeling. Sometimes, I feel like it should be a little more produced, but then I recognize if it was more produced, I would have to be the one that was producing it, so I don't feel so bad.
Gavin: Being relatively new, what's the overall response been like from both casual fans as well as faithful listeners?
Richie: People love it. I have heard more from less-active or non-members of the church than from those within. People love that it is still faith-promoting and has a positive tone.
Gavin: Are there any plans to expand the show or add additional elements, or are you sticking to the format you have now?
Richie: We are constantly looking for ways to improve. Currently, we are discussing the idea of a "Daily Devotional," which would be a shortened "Articles Of News" but on a daily basis. Also, we are looking to expand onto radio stations in the Intermountain West.
Gavin: Going more local, what are your thoughts on the podcasts coming out of Utah these days, both good and bad?
Richie: Some are great, some are terrible. Interesting people and subjects make for interesting audio. Too many people think they are interesting when they, in fact, are not.
Gavin: Is there anything you believe could be done to make these shows more prominent?
Richie: As people learn more and more about podcasts, prominence will follow. Also, all of the "amateurs" will have come and gone, leaving the strong to survive.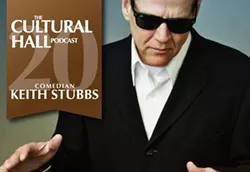 Gavin: Do you have any favorite local shows you listen to and recommend?
Richie: Radio From Hell; Geek Show Podcast; SLUG Magazine has a great one called Soundwaves From The Underground; and The Let's Go Eat Show.
Gavin: Being a radio guy, where do you see the medium going both locally and nationally over the next few years?
Richie: I think that radio and podcasts will consolidate, the good will make it through and the weak will be sifted like wheat from the tares.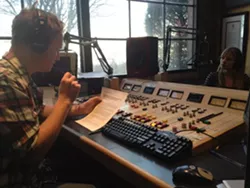 Gavin: What can we expect from you and the show over the rest of the year?
Richie: We are working on a pornography episode, a blacks-and-the-priesthood episode, a nonmember in Utah episode, and more great guests, including some follow-up with some of our favorites like Jenna Kim Jones, Mitch Mayne, etc.
Gavin: Aside from the obvious, is there anything you'd like to promote or plug?
Richie: SaltLakeComedyFestival.com, and keep your eye out for BYUssical the Musical, a show I am writing.



| | | | |
| --- | --- | --- | --- |
| Follow Gavin's Underground: | | | |