Christine Fedor has had a hand in jewelry making for years, making works behind the scenes for family and friends while she pursued her career as a photographer. --- But a conversation with a customer over steampunk roughly four years ago gave Fedor the inspiration to create her own line of jewelry based around the sub-genre. Today, her works, under the name of Punkenstein Jewelry, are some of the most sought-after creations in the local craft scene, making her booth a must-visit during the downtown Farmers Market and other craft festivals around town.
Today in the blog we're chatting with Fedor herself about her art career, getting into jewelry making and the success of Punkenstein, her thoughts on local arts and crafts and a few other topics -- all with photographs of her work for you to look at throughout.
Christine Fedor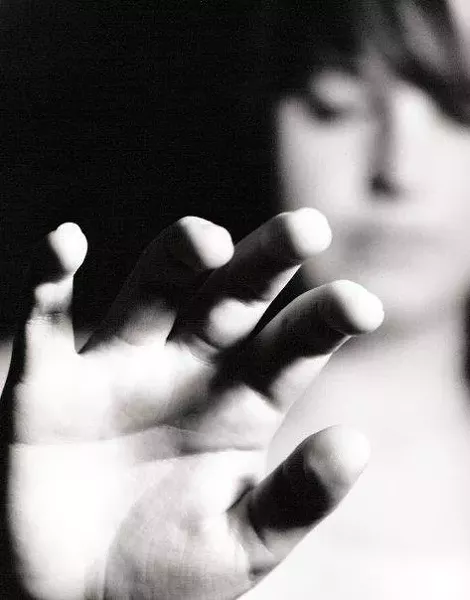 Gavin: Hey, Christine. First off, tell us a little bit about yourself.
Christine: Hi, Gavin. Well, my name is Christine Fedor. I am a mom to two incredible kids -- a daughter who is 21, and a son who is 3 and keeps me on my toes. Recently, I gave up my 12-year teaching job to work at home as an artist and a "picker." I make jewelry under the name Punkenstein Jewelry and I buy and sell vintage clothing.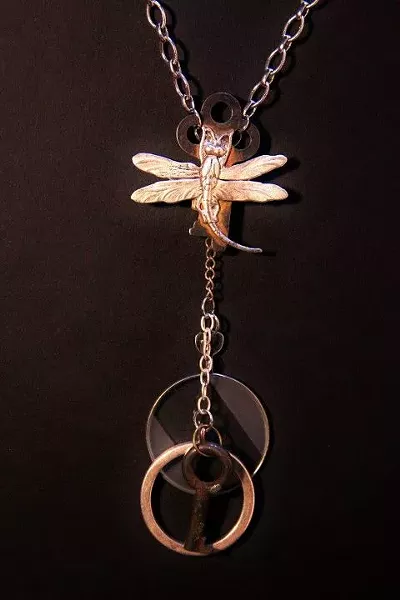 Gavin: When did you first take an interest in art, specifically with craft works and jewelry, and what were some early influences on you?
Christine: I have an art degree from the U of U in painting and drawing and also art teaching. I have always been involved in art one way or another. I have to create – it's part of me. In the '80s, I was an art nerd and spent most of my high school life in the art room. My high school art teacher, Connie Borup, was the first greatest influence. I hooked up with Dolores Chase's endeavor back in the '90s when the Left Bank Art Gallery Co-Op first started up and I was a student at the U. I think much of what I am utilizing today comes from that time period – I still hear my 3-D sculpture teacher whispering in my ear, "aAways work with integrity in the materials you use -- question and reason every material choice you make." Before jewelry and after graduation, I took the 2-D route and worked mostly in traditional photography. The first time I did the Utah Arts Festival was in the medium of photography. I worked specifically in photo up to the point I had a solo show at Finch Lane. The medium of photography is also where I was teaching for the past 12 years. So why jewelry now? I had always worked in the traditional aspects of photography, and it has been difficult to hold on to that with the overwhelming progression of digital processes – I haven't really moved on from photography and into a new medium – I am just keeping photography for me on a more personal level of self-expression and far away from the sustenance of trying to make ends meet. The medium of jewelry came later, about four years ago, when I realized I loved design, and really, jewelry could be considered sculptural art. AND, maybe more importantly, jewelry sold so much better in this community than silver-gelatin prints did.
Gavin: Aside from the U, did you take any educational courses or classes in art prior to your business, or are you more self-taught?
Christine: Art school provided most of what I use today – no matter what degree you seek for a BFA, you still need to take some 3-D and design classes. I learned a little about welding and using a blow torch during that time so I definitely have drawn on that within my jewelry. As I look back on it now, much of what my interests were at that time and who I studied -- Joseph Cornell was my hero -- really spill over into my jewelry.
Gavin: What influenced you to start creating jewelry works and how was it for you first creating pieces?
Christine: I was doing the Downtown Farmers Market and selling my black-and-white silver-gelatin prints for extra side cash. It was about the time digital was hitting it big and everyone and their dad was heading to Costco to pick up the newest Nikon SLR and becoming a "professional" wedding photographer. Traditional photography was a hard sell to average folks who did not understand the cost of a print that was hand-printed in the darkroom. I loved it way too much to start hating it, if that makes sense. I had been making jewelry for my friends and family for as long as I can remember so switching my hobbies straight across the board was an easy call. The following season of the market, I applied and was accepted for the jewelry category. As far as that goes, I just did what I had always done -- taking things that I had collected and putting them back together. I had no idea that what I was doing at the time was an actual genre.
Gavin: Where did the idea come from to start creating pieces in the steampunk style, and where did the name Punkenstein Jewelry come from?
Christine: At the market, about four years ago and before the name "Punkenstein" came about, a customer told me about "steampunk." After the market that day, I went home and looked it up on the computer. Pretty much the ideas that I was working with were absolutely in line with that genre. I decided to take hold and run with it. Punkenstein comes from the idea of Frankenstein – taking something apart and putting it back together. I added "Punk" because I thought what I was doing at the time as edgy and raw.
Gavin: Knowing the kind of materials you use, how do you go about finding some of these objects you work with?
Christine: I find them everywhere! But mostly from junk lot auction sales and thrift stores.
Gavin: What's the process like for you in deciding what to create, from the initial concept to the final design?
Christine: Nothing is realized beforehand. I have no idea what is going to happen when I get the pieces that I use to work with. What I do is pick a selection, usually by just sticking my hand into a random bag, and put everything out on the table in front of me. Almost immediately, relationships seem to start to form between the objects. A piece comes together on its own within this process. I am always amazed at what happens at the end and even sometimes wonder how it got there.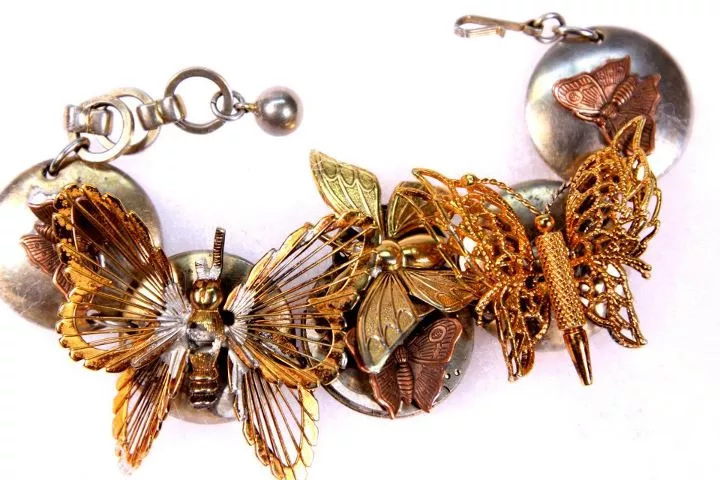 Gavin: Do you usually have an idea of what you want to work with and how you want it to look, or do you leave room open as your creating to change up the design?
Christine: Anything metal and anything old will work in my designs. I like to use old, broken jewelry that might never make it past a junk drawer or the garbage can. It's a satisfying feeling that you can make something useable out of what others might call garbage.
Gavin: Considering the genre, what do you do with your pieces to keep them original and stand out from others?
Christine: If you visit Etsy, you see so much of the same thing. When I first started out four years ago, I think much of my work looks like what you see on Etsy. I hope I have evolved. I really try to heed the words from my sculpture teacher – I really try to work with integrity in the materials I use. I use only vintage or used items. I only use solder and flame as a means of assemblage. As far as the insect and animal embellishments I use to enhance the piece, I wish I could pour from my own antique molds but, unfortunately, to find an early Victorian mold for sale is nearly impossible. I don't think many people realize that only one company holds the rights and pours from most of the Victorian brass findings that you see on Etsy and in most steampunk jewelry. Because of the nature and the process of my jewelry, because all the materials are taken and re-pieced from antique pieces, every piece is completely unique. I do not and really cannot make any two of the same thing.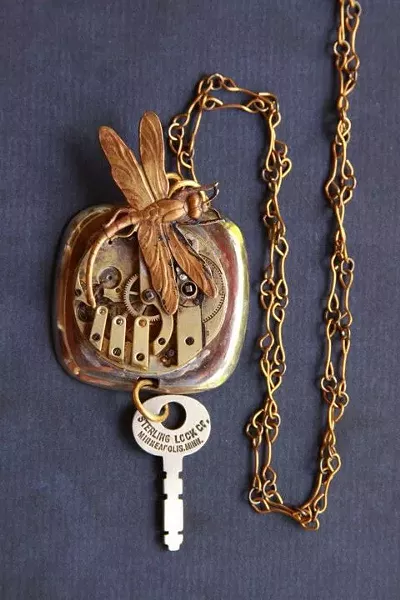 Gavin: What was it like for you when you first started up the business and breaking out into the local craft scene?
Christine: As a jewelry maker, Salt Lake really embraced my work. The Downtown Farmers Market was the springboard that allowed me to be seen every week and really get involved in the venues I am currently working out of.
Gavin: Early on, you got to be a part of events like Craft Lake City. How is it being a part of those craft festivals and having your artwork seen by hundreds of people in a day?
Christine: Craft Lake City was an awesome venue, and Angela Brown rocks for creating and organizing it! Again, the Downtown Farmers Market really helped shape my work and what it has evolved into. I gained a good customer base and loved being a part of the vibrant Saturday morning crowd every week. I was in the Utah Arts Festival this past year and that was AMAZING!!! It opened up a lot of doors and I had some pretty big publicity. I now have my work at 873 Gallery in Kayenta, down in Ivins, based on the connections I met at the festival. And it also has encouraged me to apply to other art festivals around the West.
Gavin: You've made an effort to do various pieces, not just sticking to necklaces or rings but expanding to pendants and wristbands, among other works. What made you decide to do various accessories rather than focus on a single kind of item?
Christine: I try to use everything I get from the lots I acquire. I think many of the materials just lend themselves into being things other than necklaces or pendants. Really, the materials shape the piece and I just try to sit back and let it happen.
Gavin: You've also been featured at galleries like Alpine Art and Poor Yorick Studios, and also won awards for your jewelry. How is it for you both as an artist and a jeweler to be featured in the public eye like that?
Christine: Sadly, I am no longer at Poor Yorick – I moved my studio to my home because it is more in line with a 3 year-old's environment. I have a few pieces at Alpine Art. I just recently signed a contract with 873 Gallery so most of my work is there. I applied to the Utah Arts Festival and several other festivals for the summer months -- we will have to see what happens with getting in to those shows. As far as the public eye, I am a pretty shy person and this last year has really helped me get out of my shell. Artists are funny people – most of us like holing up in our studios and working in isolated fashion. However, there is the other part – the selling and marketing part that no one really tells you about. Unless you have an agent, you are on your own to promote and sell your work. At first, I was really anxious about this. But I have grown to love it! I love the connections I feel when I talk with people who are interested in my work. It's kind of cool that you can actually pair a face and personality with someone who will be wearing something you have spent so much time putting together.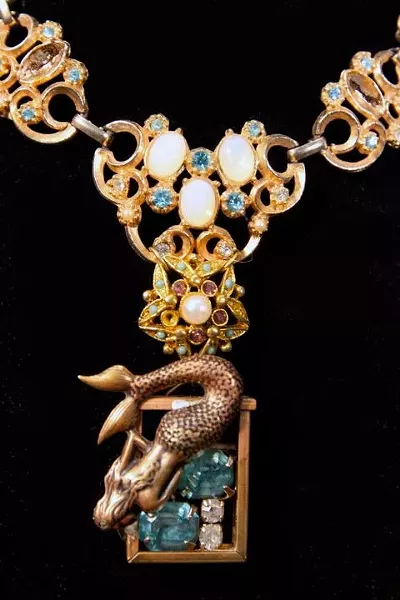 Gavin: Are there any plans in the works to expand your business or add new items to the catalog, or are you sticking to what works for now?
Christine: I am pretty happy with where I am now. I am hoping to do three or four big shows a year and continue with galleries. But I do hope my work keeps evolving and getting more intricate and bolder.
Gavin: Going local, what are your thoughts on the Utah art scene, both good and bad?
Christine: For a city that is plagued by stereotypes, I think our art scene is amazing! As far as the opportunities for seeing art – so impressive – the new Utah Museum of Contemporary Art and the completion of The Leonardo has filled in some critical needs in the Salt Lake art scene. For the artist, we have great grant opportunities, and for those motivated to look, many opportunities to display work. The new Locals Only Gallery is a fantastic addition to the bill.
Gavin: Is there anything you believe could be done to make things more prominent?
Christine: You guys at City Weekly, the folks at SLUG, KRCL all really help getting the word out on the scene. However, if anyone wants to donate a warehouse or two, we could use a few more affordable art co-op studios/galleries.
Gavin: Who are some artists and crafters you believe people should be checking out?
Christine: I am sure it's been said before – I love Dave Borba's work. John Erickson, Lori Nelson, Lenka Konapasek. Also, Trent Call, Sri Whipple, Leia Bell, Trent Alvey … man, I can go on and on.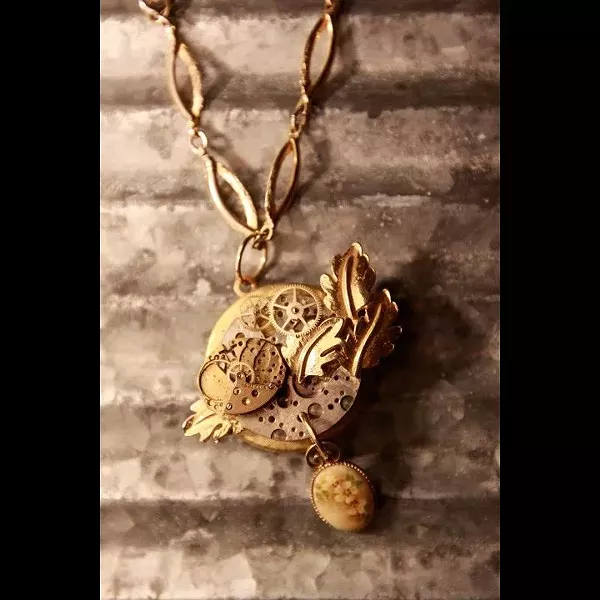 Gavin: As mentioned before, you've been a part of craft festivals and monthly exhibitions. What do you think of them as a whole and the work they do to promote the scene and artists?
Christine: Wow – we have so many awesome supporters and organizers in our community when it comes to craft ,and I think the intentions of the organizers are very good. I think these events are most successful when careful attention is paid to balancing quality and quantity. Monthly exhibits? Very few communities can compete with Salt Lake Gallery Stroll -- the best third Friday of the month!
Gavin: What can we expect from both yourself and Punkenstein over the rest of the year?
Christine: I'll be a very busy girl and I'll be around – hopefully, I'll see you at the Utah Arts Festival -- fingers crossed. If you need anything before the summer, you can get hold of me via my website, or if you are down in the St. George area, stop by Kayenta and drop into 873 Gallery to see my new work!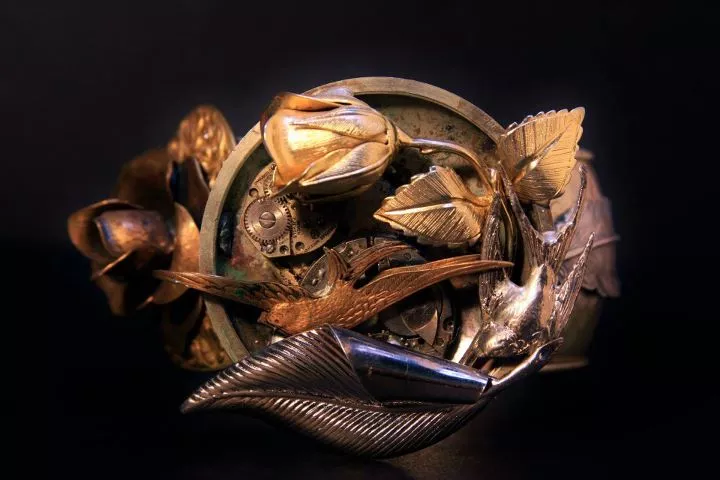 Gavin: Aside from the obvious, is there anything you'd like to promote or plug?
Christine: Poor Yorick is having one of their famous Open Studios in March for Spring Equinox. I'll be sitting on the beach in Mexico but you all should go check it out!



| | | | |
| --- | --- | --- | --- |
| Follow Gavin's Underground: | | | |