Last Christmas, my sister-in-law was kind enough to present me with a Sears gift card. ---
Now, I was grateful for the gift card -- it gave me the chance to replenish my stock of underwear, which had become a bit threadworn. (To tell the truth, I rarely ever shop for intimates, and more than one of those pairs of shorts in my top drawer was on its last gasp, desperately clinging to its elastic waistband like a Swedish explorer without a safety harness grasping at the edge of a glacial crevasse.)
It's not that I'm slovenly -- it's just that, normally, I favor flannel boxers. Unfortunately, flannel boxers seem to have gone out with the 1990s, and the only place that stocks them anymore is Wal-Mart, which I refuse to patronize. So really, we can attribute the shocking state of my unmentionables not to laziness, but to high-minded political principles. Right? Right?! Sure we can!

As it turned out, a few days after Christmas we heard the news that Sears would be closing down several of its retail stores, including some in Utah. So, wasting no time, I decided to redeem that gift card right away on the Sears.com website. Naturally, there were no flannel boxers there (sigh).
But, as it turned out, the Structure Men's Stretch Boxer Brief 2-Pack in red and charcoal seemed like an attractive option. Stretchy, stylish, lots of support down there where you most need it. So, OK, I went out on a limb and decided to purchase them. No, they weren't the comfy flannels to which I had become accustomed. It was a risk. But sometimes change can be good.

Unfortunately, no matter how assiduously I answered all the questions in the online form, I couldn't get the order to submit properly. I was forced to enlist the assistance of a helpful online chat agent, presumably from Bangalore or somewhere, to help me complete my transaction. "Red and charcoal, please!" I reminded her. "Certainly, sir! May I assist you in any other way?" she offered most accommodatingly. I couldn't think of anything -- and anyway I was embarrassed that I had to ask a strange foreign woman to help me buy underwear -- so I apologized profusely, closed the chat session and began waiting expectantly for the imminent arrival of my Structure Men's Stretch Boxer Brief 2-Pack in red and charcoal.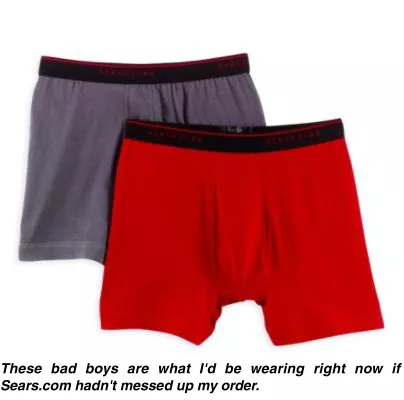 I logged in to UPS.com each day to trace my underwear's travel itinerary, but that online feature didn't work any better than Sears.com's online order form -- every attempt resulted in an error message stating, "The number you entered is not a valid tracking number." In fact, it seemed like UPS had never even heard about my underwear, and I despaired of ever receiving them, until six days later, when a van blithely dropped off a package at my door and suddenly the website tracking page came alive, updating its status to "Left At: Porch."
It was an exciting day. I didn't run immediately upstairs to rip into the package, but left it sitting on my dresser for a few hours, so as to draw out the delicious sense of anticipation. Finally, the moment came: I dimmed the lights, put some easy-listening music on the hi-fi, sat down quietly with a glass of wine, and slowly, delicately, tore open one edge of the manila envelope.
I reached into the envelope (which the sender had lined thoughtfully with bubble wrap, to avoid bruising the stretchy undershorts contained therein) and drew out my prize: a Structure Men's Stretch Boxer Brief 2-Pack in navy and tan.
Wait -- navy and tan? I was livid. Where was my red? Where was my charcoal? Navy and tan, for Pete's sake? What do they think I am? A Republican?
The Sears customer service department wasn't particularly helpful. They offered to send me a return slip so that I could ship back my new underwear, wait for it to be received, and then finally wait for the correct order to be shipped back. But, by that time, my favorite pair of flannel boxers had finally disintegrated completely, so I really had no choice in the matter. I told them I was merely calling to register my dissatisfaction, and let it go at that. They were sincerely sorry.
Recently, Sears.com sent me a list of items recommended based on my past purchases. Apparently, they think the Southpole Men's Plaid Bomber Hat (pictured at top) would look good on me. And who knows? Maybe they're correct -- at $18, you can't go wrong.
Still, it makes me wonder what it is about my ordering the Structure Men's Stretch Boxer Brief 2-Pack that makes their computer algorithm decide that I wear flappy hats. I've never worn them before. Must have something to do with the things other customers have ordered in the past.
So, next time I see some guy on the street wearing a plaid bomber hat, I'll wink -- chances are we'll be wearing the same underwear.