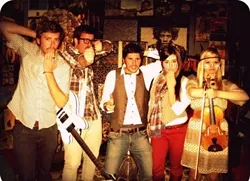 We've got a little something of everything as we enter a weekend of release shows and traditional Tuesday pushes. --- We're gonna start with a few things that went under the radar the past few weeks, and the first on our list is the debut EP from Atlas Shrugged. Taking their name from the Ayn Rand novel, the progressive-metal rockers started out in 2010 playing around town, but suffered from one of the biggest of band killers: lineup changes. It took the group nearly two years to get a lineup stable enough to put together The String Theory EP, which hit Bandcamp a few weeks ago for a "name your price" tag, and as we speak, the group are looking for a new bassist to complete the six-piece ensemble. If you're a bassist looking for a band of this style, here's your chance.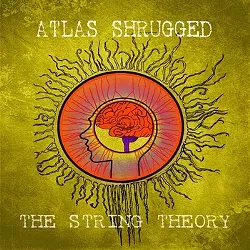 Next up is the debut EP from Volt 44, the solo 8-bit project from musician/programmer Christopher Voss. Voss' work looks to still be in developmental stages, as seen by his late 2011 single "Where Is My 8bit Mind," where he pays loving tribute to the highly overplayed Pixies number. A couple of weeks ago, he released the five-track EP titled Connect on his Bandcamp page for free; if you're into the genre, it's worth at least a listen.
Moving onto a bit of country and folk, we have the debut release from Brady Parks & The IndiAnns. The five-piece group from Provo have had some mild success at venue shows, specifically Velour, where they've claimed a good chunk of the BYU country/folk and easy-listening audience. The band (seen above) play off the three man/two women combination of harmonies, along with a sweet arrangement of bells, keys, banjo and viola arrangements. The group released their debut full-length album, The Mossy Mountain, near the end of February for a decent $10. This album has some pretty good tracks; it's worth a purchase if you like anything folk. You can purchase the digital copy off their Bandcamp page, but you'll need to find them in person for a physical copy.
Getting to the release shows, tomorrow night, we'll see the latest album from reggae group
Afro Omega
-- one of the longest-running groups in our scene at the moment. The last time we saw an album from the band was clear back in 2008 with their first full-length,
Love Emergency
. That release received tons of praise from local media and lots of airplay on KRCL at the time. Since then, the group have seen a lot of changes in their backing lineup, not to mention working on various other projects on the side with random performances when they could. But the group are back with a new set recorded over the better part of 2011, compiled into their second full-length album,
Move Like Light
. You can snag a brand-new copy this Saturday at The State Room, as the band play a full show for their release party, with
DJ Dubwise Selecta
kicking off the evening. Tickets are $10 in advance (no word as to the door price); first 100 to purchase will get a free CD. Doors open at 9 p.m.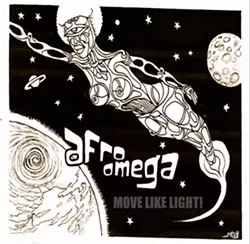 While we're at The State Room, the following night will see the album release from folk musician Josh Rosenthal. In researching Rosenthal, I discovered he had something that few musicians in SLC have -- his own Wikipedia page. As a rule of thumb, I don't take Wikipedia as a credible source for local music; if you choose to do so, that's totally your call and you can browse the page yourself. The true facts we can confirm is that Rosenthal has had a pretty extensive career in SLC since transplanting himself from Texas, releasing a total of six EPs between '06-'09, with his only full-length release Renaissance in late 2008, and no activity since his last EP, Even The Strongest Hero, dropped in the fall of 2009. We're not really sure what Rosenthal was up to, other than growing a beard, but he returns in 2012 with a glorious second full-length album titled All We Can Do. From the few tracks that have leaked online (including one that boasts Mickey Raphael, Willie Nelson's harp man), the album sounds very pop-folk, maybe a little too pop for the folk, as the track "Long Enough" comes complete with electronic drums. If you were into his previous work, you might be into the newer material. You can see him Sunday night for his album-release show along with Seafinch and Owen Monroy; tickets are $15, doors open at 9 p.m.
This coming Tuesday, we'll see two releases in the traditional release-schedule format, including the first from the duo that remains of Uncle Scam. We chatted about the band earlier this year with their first release since their last full-length album, but since that time, they've been releasing a new single almost every week on YouTube. Now they've taken all those songs and put them together in what will be the band's third full-length release, Fly Free. You can purchase the whole album on March 13 via their website.
The other album to follow the same pattern is the official debut album from "gut rock" band Dwellers. If you'd like to read more, somebody scooped me and wrote the band up in this week's issue of City Weekly, talking about the group's history and tour as they make their way across the country before arriving at SXSW next week. In the meantime, you can check out their new album, Good Morning Harakiri, which clocks in at nearly 40 minutes with just six tracks. The album comes out on Small Stone Records this Tuesday for $13, or you can download it right now off iTunes for $12.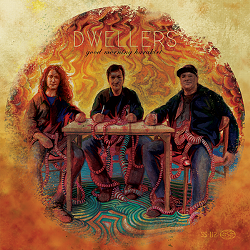 Head out, love music, buy local!