I don't have any tattoos. It's not that I'm against ink jobs, it's just that I don't like anything enough to get it drawn on my body. Plus, I don't care when people show me their tattoos or tell me the history of their tattoos. "Oh you got a tattoo! Sweet. Grand. Wonderful." ---But, I've always told myself if I ever get inked it's gotta be the greatest piece of art in the history of art, and most importantly, I need to like if for more than five minutes. This has been a huge problem, because so far the only unwavering things that I've enjoyed my entire life are Batman and light sabers.
So last Sunday, I stopped by the International Tattoo convention at the Salt Palace to browse and maybe get inspired. The convo had over 100 vendors from all over the world and it was basically like a tattoo shopping mall. Visitors could walk around, check out art and then pick and choose between vendors for the prefect ink job. To say the last, it was a little intimidating.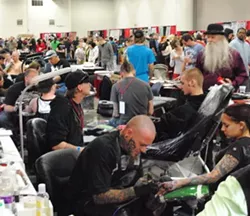 After exploring for about an hour, I was beginning to feel overwhelmed. So naturally, I decided to go crush a few cold ones at the beer stand. One might think this is a bad idea, you know, combining beer and tattoos. But I've actually made some of my best decisions with the helpful assistance of beer (mixing ketchup with potato chips, learning how to snowboard and telling my ex to go goose herself).
So there I was, roaming the halls of the International Tattoo Convention, half-cocked on Bud Light Platinum and looking to get inked. In retrospect, this was a horrible decision. But like a buzzed John Nash, I was able to see past all the fancy display tables and half-naked dudes and find the hidden awesome that was there all along …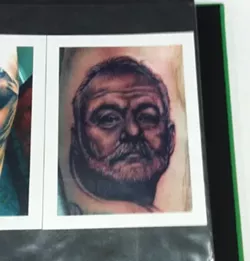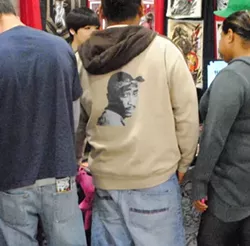 Now the reason this was a bad decision is simple; the more Platinum I drank the more my judgment started to falter. Eventually, all I could think about was getting a Bud Light Platinum tattoo. Damned straight, I haven't been this psyched on a shitty beer since Bud Dry was in the Bud Bowl.
"Why the hell not?" I thought, "I'm at a tattoo convention, I've had, like, six Platinums. They're triple- filtered and delicious." The more I thought about it, the more it seemed like a good idea. But I wanted to be sure, so I consulted an expert. His name is Crazy Eddie. This is him, right here …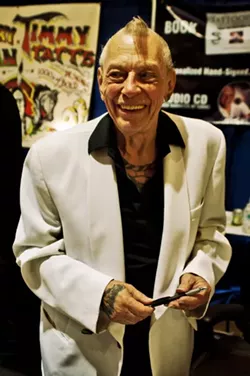 Photo courtesy of Lori Foxworth
Eddie's a legendary tattoo artist whose now retired and touring the country hawking his new book. I figured he would have some good advice.
Me: Eddie, I'm thinking about getting my first tattoo. Any suggestions?
Crazy Eddie: (Shrugs his shoulders and takes a bite of his carrot cake)
Me: What about locations to get a tattoo?
Crazy Eddie: (Shrugs his shoulders again and continues eating cake)
Me: Well, how did you decide what to get for your first tattoo?
Crazy Eddie: (He looks up from his cake) It's in the book.
Me: Eh … okay, thanks.
Eddie was no help. But luckily, my beer was wearing off and my common sense started to swim back to the surface. I walked outside for some fresh air and felt a huge rush of relief. Thank god I left without a tattoo. Now don't get me wrong, the convention was cool and I still may get a tattoo someday. I just need to figure it out minus the persuasive help of Bud Light Platinum and, of course, I need to find the right one. I don't know, maybe something like this …
Twitter: @WolfColin