This week, we've got seven releases to talk about, including two with release shows set for the next few days. ---The first on our list is a little diddy that should have gotten more attention before today, and that's the latest from
Thunderfist
! Yeah, holy shit, right -- the group haven't had an album out in quite some time, dating back to the 2006 release
Too Fat For Love
. Since that time, they have been working off and on, keeping a presence in the scene and still ruling over Burt's Tiki Lounge with an iron fist. But it wasn't until November of last year that anyone even found out about new recording sessions coming out of Mike Sasich's Man Vs. Music studios. This brand-new, full-length, self-titled album is currently available on
CD Baby
for just $10, or in person the next time you see the group perform. The few select tracks I've heard are pretty damned good; it's worth a purchase.
Next is a band whose name we're sure to get some letters about: Black Cum. Before you ask, no, we have no idea what it's in direct reference to nor are we going to guess. Feel free to take their name however you wish. What we can tell you about the anarchist hardcore punk band is that they've been shoveling out the fast-and-loud tracks for roughly seven months online, starting with their self-titled debut cassette in September 2011, a two-track single in October, their follow-up titled The Second Cumming in November, and now this double-cassette release called The Return Of Black Jesus a few weeks ago. If you want loud punk that isn't afraid to piss on everything around them, this would be for you. You can download the complete album for free off their Bandcamp page, as well as find their other albums.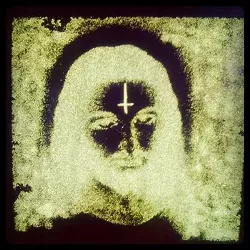 One last album to take note of from February was the debut EP from Still Sea. The group is a combination of members from two bands, Gunner and Storming Stages & Stereos, forming a kind of punk-influenced post-hardcore ensemble with a little hint of math rock in the back. The group released the EP Palms Open To The Firmament online back in late 2011, but the physical CDs have just started making their way around. You can download the album for a "name your price" tag on Bandcamp, or purchase the physical copy for just $7. I highly suggest seeing them live next time you get a chance.
Moving into this month, last week saw the online release of the debut EP from Scribes By Trade. The five-piece SLC rock band are referring to themselves as simply that: rock. Honestly, though, their sound is a hodgepodge of sub-genres, one minute sounding like a power-ballad group only to switch gears for a lyric and go very alt-metal. You know, just calling them rock is probably better than trying to figure out every single influence. Last week, the band released their debut self-titled EP via their Bandcamp page as a free download. If you're into "radio rock," this will be right up your alley.
Next up is The North Valley, a fiv- piece combination group formed out of three bands. Originally known as The Spins, that group kinda spun into inactivity, forcing members to move on without rest, picking up new bandmates from Mountain Hymns and The Descriptive as replacements for this new indie-folk project. The group (seen above) have mainly been playing live for a few months, but quickly grabbed producer Casey Romney to record them live at the Spectra Sonics Warehouse for their debut album The Bad Habits EP. There's a hint of garage and Southern rock in the mix, making it a more upbeat album than you'd normally find in folk;it's at least worth a listen. You can download it from their Bandcamp page for just $2.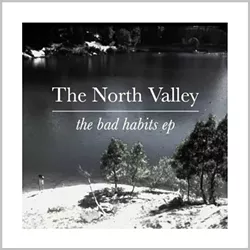 Moving on to current releases and shows on the way, tonight we'll see the the latest from Charles Ellsworth & The Dirty Thirty. Some of you might know Ellsworth better as one of the co-founders of Wandering Man Productions, and as a solo folk artist. He's already had a pretty decent career here in Utah as a part of Alaska & Me, and most recently, his late 2010 solo EP titled The Shepherd Lane Sessions. Since that time, it appears Ellsworth went off and got himself a backing band made up of Chase Terry, Jon Robertson and Carson Wolfe to form The Dirty Thirty. The group will be releasing what's technically their debut self-titled album. You can pick up a copy and watch them live tonight over at Bar Deluxe along with The Trappers and Holy Water Buffalo, along with a live painting by Casey Kawaguchi. Should be an awesome show, just $6 starting at 10 p.m.
And then skipping to Monday -- yes, Monday; I know it's a little odd, but that's when we'll see the latest release from Baby Ghosts. The band made quite an impression on the Provo and SLC crowds last summer with their debut self-titled EP, followed up with the two track release Spacebook. Since then, they've been hard at work both in studio and onstage, working through lineup changes and high-profile openings, but now all that work will finally see the public with their first full-length album Let's Always Hang Out Together, Okay? The album is mostly new along with some remastered works from 2011, sounding a little better than their previous ventures with the same style of garage pop driving it. I recommended snagging a copy. Those of you in Utah County can see the band at their release show at Muse Music on Monday, playing with Tacocat, Don Juan and Back Chat! Just $7 starting at 8 p.m. For those of you up in SLC, they'll be playing The Nerd Show at The Complex on Saturday March 24. Go see them before they take off on tour.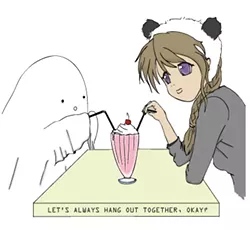 Head out, love music, buy local!