Spirit Master bassist Josh McCafferty (aka Pastor) talks about each track from the band's upcoming EP.---
The local rock & roll four-piece began in 2010 when McCafferty and Matt Poulopoulos (aka Mack) split off from Mathematics Et Cetera. Eventually they were joined by The Devil Whale guitarist Jamie Timm (aka Timmy Jame) -- "He was one of our only fans at one of our first shows in Provo," McCafferty remembers -- and Brent Dryling (aka Cool Brent). The band's first big break was opening up for The Flaming Lips at Great Saltair fall 2011.
In fact, Wayne Coyne's face -- a close-up from Christmas on Mars -- can be seen on the back of the album (pictured below). The trippy imagery, laden with pseudo-religious symbols, was designed by Chris Coy and ties in with the band's philosophical angle.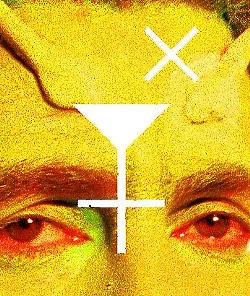 "We all come from religious backgrounds. I don't know if it's necessarily lashing out at that, or making light of it. Either way, we've all kind of moved on," McCafferty says. The symbols and imagery are "our way of rebelling. It's been offensive to some people, and we do, and we don't, apologize for that," McCafferty continues.
Spirit Master will have an official release party at The Urban Lounge on March 31. EPs will be $7.
McCafferty talking about the tunes, track-by-track:
"You Gotta Hold On (To Me)"
The song was originally called "Kraut Rock" -- taken from the German music style -- since it was just bass and drums. We didn't have a lot of melody. It seemed like something you'd drive to. Matt came up with the lyrics, and it shows an interesting part of his life, namely, divorce. I like the part where he sings, "We suck, we suck/ We're fucked, we're fucked/ We're shit out of luck/ You've gotta hold on to me."
"Old Enough to Know"
I came up with the first-verse lyrics. It's basically just a blues riff. The lyric, "I'm old enough to know/ nothing else is planned," deals with getting older and potentially being a father. I'm 36 now, and strangely enough going to be a dad in August. It was kind of like casting a spell.
Spirit Master is Pastor, Mack, Timmy Jame and Cool Brent.
"Kelly Clarkson"
If you listen to the chorus, it, kind of, has nothing to do with Kelly. Again, Matt's lyrics are about separation, letting go, being alone on Thanksgiving. "Since you've been home" is what we sing, which is kind of like one of Kelly's lyrics. If someone searches her [on Google] this might come up, which wouldn't be too bad, right? (laughs). That was actually the main bassline and drums from a Mathematics Et Cetera. It was fun to carry it over.
"Whoever You Are"
Again, this was the main bass riff and drums from a Mathematics song. It has almost a hip-hop feel. It has this kind of posturing like "Fuck you guys, Spirit Master is about to make history." It's started to happen, kind of. We opened for Flaming Lips, and we've actually created a decent relationship with Wayne, too. Who knows what will happen?
"The Architect"
I don't really know where the name came from or if it means anything. Once you get to about halfway through, it gets to this [makes heavy bass-thump sound], then Matt sings, "When I was younger/ I never thought I'd turn out this way." That really deals with being brought up in religion, and the whole scope of that. But it's OK, because we're playing rock & roll now. Thinking about it now, it would be architects that would shape our lives and tell you what to be, but, hopefully, we can figure it out for ourselves. That's probably our most heavy-metal song. And it's still my favorite one to play. That's where the prog-rock creeps in. It's a long song. Just be patient with it. I think you'll be rewarded.
Spirit Master playing psych version of Bryan Adams' "(Everything I Do) I Do it For You. "