Some podcasts get their start from someone fooling with their computer, others out of a passion for audio work and a few here and there through direct planning. --- But the RyTime! Geekcast got started on one of the more ... exclusive radio stations that Utah has to offer. The geek-related podcast aired just over a year ago on K-UTE, the internal broadcast station at the University Of Utah, taking over two hours of programming to enable students on campus to get their fix of geek-related opinions and the latest news of pop-culture events.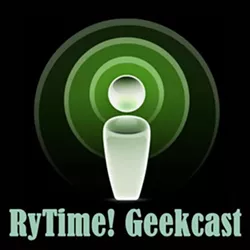 Today, we chat with the namesake founder Ryan Bennett about the podcast and its beginnings, the show and cast in general, thoughts on hitting the one-year marker, his opinions on podcasting today and a few other topics.
Ryan Bennett (right, with Cindy C Bennett and Calvin Kern)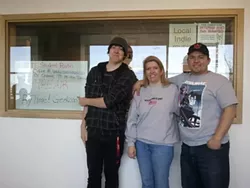 Gavin: Hello, everyone. First thing, tell us a little bit about yourselves.
Ryan: Hey! Thanks for having us on Gavin's Underground! We really appreciate it. The RyTime! Geekcast is a show that I started a little over a year ago about anything and everything geek. My name is Ryan and I am the host of the show. I have always been a HUGE geek, and for me, everything in life comes back to Star Wars. Everything. I do the show currently with my mom, Cindy C. Bennett, who is an author and the biggest geek who I know. We also do the show with my friends Calvin Kern, who is a geek and our resident zombie expert, and Victor Felton, who has a great feel for the pulse of the video-game community. When our powers combine, we are the RyTime! Geekcast. Our show originally started in my Mom's basement, but when I realized we could do the show live at the U and hit that many more listeners, we began recording there and have been doing it at the U ever since. Our show is primarily a podcast, but we also have a live aspect to our show because since about episode 10 or so, we've been doing it on the radio at K-UTE, which is the student radio station at the University of Utah.
Gavin: What drew each of you toward more geeky-related entertainment, and what were your favorite things growing up?
Ryan: I have always been a geek, and when I decided to do a podcast, I thought about what I could most easily talk about for an hour or two every week. I knew I could talk about movies and TV shows for a really long time, so I stuck with that. There were also a few other "geek" -type podcasts out there, and I would always listen to them and wish I could interact with what they were saying, especially when I disagreed with them. That led to me starting my own podcast so that I could geek out on a regular basis. Growing up, I was into the Ninja Turtles in a big way. I also grew up playing Nintendo, so I will always have a soft spot for Mario and the Zelda games. I still remember to this day that the first Star Wars movie I ever saw was The Empire Strikes Back, which was a movie my Grandma had — on VHS, no less. My brother and I loved watching it when we stayed over at her house. Once I found out there were other Star Wars movies out there, I bugged my parents to get them for me until they did, and it was all downhill from there.
Gavin: When did the idea come about to start up a podcast, and what was it like planning out how it would work?
Ryan: If I have to think about what actually gave me the idea about starting my own podcast, I would have to say that it was Kevin Smith who inspired me to do so. I got into the podcast he does with Scott Mosier called Smodcast, and at the time he was creating new shows every day -- Hollywood Babble-on, Jay & Silent Bob Get Old, etc.). He was also making a movie called Red State, and in his various shows he kept driving home the point to try new things and create things, regardless of what anyone thinks of it. After hearing Kevin say that a few times, I decided to give it a shot. I had no idea how to do a podcast or what to say or even how to record it, all I knew is that I had a recorder that I'd been using to record lectures in my classes at the U. A guy I worked with who also happens to be a lifelong friend, Ryan Page, listened to podcasts, as well. I simply went up to him and asked him if he would be interested in doing a podcast with me about movies or TV shows and he could bring his tech knowledge to the show since he's big into what is going on in the world of technology. We sat down and recorded for about 30 minutes and that was the beginning of what has now been going for over 50 episodes.
Gavin: Considering Utah already has a couple geek-related podcasts, what did you intend to do to separate yours from the rest?
Ryan: The wonderful thing about podcasts is that your location doesn't really matter. Podcasts are a global thing and whether you do them in a professional radio station or in your mom's basement, you can still have a great show with amazing content. Some of the podcasts I listen to are extremely low-budget shows done by regular people who aren't famous or anything like that — but they are interesting. I think the thing that separates our show from many others like ours is, for one, I do the show with my Mom, which I can honestly say I've never come across in any show, and secondly, our show is clean — meaning anyone of any age or background can listen to it. Because we do the show in the K-UTE studios, we have to watch our language and keep the content all-age friendly. Most podcasts, especially those in our fields, are more adult-oriented, while our show can be enjoyed by the entire family.
Gavin: What was the process like in figuring out the format of the show and how you'd record it?
Ryan: Like I mentioned, the first episode was done on a hand-held recorder, and once I got it home and began to edit it, I realized that if I was going to commit to this, I had to spend a little money because the sound quality was HORRIBLE. I went down to Guitar Center and talked to a guy who worked there who knew what he was talking about and walked out with a little 2-microphone USB mixer, some editing software, and about $400 less than I had when I went in there. For the first little bit, this setup worked, but I began to look into what else was available out there because one of the problems we were having was we had to share mics, which is tough to do and doesn't sound very good. Today, our show is recorded via a Behringer XENYX X2222USB mixer, which has eight or so mic inputs and a multitude of other awesome features. Many people think that our show sounds good because we record it in a radio station, but truth be told, I own all of the equipment we use to do our show and the only thing we use in the K-UTE studios is the input to send our show out over the airwaves. I take a lot of pride in how good the actual sound quality is on the RyTime! Geekcast because I've worked hard and spent a lot of time and money making it sound better than most podcasts and radio shows out there.
Gavin: How was it for you after the first recording, and what made you decide to continue afterward?
Ryan: After the first recording, I wasn't sure where the show was going because Page and I didn't really "geek out" too much; it was mostly an introduction episode. When it came time to record another episode, it was becoming clear that Page couldn't commit to doing the show as often as I wanted to, so as a last-minute thing, I asked my Mom if she would record with me that week. I knew that half the reason I was a geek is because both of my parents were geeks and grew up that way. My Mom and I would often spend late nights discussing things like The Office, Smallville, and Star Wars, and basically, I wanted the show to be that sort of thing because I found it interesting and I thought there were people out there who might find it interesting, as well. My Mom and I recorded Episode Two down in her basement, and after about an hour of recording I realized this was the show. Not only did the hour go by quickly and effortlessly, but it was a lot of FUN. I didn't expect it to be as fun as it was, and the fact that it is fun is probably one of the biggest reasons we keep doing it every week.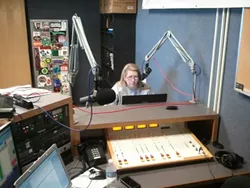 Gavin: What led to bringing Cindy onto the show, and how was it for all of you turning the show into a trio?
Ryan: Like I mentioned before, my Mom is the biggest geek I know, and recording with her was so effortless because we're both so talkative and opinionated. Another thing this show has done for my Mom, Cindy, and I is that it has brought us a lot closer. I don't live at home anymore, so I don't see her as often as I did when I lived there. My Mom was a stay-at-home mom since I was about 10 or so, so I became somewhat accustomed to her being around. Once I moved out, I naturally saw her and my Dad less. I work for my Dad, so I still see him almost daily, but my Mom and I didn't see each other as often. Through doing this show, there is a time that we get together almost every week just to talk for 2 or so hours. I know the format of the show is geek-related, but honestly, the conversations we have on the show aren't any different than the conversations we would have had whether the mics were there or not. Doing a podcast with whoever you do it with naturally brings you closer together, and this is the case with Calvin, as well. The main part of our show is a trio between Calvin, Cindy, and me. We have other guests who come and go, but as long as the three of us are there, it feels the most comfortable and feels like the right dynamic for the show. Prior to Calvin joining the show, he was just a guy my sister was dating, whom I knew little to nothing about. One day, my Mom called and said, "I think Calvin is a geek! We need to have him on the show." We thought he might just be an occasional guest, but he's become a regular, necessary part of our trio. Since he joined the show, I've really gotten to know him personally and consider him a friend of mine. Without the show, I wouldn't know him like I do now. Another thing people don't realize about doing a show is it is very therapeutic in its own way, and I believe that most people who do radio shows or podcast would feel the same way. There's something about getting together with people every week, sitting down, and speaking whatever pops into your mind. Not only that, but we laugh a lot. Every time we finish a show, I feel refreshed and much happier and relaxed than I did prior to the show.
Gavin: What made you decide to take the show over to K-UTE and play episodes for the University Of Utah?
Ryan: We'd been doing the show for a couple of months when I first found out about K-UTE, a student-radio station at the University of Utah. I was immediately interested because I was looking for ways to get our show out in the world and this seemed perfect. I interviewed with Anna Anderson, the station manager, and Aaron Salazar, the program director, to try and get on as a DJ and, as it turned out, they were having a meeting with the seven or so directors over K-UTE. I asked if I could stick around because I had some ideas for things we could do to make the station better. At that time, K-UTE was in rough shape and the station was really disorganized because the person who was station manager before Anna just kind of dropped everything -- or at least that's what it sounded like -- and Anna had just been added as station manager not too long before that. In the meeting, I discussed how their social networking was a nightmare and I had a bunch of ideas on how we could market this station through a better website and social media. The interview and meeting must have gone well because they asked me to come on to K-UTE as a director and Webmaster, which I agreed to. Ever since then, we have been working hard and our work is paying off because we're getting more attention from the campus. Now K-UTE is something to be proud of. After figuring out everything in the studio, I decided to start doing the show in the K-UTE studios because we can reach that many more ears as the station is broadcast not only all over campus, but also online. We have a core group of our audience who tunes in to our live show every week from all over the United States and world, which is a really cool aspect to our show. I would tell you when we do our live show, but it tends to change semester to semester, so if you go over to their website you can click on the schedule tab to see when you can catch our live show. After we record our live show, that recording is what goes up as our weekly podcast. The show itself is no different whether we do it in the K-UTE studio or in one of our basements. It's still just a bunch of us sitting around a table geeking out about whatever is on our mind.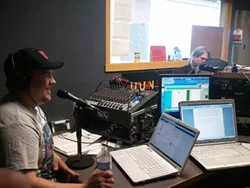 Gavin: Within the first couple of months, you got some help from Kevin Smith's Smodcast podcasting network with some advertisement swapping. How did that opportunity come about and how did it affect your listenership?
Ryan: I would like to say that I've been a big fan of Kevin Smith's for a long time, but the truth is, I haven't. I discovered Kevin Smith about 2-3 years ago on a podcast he does with Scott Mosier called Smodcast. I had heard something about how he got kicked off a Southwest Airlines flight because of his weight and that after that had happened, he went home and recorded a podcast about it—and that intrigued me. After listening to it, I was hooked on his flavor of entertainment. Since then, I have seen pretty much everything he's ever done and he has kind of become a personal hero of mine. He's the reason I began podcasting in the first place. Kevin Smith began to expand his podcasts into 2-3 other shows and that led to him creating what is one of the first podcast networks. Not too long after that, he made a deal with Stitcher, which is a company that puts out an app for smartphones and a website on which listeners can listen to different radio stations from all over the United States, including online radio stations. Kevin Smith took his podcast network and turned it into an online radio station called Smodcast Internet Radio (S.I.R.). For all of the people who were already listening to his podcasts, he put out an opportunity to advertise on S.I.R. once it went live on Stitcher and I jumped at the opportunity. As it turned out, Jason Mewes read our ad and it was amazing to me to have someone like him, who I also adored because he's in all of Kevin's films, tell all of the people listening about our show -- the show that I created from scratch and work so hard to keep going. I thought that our numbers would boom, but that just wasn't the case. We saw some rise in numbers, but not much. What made the ad worth it is not too long after that, all of us people who were podcasts that advertised on S.I.R. got together and created our own podcast network called Bobo Broadcasting. Bobo Broadcasting consists of a bunch of shows that are done by people like me, but that all do different and interesting shows. The RyTime! Geekcast, The Circle Jerks, Knights of the Clown Table Podcast, Surfing Aliens, The Defective Geeks and Total Non-Sequitur are some of the shows you can find that are a part of our network. Since creating the Bobo Broadcasting network, I have seen a HUGE jump in our numbers, and if it wasn't for that ad we did on S.I.R., I never would have met these awesome people nor had the opportunity to join Bobo Broadcasting.
Gavin: After all these episodes, how is it for you to interact with each other during a recording and balancing out the conversation?
Ryan: It's funny, because sometimes we show up and none of us really have anything to talk about, so we worry about how we're going to fill the hour. Then we begin talking and suddenly the hour is gone and we still have more to say. Those can end up being some of our best episodes.
Gavin: How much of the show do you plan in advance and how much ends up being spur of the moment?
Ryan: The three of us usually try to bring a thing or two to talk about each week. There are also weeks where we don't really have anything planned to talk about, but we still don't have a problem filling the two hours we do live each week. We've recently switched to a new format in which we do a regular show with news and whatever we want to talk about that week, and then the second hour we review a movie that we decide on the week before. We usually rotate who picks the movie for the next week and we all watch that movie before next week's show, so that's led to some great shows. The reason we switched to this format is we put up a new show every week and the shows work better around an hour long rather than two-hours long. We used to do two geek news shows, but then we'd get backed up on episodes for the podcast. With doing it this way, I usually put up the news episode each week and save the movie reviews for weeks when we can't get together to record. Our podcast turned one year old at episode 53, so we're pretty good about putting out an episode for our podcast every single week on Sunday night.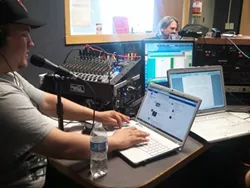 Gavin: Considering the material and how a lot of it has been important in your lives, do the discussions ever become heated or is there an understanding that it's just for fun?
Ryan: There have been a few times when we've got into it with each other a little bit. If the discussion ever does get heated, it's usually between my Mom, Cindy, and I because we're all very opinionated. It's never led to a real fight, though, because we do this for fun and it's not worth getting into a real fight on whether Star Trek or Star Wars is better. Also, even though we might not always agree, we still have respect for one another's opinions.
Gavin: You just passed the one-year marker. What are your thoughts on making it this far in a medium where shows die so quickly, and what plans do you have in store to keep the show thriving?
Ryan: My plan from the beginning was to do the show for at least one year. I knew that most shows fail in the first six months and the rest of them fail within the first year, so I knew that if I made time for this in my life and had the goal to make it at least one year I could do it. There have been moments in the first year where I thought about not doing it anymore, but it's too much fun and there's too much amazing stuff to talk about every week. Being that we're heading into our second year, we have some ideas and surprises in store to keep the show exciting and relevant. I'm not ready to reveal what those things are, you'll just have to tune in to the show and check out.
Gavin: Going more local, what are your thoughts on the podcasts coming out of Utah these days, both good and bad?
Ryan: With podcasting, I don't believe location plays a factor at all because the show is available to anyone and everyone world-wide. That's one of the things I like about it the most. I personally listen to tons of podcasts every week while I'm at work and it's cool to listen to all the different shows out there that most people don't even know about. If I was a DJ or morning show host on terrestrial radio, I would be very worried about job security because there are a lot of shows out there that are far better than what is currently on the radio, no matter what part of the country you live in. My other favorite thing about podcasts is there aren't as many commercials. Some podcasts have a few promos or ads for other shows or products in their show, but it's usually only one to two minutes at the most. On regular talk-show radio, it seems like there are more commercials than actual show and the ads that are played are extremely annoying. The shows I listen to play ads for things I'm interested in like other great podcasts or a product that is relevant to the type of show. People who do podcasts do it for the love and passion of it, not for the paycheck, and I think that gives podcasters a big advantage over the people who do a show for their day job. As a matter of a fact, it seems to me that a lot of broadcasters have taken their shows from terrestrial radio to podcasting. Adam Carolla is one of these people and he was just awarded the most-downloaded show of all time by the Guinness Book of World Records. I've also noticed that a lot of people who currently work in radio also do a podcast on the side or have a podcast version of their talk show available.
Gavin: Is there anything you believe could be done to make these shows more prominent?
Ryan: I've always said the biggest problem for most podcasts is that people simply just don't know about them. There is a podcast out there for every person and every hobby. I feel that ours is one that can be enjoyed by anybody because we explain everything we talk about and make it something that a person could listen to whether they know the subject matter or not. One thing people can do to help support a show they like is to tell a friend about the show. Good old-fashioned word of mouth is the best tool for attracting new listeners and a podcast growing a bigger listening audience. You can also go to iTunes and rate the podcast you like, which helps shows track higher on the iTunes charts.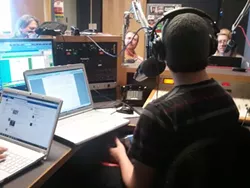 Gavin: Do you have any favorite shows you listen to and recommend?
Ryan: I highly recommend every show on the Bobo Broadcasting Network. Any of the shows on Kevin Smith's Smodcast Network or Adam Carolla's Ace Broadcasting Network are great shows. For big Star Wars fans like myself, I also recommend The Forcecast.
Gavin: Where do you see the medium going both locally and nationally over the next few years?
Ryan: I see podcasting as a whole becoming the new medium for talk radio. There have already been a few podcasts that have been picked up by terrestrial radio stations, which is really cool to see, but in a world where everyone wants everything on-demand and when they want it, podcasting is a better medium than terrestrial radio shows. I like the fact that I can not only listen to my favorite podcast on my time, but I can also pause, rewind, or listen to them again. Podcasting gives listeners a freedom that terrestrial radio shows cannot.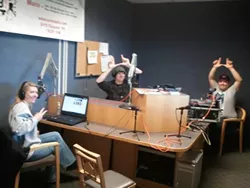 Gavin: What can we expect from all of you and the show over the rest of the year?
Ryan: Well, you can expect a new show from us every single week. We've got some surprises in store for our listeners. I'm also about to launch a second show that I do with my friends called The Circle Jerks. The show is only going to be available as a podcast and will not be safe for the workplace like ours is. On The Circle Jerks, it's basically just my friends and I sitting around telling all of the many stories we have from over the years—and we can't guarantee the cleanliness of the material! We can guarantee interesting subjects. I'm really excited about this show and I hope it will make a nice addition to the RyTime! Geekcast.
Gavin: Aside from the obvious, is there anything you'd like to promote or plug?
Ryan: I would just recommend that people check out all of the great shows on Bobo Broadcasting and if none of those shows are interesting to you, go to the iTunes Store and find a podcast or two that you find relevant and interesting. If you like our show, we appreciate you for listening and please tell a friend about our show! Thanks for having us on Gavin's Underground!
| | | | |
| --- | --- | --- | --- |
| Follow Gavin's Underground: | | | |