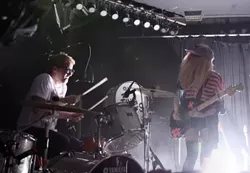 The Ting Tings brought a rock & roll show Friday that was full of boom boom and ra ra ra.---
But before the England-based dance-pop duo took the stage, the one-woman-show MNDR (pictured below) got the dance party started, albeit at 7 p.m. and with but a handful of teenagers in attendance. Amanda Warner was only equipped with a small sampler pad and a laptop, but with a mic and some slick dance moves, she owned the stage. After playing a few songs from her debut EP, E.P.P., she acknowledged that it certainly was early to be dancing, and the lack of alcohol probably added to that; then she requested a shot of whiskey. Sparkles and sequins and a silky voice were Warner's hallmark to her live show. She also played "#1 in Heaven," which will find its way onto her forthcoming debut CD this summer.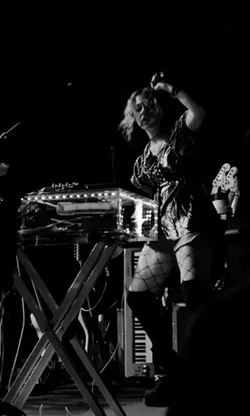 And then, still early, The Ting Tings (pictured below) took the stage and showed off their evocative, polished set. The two-piece (Jules de Martino and Katie White) were aided by two technicians and a lighting engineer and unfolded an all-out extravaganza that cleared up my addled preconceptions of what their live experience would be. Imagine the Yeah Yeah Yeahs meets Lana Del Ray meets Foster the People.
The set began with the intro track from their recently released sophomore album Sounds from Nowheresville which bled into "Great DJ" off of their 2008 debut. The duo oscillated between tracks from the two fairly equally throughout the evening. The crowd seemed to light up to the familiar hits from We Started Nothing, but I was prone to think that each of the newer tracks were not only more engaging, but more musically sophisticated.
Sounds from Nowheresville is a compendium of White and de Martino's eclectic musical eccentricities, such as the Beastie Boys, Pet Shop Boys, Depeche Mode, PJ Harvey and Fleetwood Mac. At one point, White stated that they wanted to make each track sound different, and they certainly did. You can read Rolling Stone's interview with White about what tunes they were listening to during the recording process to get a general idea of the album's multifaceted playfulness right over here.
A set highlight was catchy "Guggenheim," after which someone threw their underwear on stage. White said that was the first time that had every happened, which was hard to tell if she were being sincere or if that was just wry British humor. On tracks like the chugging, synthy "Hang it Up," de Martino, aided by a technician, showed off his versatility by playing guitar then rapidly switching to drums.

The Ting Tings' secret recipe to dance-party success was a slow-building progression followed by a simple, yet bombastic, drum beat. The crowd certainly responded to create a pre-9 p.m. dance-a-thon. Another stand-out was "Hit Me Down Sonny." The hour-long set, however, was devoid of two of my favorite tracks, the creaky, electro-dance track "Soul Killing" and the made-for-radio poppy "Day to Day." The band encored with "Keep Your Head" and "That's Not My Name."
Photos by Meredith Newsome.