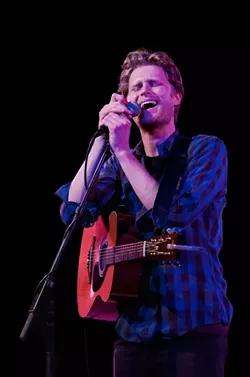 There is nothing in particular that's amazing about The Lumineers, but when the various working parts combine in concert, sparks fly.---
The Denver-based bards played to around 150 folks at The State Room last night, and they put on one helluva show. But when it's broken down, not one of the members was exceptional. Frontman/guitarist Wesley Schultz (pictured above) just strummed along something normal while singing in a throaty rasp; Jeremiah Fraites didn't provide ear-catching drumming work; and Keyla Packarek would have made nary a bow-wielding cellist blush. But together, there is something magical in the recipe, with a sound landing somewhere between The Head & The Heart and Ha Ha Tonka.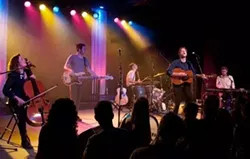 For one, it's a testament to the strength of a song when band members sing along even when it's not into the mic -- a sure sign they love what they are putting out there. Not like they needed to provide the backing harmonies or the unlimited refills of "oh"s and "ah"s being yelled, because the crowd helped with that. The band's debut full-length just dropped last Tuesday, April, 3, but fans seemed to know every syllable of Schultz's fantastic lyrics, which dip into playful storytelling ("Submarines" and "Big Parade") to deeply personal love ballads that, at times, seem overly emotive and cliched ("Slow it Down"). Whatever the subject matter, though, the tunes are performed with a rustic, heart-on-the-sleeve effect.
With a minimal arsenal of songs to pull from, the band, aided by a keyboardist and a bassist, plowed through the debut album, plus two covers. About mid-set, the band, equipped with their acoustic instruments, joined the audience on the dance floor for a lovely rendition of "Ho Hey." The crowd was divided in half, with stage right yelling "Hey" after stage left yelled "Ho." Maybe I'm a sucker for this sort of crowd interaction, but if the band hadn't sold the crowd on their moving performance yet, this was the icing on the cake.
Again, on the last song of the set, Schultz reached out to the crowd, asking them to sing the chorus -- "Keep your head up/ Keep your love" -- from "Stubborn Love," which proved to be another memorable moment -- goosebumps galore.
Photos by Chelsea Goddard