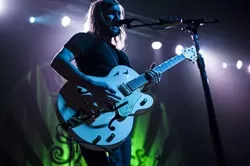 Heads rolled Saturday night as powerhouse trio Band of Skulls played a set of tense, yet beautiful, rock & roll.---
Band of Skulls began their bombastic set with an electric, gripping rendition of the lead single that shares a name with their 2012 release, Sweet Sour. And while the tempo waxed and waned through a set of 17 songs over the course of about 100 minutes, the English three-piece did not relent in galvanizing the audience into electric bliss.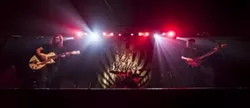 Stepping back for a second, it's worth noting the new-to-me additions to the Grand Room of the Complex (I don't think I've actually been back since we held the 2011 City Weekly Music Awards there). The U-shaped high risers loaded with stand-up tables and even a few oversize bean-bag chairs made the viewing better and more comfortable. And the upstairs bar with balcony was a nice touch -- well done. And while there were shows going on in the adjacent room, I didn't find the thudding a distraction for more than a sec, since Band of Skulls themselves play a loud brand of distorted rock.
The set oscillated between tracks from their first, more rock-driven, album, Baby Doll Darling Face Honey and the new album (read a track-by-track interview that guitarist Marsdon gave Spin.com, here). From Sweet Sour, songs like "Lay My Head Down" or "Bruises" -- with its "300 MPH Torrential Outpour Blues"-like intro (yeah, White Stripes are a decent comparison) -- demonstrated how potent a distilled sonic brew can be produced by three members, especially when each is a master of tone; one of the standout points from the concert this evening.
Emma Richardson (bass) and Russell Marsdon (guitar) shared vocals on that tune, as well as the next, "Wanderluster." But the crowd especially responded when Richardson took the lead, as on "Sweet Sour" or "Blood" (To read an article that Richardson wrote for Huffington Post UK about how her paintings and songs are open to interpretation, go here.).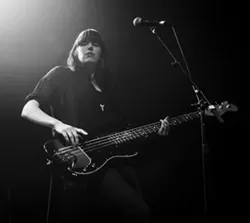 Other set highlights included "You're Not Pretty But You Got it Goin' On" -- where drummer Matt Hayward proved his prowess at technically demanding, high-energy stick work -- and "Light of the Morning."
And the finest moment of the show came as the set closed. "Death by Diamonds and Pearls" had just the proper amount of pounding drums, crunchy chords and joint vocals to make it beyond memorable. Band of Skulls encored with the energetic "Devil Takes Care of his Own," followed by the more subdued "Impossible," which proved a fine way to end one fine concert.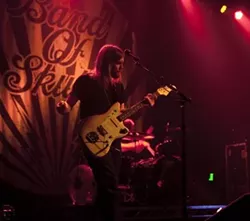 Photos by Dom Darling
To read another take on the show, read Rebecca Frost's review here.
Follow City Weekly music editor Austen Diamond on Twitter: @AustenDiamond.