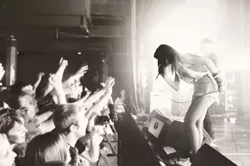 An unassuming, empty stage with minimal lighting gave no indication of what was to ensue on the blank canvas of that desolate-looking platform. As the first chords played by the dueling synthguitars traveled through pitch-black room, it was as clear as it was dark that this would be an otherworldly performance.---
A snapshot photo of Sleigh Bells' performance does not do it justice. The scene of an empty stage with two guitars and a dark-haired siren in cut-off jeans and tee with pops of neon pink peeping through deep-cut sleeves can in no way represent their wickedly robust presence at The Depot last night.

Front woman Alexis Krauss is an enigma. She did things that on paper don't make sense, but in practice make for a mesmerizing live performance. Her sweet, breathy vocals accompanied, and did not take a back seat to, boisterous beats and ear-shredding guitars on songs like "Born to Lose" and "Come Back Kid."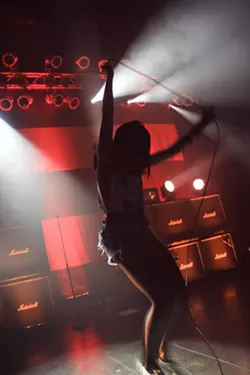 She somehow danced gracefully to loud, brash songs like "Kids" and "A/B Machines" from their debut album, Treats. She looked like a Bulgarian princess with delicate hip articulation and shoulder undulations trapped in a metal light show. She would mystifyingly step into fancy footwork like she was preparing for an arabesque, then jump to fist spins like a workout junkie in a Tae Bo video.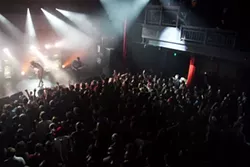 Even with dramatic neon lasers bouncing sporadically through the venue, Krauss' antics were the highlight the of the night. Fans in the crowd fed off of her impulsive energy and mirrored her whipping her hair and hopping around like a happy, goth Playboy bunny. Krauss was not shy with audience interaction, and although she didn't have much to say between songs, she jumped into the crowd and body surfed without missing a lyric as the audience held her high like an electro-pop queen of the underworld.

As fans poured out of stairwells at the end of the show, ears were ringing and throats were sore, but choruses of Krauss idolizers leaving could be heard mimicking the sing-songy melody of "Rill Rill" well into the street.
Photos by Cara Stosich.