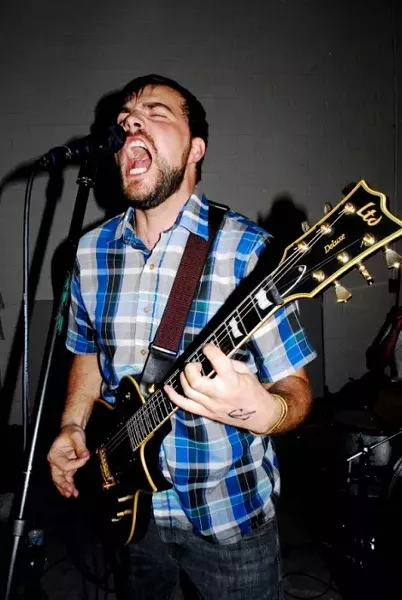 Playing both a bit of catch-up and checking out some brand-new material out this week, we'll be talking about eight local album releases today. --- The first is the debut release from solo performer Andermont. We don't have a lot on Andermont as he's chosen to keep most parts of himself secret from the prying eyes of the Internet; all we can really tell you is that he's a California native now residing in SLC with a love of electronica. The four-track EP titled Westward Expansion is pretty decent; a combination of keyboard trickery and echoed autotune may turn some people off, but the songs are pretty well-crafted and you can tell there's some passion behind the project. You can download the EP for free off his Bandcamp page.
Next up is another California-transplanted group in the form of the indie-rockers Mad Driving Barons. The five-piece have been together since late 2009, originating from Mission Viejo, just south of Long Beach. The group relocated to, of all places, Provo, where they've become occasional favorites of Velour and ABG's. Over the winter, they put together their debut full-length album Tubularadical and put it out very quietly in late March. You can snag a copy for $10 on the their Bandcamp page.
Switching over to electonic funk, March also saw the debut release from SLC-based group new.body.electric. The four-piece band formed over the course of 2011, performing around the Wasatch Front for whatever crowds they could get with their own brand of pop/funk dance music, and scoring a spot as a featured band during this year's Sundance Film Festival. Their debut EP, Let's Hear It Like This, shows great promise from a group who weren't even together a year ago at this time. It's worth at least checking out. You can snag a copy for $2 off their Bandcamp page.
Switching over to hip-hop is the latest release from Yoga Flame Kane. The solo project is from Lazarus Chamber's rap-music producer Dane Watson, the man who has helped create a lot of the beats and loops you hear coming out of the SLC hip-hop/rap scene today. Periodically over the past couple of years, he's pushed out samples and singles with various artists like Pat Maine and Pyramid Schemes, but Contraband For Sale is his first full-length release of samples; essentially, an album to show off his skills and possibly influence rising performers to write something to the beat. You can check it out on his Bandcamp page, but you can't purchase, as everything is a short clip. These are tracks for sale via him directly. If you're looking for something wise to set your lyrics to, check this album out.
While we're on the topic of instrumental music, last week saw the latest release from Through The Eyes Of An Inventor. The rather lengthy project name belongs to Ethan Aguilar, one of the guitarists from progressive-ambient rock band Half-Step Tides. Late last year, Aguilar decided to branch out on his own, and in December 2011 released his debut EP, Constellocean, a four-track of ambient music. It looks like Aguilar was quite pleased with his work, as four months later, we now have a follow-up EP by the name of Our Haven -- this one only being three tracks, but quite an interesting progression, as the first EP seemed more of a dulling mode and this new release seems more upbeat; definitely worth at least a listen. You can download both for free off the project's Bandcamp page.
Continuing the trend of instrumental works, this week also saw the latest release from Red Sky Phenomenon. RSP is the solo electronica project from Adam Canham, who has characterized himself only as a musician by hobby. Last year, he put out two albums on the downlow: In The Land Of Cleve back in January 2011, and the EP The Revenge of the Lengend of Curly's Gold in May 2011. Now he's back with a pair of Grimmleigh's fiends on the cover of his self-titled, second full-length album. You can name your price for the download copy on his Bandcamp page.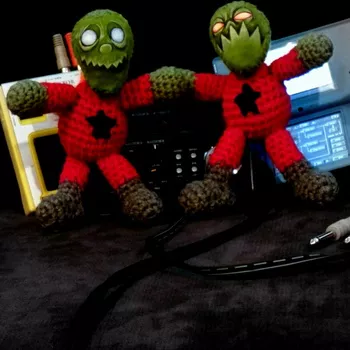 Moving on to release shows, tonight we'll have one up in Ogden, as we see the debut album from Merlin's Beard. The heavy-rock thrashers from Syracuse have been together a little over a year, affectionately calling their sound "trash and roll." Over the past few months, they've been pushing the record schedule and have come out with their debut self-titled EP. The few tracks we got to listen to were pretty trashy, but in a good way; it's definitely a head-banging album, but metal fans will probably pick it apart trying to decide where it fits into all the sub-genres. You can snag a copy tonight at The Basement up in Ogden, where they'll play along with Gunfight Fever, Machines of Man, Danny The Skeleton Horse, Stormalong, CastleAxe, Hazards Runway, and Mr. Richter. Just $7 for that massive show, which kicks off at 7 p.m.
We skip ahead to this coming Wednesday, where we'll see a split album between Despite Despair and Gunner. Both bands have been busting their asses in their own right: Gunner (seen above, guitarist Derek Ballard) with one of the best metal albums last year in the EP Catalogue Your Faux Success, and Despite Despair earning their rep through the underground venues and metal showcases around the city. The two have teamed up for a six-track split EP titled Unyoke -- three tracks apiece showing off both bands at their finest. You can snag a copy at their release show at The Underground (the SLC all-ages venue) along with Arizona's own Run With The Hunted, Hitchhiker and Speak Out. No price has been given, just take $10 and prepare for the show at 7 p.m.
Head out, love music, buy local!