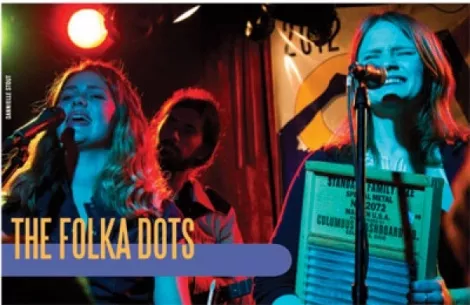 As part of a blog series to check in with some of Utah's finest bands, here's what's happening with a couple of of folk and country up-and-comers -- it's like a "good ol' cowboy church."---
I've asked each of the 24 bands from the 2012 City Weekly Music Awards to send us a paragraph or so about what they have going on in 2012. These two "sibling" bands, The Folka Dots and The Trappers are cooking up some interesting projects, together and separately.
The Folka Dots (pictured above):
"The Dots have a lot going on this year. First off, mark your calendars for May 24. Go, do it right now! We're throwing our annual Bob Dylan Birthday Bash at The Garage (and it's FREE!); there will be covers of Mr. Bobby D. all night. You won't believe what you're hearing. We'll be playing along with other local artists such as The Trappers, Daisy & the Moonshines, Redwing, Ryan Tanner and many more.

As far as new albums go, yes! Our second album, which we'll be recording this summer with the one and only Scott Wiley at June Audio, will most likely be released this fall. We couldn't be more excited about this. Currently, The Trappers and The Dots are collaborating on analog recordings of country-gospel songs. Whaaaat?! Yes. It's all true, and it has been a seriously boot-stompin' good time so far. Talk about good ol' cowboy church.

For a short-and-sweet week in September, both bands are finally hitting the road together. (That entails a van full of stinky dudes plus the three Lady Dots, if you wanted an idea.) Our Four Corners tour will include stops in St. George, Flagstaff, Santa Fe and Durango.

This fall, we will have the great pleasure of opening for The Lower Lights for Provo's 2012 Rooftop Series Concerts, October 5. And, of course, in other news, Brian Manecke (the hairy one) has developed a serious addiction to the banjo and is currently receiving professional treatment."


"High Water" performed on Park City TV
The Trappers:
"This year has already been pretty interesting and exciting for us; the highlight so far would have to be opening for Alabama Shakes at The State Room -- that was one of the most memorable moments of our musical journeys up until now. For the rest of the year, we have a lot of stuff planned; with a lot of recent lineup changes, we are trying to keep this thing rollin.


The Trappers performing at Burt's Tiki Lounge for the 2012 CWMA.

Right now, we are in the process of working on a gospel album with the amazing The Folka Dots. We are trying to keep the sound as real as possible for these old tunes. We are recording everything live in the studio, using tube microphones and analog tape to capture the takes. We are hoping to have it done by this fall, so we can push it when we hit the road with the Dots. We are doing a week-long tour to the Four Corners in September. The Folka Dots were so kind to ask us to come along with them; it's going to be a party! We are also very excited to be playing at the Utah Arts Festival this year; we are very honored to be a part of the festivities."
The Trappers self-titled release