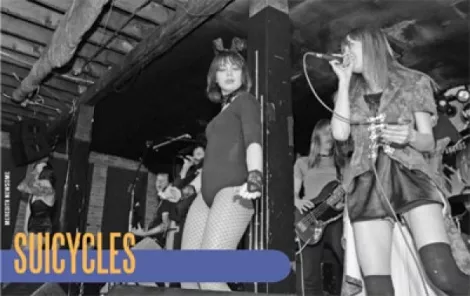 Do you like rock? Of course, you do. Here's what's happening in 2012 with two rock bands.---
I've asked each of the 24 bands from the 2012 City Weekly Music Awards to send us a paragraph or so about what they have going on in 2012. The ever-engaging, always humorous The Suicycles and the fine, young band The 321s have some interesting tidbits to share.
The Suicycles:
"After coming in 27th place in this year's CWMAs, The Suicycles decided it was definitely time to write a new CD. With the bitter, bitter taste of defeat still fresh in our mouths, we went to work at Kitefishing Studios in East Millcreek. Much of said work has involved drunken trampoline-based gladiatorial battles and dog wrestling. This in and of itself has not yielded the amount of material we had originally predicted, but spirits have been on the rise and we believe this year's release will be the greatest thing to ever be listened to by anyone, ever.

The first single: "8 In The Morning")

Beyond that, we just returned from our latest regional jaunt up to Idaho, and we are already planning our next trip, which will, hopefully, involve a full-on violation of the Northwest and whatever part of California will have us. This tour will tentatively be called The Great American Battle Rap Marathon Fight 3 and will be sponsored by Richard's Wild Irish Rose Bum Wine. In other earth-shattering news, our new bass player has officially been nicknamed "La Breeze." We play lots and lots of shows this summer, so please check out our insanely gorgeous band page, and we will bother you whenever something cool is coming up."


"Burn Count" official video
The 321s:

"2012 started off great for the 321s! We played a fun Sundance gig in Park City, where we got to sneak a peek into David Gray's guitar cases backstage, and the CWMAs in February were a blast! Since then, we've taken some time off to integrate our newest member, Sean McCarthy, and write some new tunes. The Moab Arts Festival graciously invited us to play over Memorial Day weekend for two nights of shows, so we're looking forward to some southern Utah sun, red rocks, and making new friends down there. We are also, hopefully, going to get into the studio in 2012 for some more recordings. Be on the lookout for more summer shows and new songs uploads by checking our
Facebook page
."