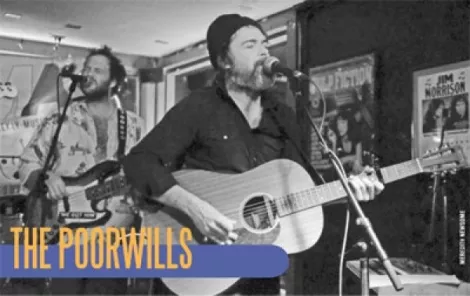 Go-to wedding bands and acting in a quasi documentary -- is anything beyond these CWMA folkies?---
I've asked each of the 24 bands from the 2012 City Weekly Music Awards to send us a paragraph or so about what they have going on in 2012. Here we have The Poorwills (pictured above) and David Williams discussing their interesting shindigs.
The Poorwills:
"The Poorwills are awakening from their winter torpor to play shows with the Donkeys (Urban Lounge, May 31) and Paper Bird (Urban Lounge, July 2). With several of our friends getting hitched this summer, we're also becoming the season's go-to wedding band. Look out, Dan Finnerty!"

The Poorwills' Drinks on the Wing
David Williams:

"
Intro
(the quasi-documentary) screens at Bradford Film Festival April 23-24 and will likely screen at this year's Salt Lake City Film Festival, where I'll also release an EP of songs from the film. I'm working on material for a new album that will be out later this year, and a summer tour is also in the works. Besides the music, I've just finished filming Tamrika Khvtisiashvili's new short film,
The Perfect Human
, which is in editing now. Another busy year!"
Some important DW concerts worth noting:
4/28 at The Patio in Torrey
6/23 at Utah Arts Festival @ 3 p.m.
6/29 at The Patio in Torrey
6/30 at The Patio in Torrey