When Michael McGinnis brought his coin banks molded into the shape of President Barack Obama to this year's Utah State Democratic convention, the reception, he says, "was pretty unbelievable."---
Every podium had an Obama bank looking out at the crowd, he recalls, and when he sold them on the street, they moved like hotcakes.
A reporter told McGinnis, who is based at an Oregon ranch, that his inventions—along with the PrezHead bank, he's also developed an Obama hitch cover—could change the direction of the presidential race, with the president's face staring out at people from the shelves of family homes or the back of someone's truck.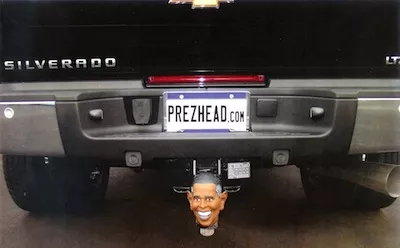 "I'm shocked Obama himself hasn't contacted me," McGinnis says. You can visit his website here.
The slogans for his two products offer their own rewards: "Cover your balls with Obama" for the hitch, "Bank with Obama" for the coin depository.

McGinnis says he isn't political, but rather "just a person trying to survive the economy. I lost everything I had three years ago, I'm trying to build my world up again."
When people see his presidential piggy bank, he says, "It's the craziest thing. It brings a smile to everybody's face."
He says he's sold 10,000 so far and given away another 3,000. Next stop on his tour of Democratic conventions will be Wyoming and Hawaii.
For Republicans who are feeling left out, he says he's been working on a mold of Mitt Romney, although he's not ready to release photos yet.