Back in 1993, one game was weaning D&D (Dungeons & Dragons) nerds from their 20-sided di addiction. The new nerd crack on the street was called Magic: The Gathering; (or MTG) a competitive card game where players battled with pretend spells, creatures and items to create fantastic battles--- that typically boiled down to something like this.
My first time playing Magic was about a year ago, when a roommate convinced me that making a deck wouldn't be that self-deprecating. Now, I'll be honest, I love nerd crap. I know my way around a Street Fighter shoryuken. I love me some of Marvel's Deadpool. Fuck it, I'll even admit I own a Gundam action figure set. But not even a background in the nerdiest crap kept me from getting my ass kicked in Magic: The Gathering.
You see, a couple of weeks ago, I linked up with the guys from Magic: The Gathering at the University of Utah (or the MTG at the U of U) to test my skills and to see why kids still play this game. "Magic didn't really fade out, it just got eclipsed by other big things, like Pokémon. These days, either the vast majority of people react with 'what is that?' or 'yeah, I used to play back in the day,'" said Isaac Kramer, a freshman and member of MTG at the U of U.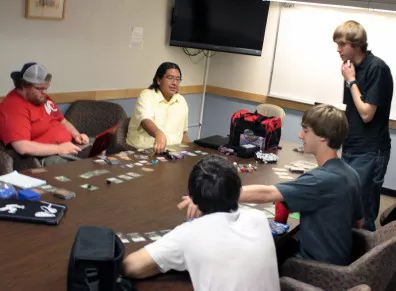 Players are their own refs; watching closely for any screw-ups, ready to call them out, which in most cases is something like "seal of flame? (scoff). Don't you mean seal of fire?"
Chances are your stoner-college roommate may have played a little bit of Magic (shit, if you're reading this, you probably were that roommate), but the game has changed a lot over the years. The basic principle is the same: You are a wizard (officially called a planeswalker) and you need to kill the other wizard with whatever spells you randomly draw from your deck.
The MTG of the U of U is an eclectic set. Picture Revenge of the Nerds complete with token minorities and overweight kids (not an insult, just a fact). Most of the guys there had only been playing a couple of years and were pretty laid back. This is good, because when trying something new, nobody likes to get destroyed. "When I started, I was kind of put off by trying to learn the strategies. But after a while, you just come to expect the unexpected," explained MTG at the U of U director Adam Nau.
Watching the guys at the U play a game of MTG was like watching poker or even a fantasy-football draft. These kids are hardcore. They invest days into crafting the right decks together. The cards are usually cheap, but these guys had invested god knows how much into this game and their collections show it, making being a noob with no cards even shittier.
According to Wizards of the Coast (makers of MTG and Pokemon), the game has 6 million players (based on their own survey) and it's played in 52 countries. Without a doubt, these gamers are hooked and I don't blame 'em, either. After a few rounds, I ceased being a journalist and became a wizard of fury commanding an army of illusions, ninjas and assassins. I guess you could say Magic isn't that bad. Okay, damn it ... I love Magic.
MTG at the U is done for the summer. If you can't wait to hitch a ride on the Magic wave or are not a student of the U, you'll find weekly events at game stores like Oasis Games or Game Night Games to get your fix.
Zackary D. Renner is a City Weekly intern covering for The Secret Handshake's usual author Colin Wolf while he's busy doing other stuff.