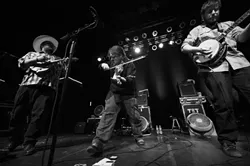 Sometimes you get really excited for a show and it turns out that it was mainly hype. This was one of those nights.---
Trampled by Turtles, a five-piece string band from Duluth, Minn., are known widely for their raucous live show. Let me start off by saying I'm not too familiar with their new album Stars and Satellites, although I did give it a couple of tries -- each time, I came away underwhelmed. That being said, I wasn't deeply engaged with what was going on during the show, which, like the new album, was very slow and mellow.
I don't want to discredit TBT in any way; they're super-talented, and the finger work of Dave Carroll's banjo is enough to make anyone's face melt. With that said, a TBT album that does frequent my playlists is Palomino. Yeah yeah yeah, I know, I'm sure the hardcore TBT fans are cringing right now, but, for the most part, the album kicks a fair amount of ass. I did feel more engaged and interested when they played some of the songs off that album. Hearing "Victory" was pretty cool, because it's a pretty mellow song with some really nice pick work that also showcases a blend of smooth lyrics and heavy bass lines.
The set, overall, was good, with a few up-tempo songs in the mix -- but those were just a tease. I kind of was left wondering when they were just going to hit the gas pedal and keep things going, but, unfortunately, they didn't. Another thing that crushed me -- and it's not limited to TBT -- is the lack of a set break. It's kind of like a recharge for the band and for fans, or even a great time to come out with a jamming second set. Instead, they kept droning on for a long two and half hours of up and downs.
I'm certainly not everyone's voice at the show, but looking around a few times, especially during the slow songs, I kind of got the feeling that people were waiting for things to pop. There were a couple of times when the live-music experience aligned itself and both crowd and band matched intensity. It was especially prevalent during their big hit "Wait So Long," which happened to be the best song of the night. That four-minute song is pure gold: high-energy mandolin, fast guitar licks, thumping bass, ridiculously fast banjo and a screaming fiddle.
The encore started slowly (sound familiar?), but picked up the pace. It was the sort of technically proficient bluegrass that we all had hoped for. I was then pleasantly surprised to hear a cover of "The Weight" by personal favorites The Band (RIP, Levon), which was some special treatment in itself.
Overall, the show was fun, regardless of the many moments where I felt that I was listing to the Deliverance soundtrack. As my friend put it the next morning, "Good musicians, bad song choices." Sometimes you just want your hair blown back.
I'd also like to mention that it was super-cool to see Erik Berry, the gentlemen on the mandolin, walking around in the crowd after the show. Way to interact with the fans.
All photos by Dom Darling.