Back when I lived in New York City, there was a little hole-in-the-wall restaurant on Division Street in Chinatown -- the name of which I've long since forgotten -- that served up the best sesame noodles I've ever tasted. --- We'd never eat at this place without ordering them as a side dish (although I could eat them as a main dish, all alone).
These noodles -- called dandan or dan dan in China -- are a specialty of the Szechwan region, but are popular and sold by street vendors all over China. Over the years, I've experimented with many, many different recipes, still trying to replicate those Chinatown noodles I loved so much. This recipe comes pretty darned close. I hope you'll try it. Kids love it when it's called simply "peanut butter noodles." Best of all, this is a really quick and simple dish to prepare.
Ingredients:
8 oz. fresh Chinese egg noodles (preferred) or dried soba udon noodles
Salt
1/4 cup crunchy or creamy peanut butter (I prefer crunchy for the added texture)
1/4 cup rice vinegar
1 Tbs. soy sauce
1 tsp. sesame oil
Hot Asian chili sauce, to taste (I like to use Sriracha for this dish)
Minced green onions for garnish (optional)
Chopped peanuts for garnish (optional)
Method:
In a large bowl, whisk together the peanut butter, rice vinegar, soy sauce, sesame oil and chili sauce until smoothly blended.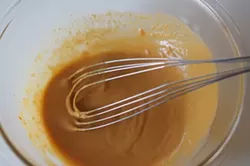 Next, cook the noodles according to package directions in generously salted water.
Drain the noodles and rinse under cold water.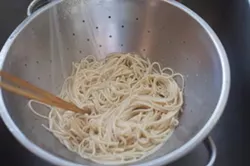 Toss the noodles in the bowl with the peanut sauce (optional: garnish with green onions and/or chopped peanuts).
Serve the noodles chilled or at room temperature (I prefer room temperature) as a side dish.
The noodles are pictured here with poki salad.