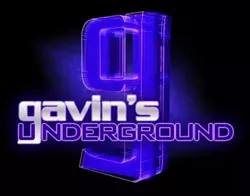 Arcades today are in a unique place, seeing copy-cat models with no supervision at almost every mall die off, while independently owned businesses are now rising and flourishing. --- The Game Grid in West Valley serves as a perfect example that putting effort into the place will bring people in droves. But for those not looking for the latest title but who are interested in a throwback experience, there's a little spot on Highland Drive you might wanna check out.
The Atomic Arcade opened up earlier this month with a roomful of classic titles from the '80s to the early '90s, all cleaned up and in near-perfect condition. Almost like a scene from Tron (with a working version of Tron in the room), the arcade offers up a chance for people to relive the electronic-gaming boom with a fistful of quarters and late-night hours. Today, we chat with owner Chris Wright about his career in arcades, starting up the new business and thoughts on gaming today.
Chris Wright
Gavin: Hey, Chris. First off, tell us a little bit about yourself.
Chris: I grew up in Sandy when it was sagebrush and sand dunes, I played games like Tempest, Asteroids, Donkey Kong, Pac Man, you name it, and the local Reams always had the newest and coolest stuff as it came out.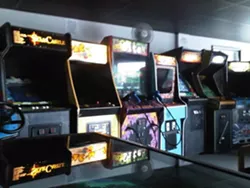 Gavin: How did you first get into video gaming, and what were some of the first games you really enjoyed?
Chris: The first favorites I remember were from a place on 90th South by the freeway called Me-N-Willey's. It was an arcade pizza place with Western town-themed booths -- one was in a jail, another was in a bank, etc. -- that had tons of cool games. I couldn't get enough of Crossbow, Battlezone, Sea Wolf, Carnival, Stunt Cycle, Fire Truck and Berzerk. I liked Sprint 8 and Discs of Tron at Lagoon. Then there was the 49th Street Galleria with its three "pits" of games, a whole downstairs and upstairs full of games -- my first kiss was on top of those stairs! -- and more chocked in the bowling alley, batting cages, skating rink, and mini-golf areas. They had Marble Madness, Discs of Tron, Tron, a Spy Hunter cockpit, a Star Wars cockpit, Black Knight 2000, Dragon's Lair, Cliff Hanger, so many I can't even remember! Back then, my friends and I played Atari to get a little taste of the arcade at home. Everything was rated by how close to the real arcade game it was. Of course, we liked Kaboom! and Miner 2049'er, but they didn't have the ominous officialness or the risk and limit of financial loss the arcade had. Remember, 25 cents was a lot to someone who only made 13 quarters an hour, let alone to a kid who made nothin'. 75 cents for Dragon's Lair was insane!!! I found M.A.M.E. while I was using the advanced-at-the-time Power Macs and PCs at the Kinko's I worked at. I ran across the Atari emulator Stella, and later did a search on Lycos to see if there was anything similar that could play Star Wars from the arcade. I was in disbelief when I found out that you could, on a new emulator made for a school thesis project by Nicolai Samora. I was blown away to see Star Wars come alive and work. I never thought I would ever see it again. As far as I thought, it was a long-gone sweet memory.
Gavin: What got you interested in being a part of arcades, and what was the biggest influence for you to seek a career in gaming?
Chris: Down the road, my friend found a Battlezone at the D.I. and called me up to go grab it, remembering stories I continually rambled about the game. I had never seriously considered owning an arcade machine, as they were so expensive. I took it home and left it on all night, wide-eyed as I soaked in the green glow and smell of dust burning on hot electronics. I started looking at eBay and looking at arcades for games and parts for sale, and soon found I could get broken ones people were throwing out for next to nothing and fix them up and sell them, then buy two or three more projects. The online resources for info on how to fix these is copious, and little by little I got some experience under my belt. Today, the online community is massive, with people from all walks of life offering everything from part reproduction to technical expertise. Though they are only about 2% or so of the collecting community, they are definitely the largest contributor to the preservation, repair and restoration of arcade machines.
Gavin: What was your first job at an arcade, and how was it for you breaking into the technical aspect of the business?
Chris: I worked at Peter Piper Pizza, but I only tended the games here and there when I wasn't cooking pizzas or washing dishes. My third game was a Wrestlefest whose monitor was dead. Research pointed to the flyback transformer in the monitor. I replaced it and up it came. Discharging the monitor for the first time was scary after reading up on people getting thrown six feet from the 80,000 volts stored in the tube going through them. It felt great to know I had followed the clues properly to successfully repair it.
Gavin: For people who may not be aware, restoring a game isn't just finding a box and plugging in the board; a lot of work and money goes into putting it back to its original form. What's the process for you when choosing a game to restore and finding the items to put it together?
Chris: The games choose me; I'm kind of like a gun collector in that I feel the original wear and tear is part of its history. I only try to restore things that are damaged or in need of deconversion. I always restore a game gut- first and only do the outside if it's horrible or detracts from playability.
Gavin: How did the idea come about for you to start up your own arcade?
Chris: I always wanted to do more with myself, like go to school or start a business. I've toyed with the idea of "whoring" my collection a few times -- dumb luck and kind people and, finally, desperation and my personal life falling apart ended up making it a reality. It turned out to be far from whoring, by the way.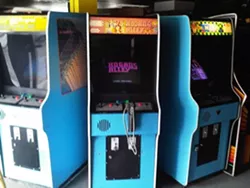 Gavin: What led you to the location on Highland Drive, and where did the name come from?
Chris: A family friend owns the building and offered it to me. I've been fortunate they were as patient as they were -- the city and fire inspection took forever to get lined up; issues at home prevented me from focusing my efforts -- or else it would have been opened much earlier. They still haunt me, too; it's quite a juggle to make this happen. I'm here 'round the clock, volunteers watch the place while I work at my other job, I go home to sleep for a few hours, take my kids to school and head back. I wouldn't be able to do this without the outpouring of support from the community. My kids' future and the enthusiasm of the community, family and friends is my fuel. I owe everyone so much for their help and kindness -- this place must kick ass and I will do everything I can to make it do so.
Gavin: How was it for you turning the place into a suitable location for all these games to be housed, and how did you decide which ones to bring from your own collection?
Chris: All of these are my collection still. I have much more fun watching others enjoy the games than I ever had hoarding them to myself -- I never would have guessed.
Gavin: You opened up the arcade a few months ago, with a prime spot across from A Bar Named Sue. What was the reaction like from both the general public and the nightlife crowds who came to check it out?
Chris: Half of the people don't know I'm even here and are surprised when they find me. The side facing the street isn't open yet and I'm still working on signage. The reaction of those who do find it has been positive, and I'm gratefully amazed at all of the help that has been donated and offered.
Gavin: Unlike a number of the other locally owned arcades, you mainly have titles from the '80s and a few from the '90s, with not a lot from the previous decade. What made you decide to stick to those classic titles as opposed to more recent material?
Chris: I've watched and listened to my customers "wishes" and complaints over the last decade working at nickel arcades. Kids don't even notice tickets are missing here. Ticket machines are payout-controlled, and I've always felt it was scummy to take advantage of people that way, no matter how much fun they think they're having. And there is no "I didn't get what I wanted" feeling when they leave. I'm not opposed to new pins, vids and dance games. Those will be welcomed as space and money allows, especially since some of the tech is outdated to the point where it isn't really produced anymore.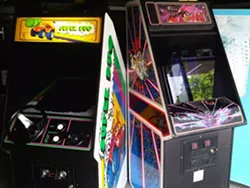 Gavin: I read that you have plans to expand the arcade to over 90 titles under one roof. How much expansion are you looking to have with the arcade, and what games can people look forward to seeing?
Chris: Star Wars, Sinistar, Stunt Cycle, Gun Fight, Hook, Golf, San Francisco Rush -- geez, I dunno, lots!
Gavin: What's your overall goal with the arcade, and what do you hope people will take from playing these old titles?
Chris: To exist and make people happy. The goal is a place where the condition of the machine can be taken for granted that it works and people can just play and enjoy.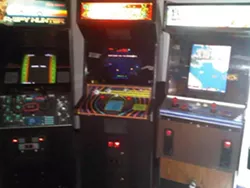 Gavin: How much of an impact does home gaming have on arcades today, and where do you see the business moving in the next five years?
Chris: People are tired of playing at home, LAN places do well, and look at guitar hero. People are excited to play the game they play at home on a cool machine out in public and show off. People want both. People also would like innovation over platform regurgitation.
Gavin: What can we expect from you and The Atomic Arcade over the rest of the year?
Chris: Mayhem and anarchy. Look out! I'm outside the box!
Gavin: Is there anything you'd like to promote or plug?
Chris: My customers! Thanks for keeping me goin'! I appreciate all of your kind suggestions, volunteering, compliments, and for dropping the quarters that keep the door open.
| | | | |
| --- | --- | --- | --- |
| Follow Gavin's Underground: | | | |