At the Red Butte Garden Outdoor Concert Series opener on Monday night, The Shins and The Head & The Heart both gave emotionally charged performances that kept concertgoers warm even though a chilly wind was blowing out of the canyon.---
Saying The Head & The Heart's (pictured below) folk-infused set was energetic wouldn't be doing it justice. Every member of the band whaled on their respective instruments with their entire bodies, and such enthusiasm was an absolute joy to watch. With heart-tugging lyrics on songs like "Gone," "Josh McBride" and "Down in the Valley," The Head & The Heart were able to make a large venue like Red Butte Garden feel like a campfire singalong. Frontman Josiah Johnson and company showcased exuberant, powerful performances all around, and on "Rivers & Roads," violinist Rose Thielen busted out some fantastic pipes in the chorus.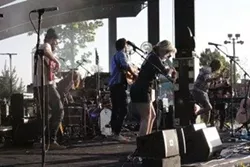 The Shins' (pictured below) set had the entire audience on their feet, and not only to keep from freezing. By the time the band took their places onstage, the sun had set, making the stage lights play against the trees surrounding the amphitheater -- a fantastic, surreal accompaniment to the dreamy tunes. Fan favorite "Caring Is Creepy," from Oh, Inverted World (2001), as well as songs from The Shins' latest, Port of Morrow, appealed to both new and seasoned listeners alike, and everyone was dancing and swaying to the music. New songs like "The Rifle's Spiral" and "No Way Down" showed The Shins are masters of crafting cozy, indie tunes.
Although The Shins began their set with a standoffish emotional distance from the crowd, unlike The Head & The Heart, they slowly opened up, inspiring a particularly lovely moment while playing "New Slang." During the song's chorus, almost every person in the audience joined in, taking an already ethereal tune and raising it to haunting, shiver-inducing status. Later in the show, frontman James Mercer broke conversational silence by sharing that he's from Roy, which earned him hearty cheers.
An encore that included "Sleeping Lessons," from 2007's Wincing the Night Away, was a reward for those who braved the night's increasingly cold temperatures. The sets from The Head & The Heart and The Shins complemented one another perfectly, in a setting that showcased both bands' ability to create an intimate venue in a large space through emotional performances. As I hiked back to my car, my heart felt warm and cozy even though my fingers were numb around my cooler handle.
(Photos by Kolbie Stonehocker)