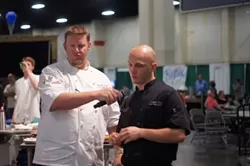 I was honored to be part of the judging panel for the 5th Annual "Iron Chef" culinary competition at the Nicholas & Company Food Show, held at the Sandy South Towne Expo Center. --- This year's competition pitted chef teams from Faustina, Fresco, Montage and Talisker against each other, ably assisted by students from Salt Lake Community College's Culinary Arts program.
The teams were given 90 minutes to create a minimum of three different dishes, all incorporating a "secret" ingredient: mushrooms. There was a huge array of fresh mushrooms to utilize, provided by Nicholas & Co., from chanterelles and porcinis to lobster mushrooms, shiitake, oyster, enoki, morels and more.
The creativity of these talented chefs dazzled our palates as we tasted our way through dishes ranging from mushroom-stuffed agnolotti and mushroom cannolis to foie gras-mushroom ice cream. FOX 13's Big Buddha and Nicholas chef Michael Showers provided the humor and play-by-play for the event and, when all of the dishes were tasted and evaluated, the Talisker team came out on top. Although, any of the four teams could have easily won the competition; nearly every dish was truly amazing!
For winning the Nicholas & Co. culinary competition, Talisker will represent Utah at this year's ChefDance, held during the Sundance Film Festival.
Congratulations to ALL of the creative and talented chefs and students who competed. Here are some scenes from the Nicholas & Co. Food Show. Thanks to Faith Scheffler for the photos!