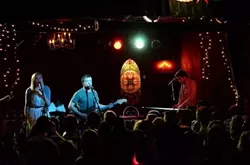 Damn, it must be good to be home again.---
Utah County's The Mighty Sequoyah just wrapped up a two-week West Coast and Northwest tour in support of their freshly released LP, Sunken Houses (the photo above was taken at the CD release show at Velour in Provo before they left). And now they're back home reflecting on the glories and the consequences of the road.
To read the first part of their tour diary, go here. For more information on the band and to purchase Sunken Houses for $6, go here.
On June 5, Caleb Darger caps off the diary, now that he's back in Utah:
"When you think about going on vacation for 12 days, it doesn't seem like very long. But when you're spending most of that time driving in a van, and then playing shows in a different city every night, it starts to feel like a long time. By the time we drove into Salt Lake City Thursday afternoon, we were all ready to be there. By then, we had seen a solar eclipse, the Grand Canyon, the deserts of Arizona, the beaches of southern California, amazing landmarks in San Francisco, the beautiful lakes and forests of the Northwest and everywhere in between. We had marveled at each city we'd been to, taking them in as much as we could while trying not to be too 'touristy.' I naturally started looking at Salt Lake the same way. I never realized how ugly the drive down I-15 is, most likely because I know how beautiful Utah really is. It was a weird realization, though.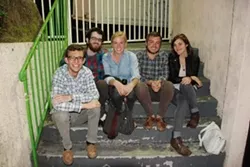 It feels so good to sit after driving all day through California.
San Francisco was the only day of the tour that we didn't have an official show. I was a little disappointed; I'd contacted every bar, venue, cafe and band in that city and wasn't able to finalize anything. It didn't end up being too bad, though we had to be in Portland (11 hours away) the next night so we busked on the street for a little while to make a few extra bucks, then checked out the city for a couple of hours, which included delicious (and expensive) clam chowder bread bowls, and the most chocolaty hot chocolate you've ever tasted. We got on the road that night but were exhausted after a couple of hours so Mike caved and bought a hotel room.
The next night we played at a tiny bar in Portland called Valentines. It was a cool vibe and we played with some great bands. The next night in Seattle was somewhat of a homecoming for Alex since he grew up there. We found some paid public parking behind some buildings and went to explore the city. When we got back we saw that the driver side window of our van had been smashed in. I think all of our hearts stopped. There had been ipods in the front console, laptops, our cash box, and of course, our thousands of dollars worth of gear. We began to survey the damage, thinking our tour was probably over, but before that thought had time to really sink in, we realized that everything seemed to be there. We couldn't find anything missing! Even now thinking back, we feel so fortunate that it turned out the way it did. Our guess is that the thief got scared before he or she had a chance to do much damage. We were able to play our show that night, and have the window fixed the next morning with enough time to get to Boise. It was nothing short of a miracle that everything turned out as well as it did. When we finally got on the road, we realized that they did get away with something: Alex's Zune. It turned out to be quite comical because we're always making fun of the Zune for its inherent inferiority to the iPod. Both had been sitting next to each other in the cup holder screaming for the vandal to take them. For whatever reason, the Zune was chosen. Needless to say, Alex was validated.
Broken windows are not in the tour budget.
Boise is an amazing city; it reminds me of a smaller, cleaner Salt Lake City, at least the parts we saw. We weren't expecting much from the show, since it was Boise, Idaho, on a Tuesday night, but we were in for a surprise. We didn't go on until about midnight but the crowd was awesome. The last band played until about 2 a.m. and the crowd had definitely diminished in size by then, but they were wild as ever. The next night we played in Rexburg, Idaho. We love that town, not necessarily for its beauty or its landmarks, but for its people. They are all so friendly and accommodating. Shows are always well attended there and we always have a great time. It seems like people appreciate music in a different way there because not as many bands come through. We had somewhat of a homecoming show in Salt Lake on Saturday, where we played with The North Valley in a backyard. They were incredible, and we had a great time.


The Mighty Sequoyah with Austin Dixon in Rexburg. He's the guy behind the Bees Knees Festival.
It's been great to be back but we're looking forward to the East Coast, where we'll be heading in July. Thanks to everyone who supports us, including City Weekly for posting this blog! We are eternally grateful."