At Desert Rocks Festival 2012, whenever someone found out it was my first-ever music festival, they'd say, "Whoa, Desert Rocks is a hell of a festival to be your first." And weren't they ever right!
But, I survived the four-day dance-your-ass-off-in-the-desert fest to live to tell the tale, even after inhaling more dust than I thought possible, having my brain reach near-frying temperatures under the relentless sun and barely sleeping. But despite all the frustration, I still had a blast. Here's my recipe for a successful Desert Rocks: 1. Slather on that greasy sunscreen (even though it turns skin into a sand magnet). 2. GO TO THE RIVER. 3. Embrace the weird and go with it (seriously, shit gets bizarre). 4. Go with a good crew.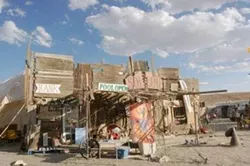 Thursday night was my first taste of the spacey Desert Rocks vibe, with a bumpin' set by DJ Rawfidelity at the Cosmic Stage—which was by far the festival's most visually interesting stage and a piece of art in itself. The buildings surrounding it doubled as art installations, such as the Sol Lun (as in "saloon") and the Illuminarium, both built by the Solar Saucer Cosmonauts. The structures had a funky look that made me think of a post-apocalyptic colony built on another planet with the refuse of Earth's urban society. The Western-style Sol Lun was constructed entirely of found/upcycled objects: broken doors, old typewriters, random glass items, a "chandelier" made from plastic bottles, an old piano, ratty couches, etc. It looked like a set straight out of Firefly—I half expected the crew of Serenity to walk into the shutter doors at any moment and start shooting up the place.
This year's Desert Rocks was held at a new venue, and I think that might have contributed to some major glitches in the festival's execution. Frustration with the organization, or lack thereof, of the festival came to a head when the water tank in our camping area (the temporary home of hundreds of people) ran dry on Friday (and stayed empty until sometime Sunday), and the fabled new schedules—redesigned due to errors in the original version—were never printed or distributed. The venue layout was a pain in the ass, as well: Since there was only one main entrance, trudging long distances in the dust was the norm unless you were camped close to said gate.
Friday night brought the "Consciousness Ceremony" at the Earth and Sun stages, which began with a blessing and prayer by Grandmother Flordemayo, a healer and member of the International Council of Thirteen Indigenous Grandmothers. Next was a psychedelic spectacle of dancers, musicians, costumes, visual art and fire that included a performance by Phaedroid—the stage name for Android Jones' spectacular art and music combined with gorgeous dancing by his wife, Phaedra. By far the most beautiful moment I experienced at the festival, the symbiotic performance consisted of Phaedra dancing onstage while Android's art was projected onto her, resulting in a stunning example of living, breathing art. Surrounded by whirling snowflakes, butterfly wings, growing plants and more, she seemed to meld directly into the artwork.
After a crowd-rousing set by Chali 2na on Saturday evening, a sandstorm kicked up that didn't die down until the ungodly hours of Sunday morning. Wind destroyed tents, scattered anything that wasn't tied down, tipped over Porta-Potties (and you thought they were horrible while upright), and drove sand, sand and more sand into the eyes, ears, mouths and noses of festival-goers. Sick of the wind and dust, I elected to hang back in the tent with a flask. I woke up in the morning (you can sleep through anything when utterly exhausted) and looked at my pillow to find my head outlined in dust. That morning, I also found out all the stages had to be shut down between midnight and about five in the morning due to the near-whiteout conditions. After dusting off and packing up, my friends and I bid farewell to the desert and headed home.
I can't confirm whether I'll go to Desert Rocks again—I'm still finding sand in odd places. But the festival was absolutely worth it since it was such a unique experience—hippies make the best people-watching subjects—and I made some awesome new friends, which, call it cheesy, was my favorite part of the experience. Dealing with such intense conditions results in some major camaraderie as you cope with crazy weather and crazy people.
I will never forget you, Desert Rocks—I brought home enough sand in my clothes and hair to remember you forever.
Twitter: @vonstonehocker