It's been over four years since I last interviewed Shilo Jackson about the Kayo Gallery, and as you'll read, a lot can happen in that span of time. --- Since the first interview, she's taken on a partner, had some awesome neighbors take on the space next door and below, had that partner leave, formally departed from the Stroll, put on dozens of successful shows and received a number of awards and recognition along the way. But with the departure of Frosty Darling next door, the gallery and its owner have now moved into a new phase.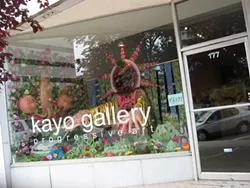 This month, Kayo reopened its doors, moving 20 feet to the west and occupying Frosty's old space to become a gallery and artistic boutique, catering to those who miss the former shop's aesthetics and selection while still exhibiting artwork from local and national artists on a monthly basis. Today, we chat with Jackson about the last few years and how the gallery has changed, the recent move and thoughts on the local art scene -- all with photos of what's currently on display this month from Elmer Presslee.
Shilo Jackson (with Gentry Blackburn)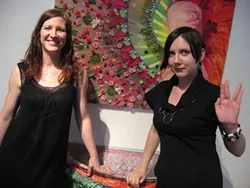 Gavin: Hey, Shilo. First thing, how have you been since the last interview?
Shilo: Hey, Gavin. I've been ... hanging in there. Fighting to survive. Trying to figure out how to do so in this economy and in this city where seemingly few people buy art.
Gavin: Over the past few years, you've had a lot of changes at Kayo. How was it sustaining the first year by yourself and working with Frosty Darling and Boku?
Shilo: Frosty and Boku were separate businesses owned by different amazing women. We simply got along well and had a unique relationship helping each other out. I've been sustaining Kayo pretty much on my own since I started. I still have a great passion for the arts and I really want a progressive place for art to be displayed in Salt Lake City. Going in, I never wanted to do this to make money. I still don't. My hope was that I could make Kayo self-sustaining. Unfortunately I haven't even been able to do that.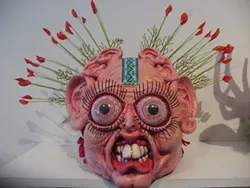 Gavin: What made you decide to bring in Davina Pallone as a partner in 2009, and what was it like working with her for that year?
Shilo: Davina was around when Kenny first started Kayo. She knew of the financial hardships of keeping Kayo open and decided to partner in to help me shoulder the burden. I was thrilled to have a diverse partner and get some new ideas going. We made a great team. I was sad to see her move away, but it's hard to expect anyone to continue to pour money into a space so selflessly.
Gavin: Over time, the circumstances of the gallery changed, but you kept putting on shows and booking things in advance. What kind of a challenge was it for you sustaining the gallery during these minor transitions?
Shilo: I have a day job. I won't be quitting it anytime soon. It pays my personal rent and the rent on Kayo. Yes, I work another job to put on art shows for Salt Lake. To date, I've lost about 60K. I was really starting to question how I could justify doing this and earlier this year made the decision to close Kayo at the end of this year. I really had a hard time justifying to myself why I could continue to make such drastic personal sacrifices to put on shows for an audience that doesn't buy art. But after some soul searching and remembering my passion for this, I am going to try some new things to see if I can actually get Kayo to be self-sustaining, more huge sacrifices up front and some serious changes that I hope will pay off in the end. Kayo is going to become a much different space. Not everyone is going to like it, but I have to do something to pay the rent and not keep doing it out of my own pocket.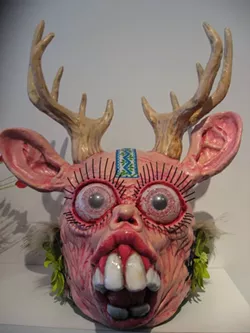 Gavin: One of the biggest changes you made was that you stopped being an active member with the Salt Lake Gallery Stroll, but continue to do shows during their event; arguably a bold move on both ends. How did that come about, and what's your relationship like with Stroll today?
Shilo: Actually, when Kenny owned Kayo, he was never a member of the SLGA. That was the first thing I did when I took over Kayo in Jan 2008, was to join them. The ONLY reason I quit was due to the cost. It's $300 annually to be a member of SLGA. You say it like it was a bold decision I made, to leave the association. That's not the case at all. I'ts expensive and I had to cut all unnecessary expenses in order to survive. That's it. I wasn't snubbing them. I wasn't making a statement. I was trying to stay open. I know they don't like that I still utilize Stroll, but I don't think SLGA owns the 3rd Friday of the month -- I think the galleries do. We're the ones who stay open late and put on the shows and receptions. Frankly, Kayo is a flagship for this block for Gallery Stroll and most definitely draws a crowd to this area -- as do the shops who stay open late on Broadway who are also NOT members of SLGA. Frankly, I think as galleries and businesses, we should all support each other as best we can and not make a stink because someone didn't pay dues to stay open late on a certain night of the month. Again, if membership didn't cost $300 annually, or they had some other option for me ... I'm doing the best I can. If I can someday afford the fee to be a member again, I'll rejoin. I didn't leave on bad terms.
Gavin: You also kept some of Kenny's original group shows and started some new ones that draw big crowds. When are these shows, and what made you decide to continue doing them?
Shilo: Well, there's the Round show in February, which is Kayo's anniversary show for Kayo artists of past, present and future. The work is all in a 12x12 format to unify the pieces. And they're at nice pricing as a thank you to my patrons. There's also the cigar-box fundraiser, where artists turn boxes into art and they are auctioned off to raise money to help me pay the rent and stay open. Then there's the small-works show in December -- great for gift giving on the holidays.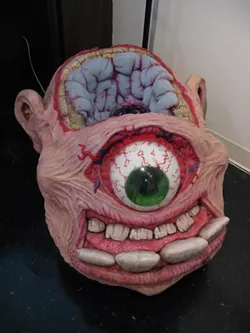 Gavin: For a short time, you had the Stolen & Escaped gallery in the basement where Boku used to be. What was it like having a second gallery for that time, and why did they eventually leave?
Shilo: Stolen & Escaped was such a fun space. And it's so great having another gallery in close proximity. We had to work together to make sure we weren't booking the same artists. They put on some great experimental stuff. But again ... this isn't a business that makes money, and at some point everyone has to ask why they continue to pay out of their own pocket to put on shows for Salt Lake City. When you can't come up with a good answer anymore, it's time to go.
Gavin: One of the biggest challenges you've talked about over the years has been financing the gallery, which you've done fundraisers and even created a donation box for. What kind of a challenge has it been for you as a solo owner/curator to keep an art gallery like yours open?
Shilo: I struggle daily. I have my day job, but I get tired of working six days a week and sometimes two jobs at the same time. I'ts not easy. This year has been the worst year to date, and I'm pretty public about it. This is a gut-wrenching business sometimes. The donation box is greatly ignored. People don't want to hear the plight of a small business, but when they close, everyone yells about it and doesn't want to see it happen. But those same people walk by daily, they don't come in, they don't spend money. If nobody buys anything from a local business. that business will close. It's really simple math: Nothing into nothing, carry the nothing -- yep, nothing.
Gavin: Most recently, Frosty Darling had to close up shop. How was it for you seeing Gentry and the business leave back in April?
Shilo: Gentry actually just closed her doors last week. It was horrible. I hated watching it happen. It's not something you ever want to see as a business person. You hope beyond hope that something will happen to "save" the business. She struggled the same struggle I've been going through for years. You finally just have to decide that that's it. She agonized over it. I will miss her every day. We had a rare and wonderful partnership. She is an amazingly talented person and I hope she continues with not just her art, but with her crafting. Bottom line, I just wish that more people here shopped local. If they don't, you will find Subways, Starbucks and Quickloan places on this block someday.
Gavin: Where did the idea come from to move into Frosty's old space? And even though it's just next door, was there any hesitation on your part knowing you established the gallery people know today?
Shilo: Again, this wasn't really a decision I made. This is survival, and it's costing me more than I want and I've been heavy into manual labor for the last four days and I'm hating every minute of it. Ron Green, of Green Ant, and I started talking when we found out Gentry was closing Frosty. I could never pay the full rent on this space, so I needed to get a shop in here ASAP. Ron and I talked and he decided that he could use more space for his shop for higher-end furniture. So ... bust a hole in the wall, expand Green Ant, and I would move into Frosty's space. Neither of us wanted a business in this space that didn't make sense for Broadway. It was a good answer for both of us.
Gavin: What was the transition like for you switching over to the side of the building, and what kind of a challenge was it turning that into a gallery?
Shilo: I'm still in transition hell; not even close to finished, actually. It sucks. It's sweaty. It's miserable. I tried to bring the hardwood floors back on this side only to discover the carpet glue that was laid down 20 years ago requires a firebomb to remove. So, alternative flooring is in the works -- another expense I didn't need. Plus, you know how customized Frosty was. Removing Gentry's world from this space is painful and labor-intensive. It's a mixed bag for me. But, I will get there. And I'm still at the same address so, hopefully, people don't have a hard time finding me.
Gavin: Moving over to that side, you also have the downstairs area where Stolen & Escaped used to be. What do you intend to do with that space now that you're above it?
Shilo: The space is for rent. But who knows? If the changes I'm making to Kayo make it self-sustaining, we'll have Kayo above and underground.
Gavin: Word has it you plan to sell items beyond the artwork you've displayed. What can you tell us about that?
Shilo: Just come to the grand reopening to see. Kayo is definitely going to change.
Gavin: Tell us about the artists you'll have on display this month after the reopening.
Shilo: Elmer Presslee is the June show. Cassandra Barney and Brian Kershisnik are set for July. Seriously more excited about these shows than ever!!! BRIAN FREAKING KERSHISNIK AND CASSANDRA BARNEY at Kayo?! It's a dream for me. I'm just a little bit excited.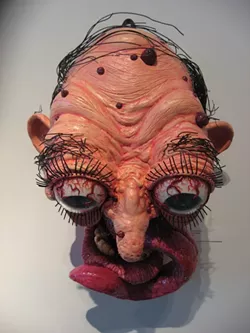 Gavin: Moving on to local art, what are your thoughts on our art scene as a whole, both good and bad?
Shilo: I think our art scene is growing and I love to see that. Now, how to get patrons? Maybe it's just Kayo that doesn't sell art. Ha! Actually, I asked Blonde Grizzly; they struggle, too. They have their merchandise that sustains them. I'm having to go that direction to, hopefully, make ends meet. Art enriches the soul. Buying an original piece is so much cooler than going to Pottery Barn or Target and getting something anyone can own. It's also addictive. And I have art for every budget. And I take payments. Please, BUY ART.
Gavin: Is there anything you believe could be done to make it more prominent?
Shilo: The city should push it more than they do. They should be advocates for us. Make SLC art as prominent as San Fransisco, New York and LA.
Gavin: Who are some local artists you believe people should be actively looking at?
Shilo: My favorites -- Wren Ross, David Ruhlman, Brian Kershisnik, Cassandra Barney, Lori Nelson, Sri Whipple, Trent Call, Gentry Blackburn, Edi Roberson, Ryan Harrington, Dan Christofferson, Jeff Christianson, Grant Fuhst, David Laub, Chad Crane and Zane Lancaster. My goodness, I could go on and on...
Gavin: What's your opinion on other galleries and the work they're doing to promote local art? And as a gallery owner, do you view them more as comrades or competitors?
Shilo: We are comrades in arms. I think the local galleries here are great and I hope they're all doing better than I am. I'm SO thrilled that Blonde Grizzly moved to Broadway. I nearly peed when I heard they were. Sorry...TMI? I think we have a strong hub of artists and that they never get enough representation. I think the art scene is only going to get better and strong. Being tied to Kayo, I miss a lot of cool things. I haven't strolled in nearly six years. But I do get to some local spots as often as I can.
Gavin: What can we expect from both yourself and Kayo Gallery over the rest of the year?
Shilo: I honestly thought I was done after this year. Now, I'm coming up with some new things and trying to figure out how to relieve some financial burden from my own pocket, taking some huge financial risks and hoping beyond hope that my gamble pays off and that I can at the very least make this place pay for itself. I'll continue to work for free, I've never drawn a salary! I pay out of my own pocket to keep this place going every month. I went from being certain I was closing to "I will survive -- how the hell can I keep this going?! What do I need to do, try?!" Let's hope I do something right.
Gavin: Aside from the obvious, is there anything you'd like to promote or plug?
Shilo: BUY LOCAL, BUY ART!!!!! SUPPORT YOUR LOCAL BUSINESSES BY SHOPPING THERE!! Browsing is great, but it doesn't help us if nobody buys anything. And check Kayo out -- there will be some big changes.
| | | | |
| --- | --- | --- | --- |
| Follow Gavin's Underground: | | | |