There are no secrets at the 36th annual Utah Arts Festival, just four days of hunting through this enchanted art forest. So, here's a "magic whisper," like Ahmyah Smith (pictured above), and a visual peek into the fest's best sights and sounds.---

The daytime activities on Day 1 of the festival offered more space to peruse art and appreciate performances. Those who made it out on Thursday were richly rewarded visually and auditorily (check back for a blog about Day 1's nighttime activities). My photo safari provided some sweet shots of a few of my favorite things. For more City Weekly coverage at the 2012 Utah Arts Festival, check out CityWeekly.net/UAF,

The stilt-walking puppeteers Dragon Knights walk through the festival grounds. Standing at about 10 feet tall, they are formidable at snatching cups of yogurt from the free vendors (that happened right after this shot, actually).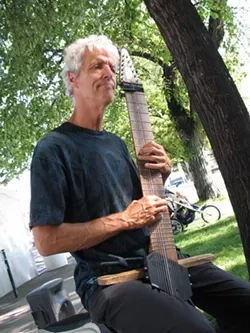 Bob Culbertson plays the Chapman stick, a 12-string fretboard played much like a piano, invented in 1974 by Emmett Chapman.
Sometimes function is better than fashion, but when there is synergy between the two, it is a boozy, wonderful thing: Breithaupt Creations' wine rack.
The Go With the Flow water sculptures made me wish there were a Slip-n-Slide to cool down during the near-100-degree heat. Thankfully, beer, the next best thing, was just around the corner.
Conde Kieateen Teargon, 756-month-old Sufi mystic from the land of Kukamonga (I shit you not, that's who he said he was.).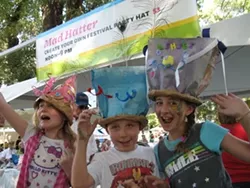 Why is a raven like a writing desk? Amy Rapp, Aric Adolf and Ashlee Adolf (left to right) don't know, but they made those sweet hats at the Mad Hatter tent.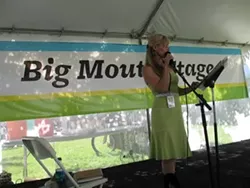 Melissa Bond, Big Mouth Stage co-coordinator , reads some of her own poetry and short stories.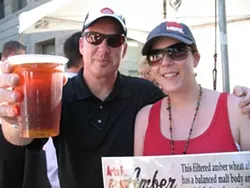 Steve Kuftinec, Uinta V.P. of Sales, and Aimee Dinsmore, Arts Fest development director, share a delicious brew, the Uinta Arts Fest Amber, at the Sponsor Patio.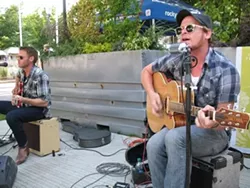 A little acoustic blues provided by Staks O'Lee. Want to peep some more excellent tunes this weekend? Here's a list of my top picks.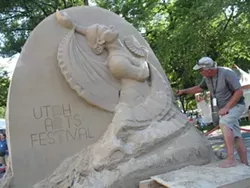 Ted Siebert in action. There were mounds of sand mud on the periphery, so kids were making their own angels and devils. Read more about the project here.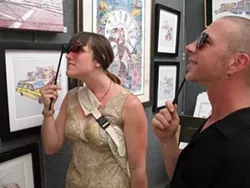 Emma Goldgar and Jason Yeske check out Shawn Harris' 3-D digital photography.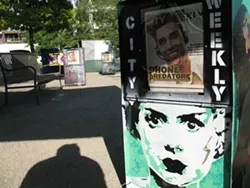 City Weekly
is watching you. No, really, we are. Anyway ... read a bit about the Out of the Box project here.
Street artist Shunt uses the urban landscape as his canvas as he gracefully mists his tag in hunter green -- s--t, this is why I'm not an art critic. Bring your own paint and tag the wall at the Urban Arts, south of the Park Stage.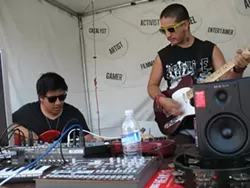 Get collab-y with the Spy Hop kids as they jam out in the impromptu Found Sound production studio. They even have a freakin' glockenspiel.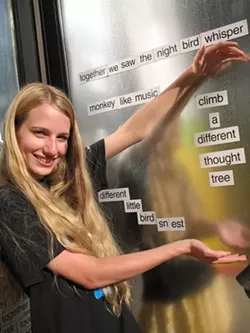 Community Writing Center Helena Duncan gets all poetic and stuff with the large magnet poetry offered on site. Check out the CWC website for a list of workshops or to enter the Iron Pen challenge with yours truly.
Twitter: @AustenDiamond