Before I talk about the WingFest that went down last Saturday, I'd like to point out that just about everyone I know (minus vegans) thinks that they're the Neil deGrasse Tyson of meat science. However, for some reason I keep running into wing eaters that don't know shit about wing strategy or etiquette. The following is a short list of a few things that need to be addressed immediately:---
1. Forget about the vegetables. Our parents used to force us to eat this useless side, but now I'm a grown-ass man. Once you finish your wings, the best thing to do is pick up the carrots and celery, clench them in your sauce soaked fist and throw 'em on the floor. Veggies don't clear your pallet and they're full of empty vitamins.
2. Eating wings is the only circumstance where Ranch is irrelevant. I love Ranch, it's a fabulous sauce. But if you must use a dipping sauce with wings, accept no substitute to bleu cheese. When BC teams up with wings, the combination is unstoppable.
3. Can we all agree to shut up about breaded wings? When I order wings and the waitress brings out breaded wings, I'm pissed. They're not wings, they're just fried meat wads wrapped in a biscuit. Call 'em corn dogs if you want, but for the love of God, refrain from calling them wings.
4. Quit wasting wet-naps and wipe off your "wing hole" when you're done eating. No one likes having sauce on their face, but getting extra sloppy is part of the process. Tip: If there's a wet-nap shortage, designate an eating hand. That way, you can have one clean hand for beer, phone usage and scratching.
5. Lastly, only beer should be paired with wings. It doesn't matter what type of beer, but the combo of chicken and suds is like a fine wine pairing that must not be tampered with. To hell with water. If you drink water with wings, you need to quietly retire from the wing game.
Alright, was I pumped that the Beehive Sport & Social Club asked me to be a taste judge for it first annual WingFest? Let me put it this way: In the future, when I dispense advice to my future son while lying on my death bed, I will say this: "My son, if you ever travel back in time … assassinate the inventor of Crocs." Then I will probably tell him to clear my browser history. Finally, I will tell him, "Son, if the opportunity arises--never skip an afternoon of passing judgment on sauced meats." In other words, I will do anything for free chicken.
This particular celebration of wings was located at the Batters Up parking lot last Saturday and featured corn hole, tricycle racing, karaoke, live music, dudes dancing in chicken suits, cheap beer and of course, a decent amount of wings. As I previously mentioned, this was the Beehive Sport & Social Club's first wing event, so only the Trolley Wing Company, The Wing Coop and Wing Nutz were represented. Still, over 500 people showed and over 8,000 wings were consumed. If you're trying to do the math, that equals out to roughly 16 wings per person. I have to say, nice work SLC--that's a solid chicken-to-stomach ratio that we should be proud of.
Our glorious ratio caused a temporary wing shortage.
The competition was broken down into three flavor categories: Buffalo, Barbecue, Signature and Best Overall (an aggregate of the three categories) and the food line was set up so no one knew which restaurant's wings were which. After tasting 'em all, wing eaters voted on each flavor.
Everyone tried at least nine wings. Restaurants were labeled as A, B and C with one wing per category.
I'm not gonna lie—I had a hard time choosing a winner. Selecting a single wing was like forcing a parent to pick which child they love more. They're all delicious little bastards. However, there can only be one and Wing Nutz, the place that bakes its wings and refuses to fry, ran away with it--winning the Buffalo category (for its traditional sauce), Barbecue (Jalapeño Honey BBQ) and Best Overall. Wing Coop, the spot known for the infamous 11 Challenge, took home Best Signature Wing for its Loco Lime Sauce.
Wing Nutz co-founder Will Owens with the Beehive guys.
One of the side attractions to this event was watching people attempt Wing Coop's 11 Challenge. Now, if you've never done the 11 Challenge, then you've never tasted burning. The challenge is a beast. In 11 minutes, you have to eat 11 wings that are soaked in Wing Coop's 11 sauces or, as I call it, Satan's tears.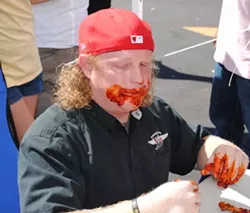 Some men just wan to watch the world burn.
At first, the taste is manageable, it's spicy and a little tangy but as soon as you say to yourself, "This isn't so bad. Wing Coop?! Fuck those guys," your whole body shuts down and you descend into a goddamned lava pit of pain. The worst part is, if you've finished your wings with time to spare, you have to sit at the table for the remainder of the clock while the sauce slowly melts your face. Thankfully, Wing Coop didn't enter its 11 wings in the competition. But that didn't stop a few kids from attempting the challenge. I watched a man die that day…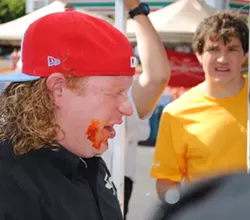 For a detailed account on how horrible this challenge is, peep
City Weekly
reporter
Eric Peterson's tale of carnage
.
Overall, the first annual WingFest was a success, and I commend the guys over Beehive Sport & Social Club for providing a much-needed service to Salt Lake City. "It's a testament that there are really good wings here in Utah," said Beehive Sports organizer Dave Marquardt, "It was something that Salt Lake City needed. The people want their wings."
As this event grows, Marquardt claims Beehive will be adding more restaurants like The Sugarhouse Barbeque Company, Buffalo Wild Wings, Wingers and basically any place that centers its menu around wings.
If you missed out on WingFest, don't snooze on all the other Beehive Sports action going down this summer. Registration for summer leagues like kickball, sand volleyball and bocce ball (which is free this year!) is going on till July 11. Check the site for more info.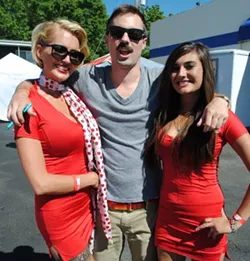 "Wings should be at least the third most important thing in your life. Everything else like friends and family should round out the rest of your list." -Colin Wolf