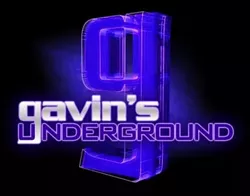 Woodwork art is not easy medium. As any crafter will be able to tell you, it's one of the few areas where there really isn't a rush job or easy way of producing work. --- So, when an artist takes up the craft, they're usually in for years of learning, but once mastered they can turn out some fantastic pieces. One local in particular who many of you may know is Isaac Hastings, and his woodwork under the more popular title IHsquared. His wood carvings, paintings and mixed-media displays have earned him a reputable name in a short span of time, backed by thousands of people who walk through Poor Yorick Studios twice a year to peep out his studio.
Today, we chat with Hastings about his works and the career he's built for himself, what he's currently got coming out of his space, thoughts on local art and a few other questions that came up.
Isaac Hastings
Gavin: Hey, Isaac. First thing, tell us a little bit about yourself.
Isaac: Hey, Gavin. I am a 23-year-old mixed-media artist born, raised and residing in Salt Lake City.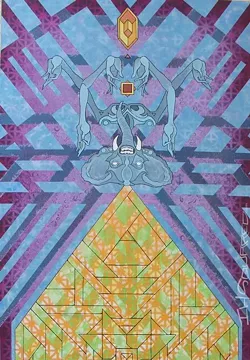 Gavin: What first you you interested in art, and what were some early influences on you?
Isaac: My first influences were skate and snowboard brands, I used to cover everything I owned in brand stickers. I have just always loved the artwork and been fascinated with the power of a brand.
Gavin: What influenced you to start working mainly with wood, both in carving and painting?
Isaac: I was born into a family of woodworkers, my parents have a furniture business and as long as I can remember, I was surrounded with wood.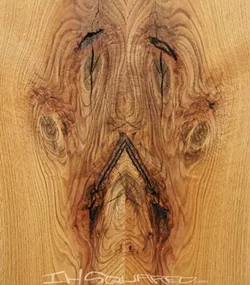 Gavin: Rather than seek out college, you became more of a self-taught artist. What made you decide to go that route, and what kind of a challenge was it for you learning on your own?
Isaac: After high school, I went to work for the family business and I got my education from extremely talented craftsmen and learned the true meaning of a masterpiece watching my brothers build gorgeous pieces of furniture. Working in a wood shop for so long really humbled me and gave me a taste of the "real world." I absolutely love learning and I think that school is a great route for some artists. I just love experimenting with art supplies and learning my own methods.
Gavin: What were some of your earlier pieces like while you were honing your craft?
Isaac: I have always used a lot of color, but when I was younger I didn't have as much of a plan as I do at this point. Most pieces ended up too colorful for their own good and my line work has come a long way, haha.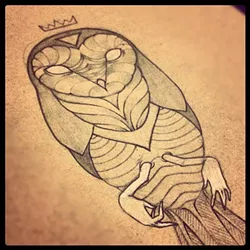 Gavin: What made you decide to start your own business for your art, and where did you get the name IHsquared?
Isaac: Ever since I can remember, I wanted to make my own bran. It all started with my wooden-belt-buckle business idea. I needed a Web URL so I could launch my first online shop. As for the name IHsquared, at a very young age I made a symbol from my initials that carried through. A capital I and H overlapping and I put it on all my art. So, I went back to the basics and slightly improved it by drawing it as a 3-D object and voila! IHsquared was born.
Gavin: What's the process like for you in creating a new piece, from the idea to final concept?
Isaac: Everything starts in my sketch book where I finalize the concept. Then, it's off to the wood shop, where I build the panel to the specific size. From there, it goes to my studio in Poor Yorick, where I use a wide variety of art supplies -- spray paint, acrylic, oil, watercolor and paint markers are used to finish off the piece.
Gavin: Considering the medium, are you able to play around with the design much while creating it or do you have to stick to the plan once you set it in motion?
Isaac: I am constantly experimenting during the process. I will make las- minute decisions to throw rubbing alcohol on a piece or totally change the color scheme or add salt just to see what happens. I'ts always been how I have learned. I have definitely destroyed my fair share of artwork making those last minute decisions, but sometimes I like not knowing how the piece will end up.
Gavin: As mentioned before, you do both painting and carving, sometimes crossing over as a mixed-media artist. Why did you spread yourself across two very different areas involving wood rather than focus on one and master it?
Isaac: Drawing and painting have always been my passion. Working in a wood shop opened me up to a whole new side of what art could be. My father showed me at a young age how to split and make symmetrical designs out of wood, which we call Knot Art referring to the knots in the wood. There is actually no carving involved. The process used showcases the natural beauty of the knots in the wood.
Gavin: When did you first come across Poor Yorick Studios and what made you decide to move in? And how has it been for you working in that space?
Isaac: I started at the Guthrie artist studios and was there for about a year and a half in a tiny room and I was finding that I needed more space. Around that time, I was given an opportunity and couldn't pass it up. I knew about Poor Yorick but had not been to their new location. I talked to Brad Slaugh, the owner, and toured the building. I have been there ever since. I love my space at Poor Yorick and all the amazing artists who work out of the building; it's very motivating for me to be around all the creativity and ambition of other artists.
Gavin: What got you into creating things like belt buckles and arm rings, and what's the reception been like creating more fashion-related items?
Isaac: Working at the family wood shop, I was always watching scraps of interesting wood that could not be used for the furniture because it was too small. I would tinker with the pieces after work and try and think of uses for these small scraps. My older brother had made some belt buckles in the past so I took his idea and ran with it and stared making buckles, cuffs, pendants and boxes.
Gavin: What's the goal you have in mind for IHsquared, and are there other areas you'd like to branch out into?
Isaac: I want to create what I am passionate about and share it with others. Ideally, IHsquared will branch out more into clothing and other design areas in the future.
Gavin: Moving on to local art, what are your thoughts on our art scene as a whole, both good and bad?
Isaac: I love the Salt Lake art scene! Salt Lake is teeming with talented artisans of all different disciplines. I feel like Salt Lake has a very unique art culture trapped in this little valley of ours and I see infinite potential in our city.
Gavin: Is there anything you believe could be done to make it more prominent?
Isaac: I am personally a big fan of street art and I think that Salt Lake would do well in accepting it as a more legitimate form of art.
Gavin: Who are some local artists you believe people should be actively looking at?
Isaac: As I said before, Salt Lake is filled with extremely talented artists. Obviously, artists like Trent Call and Sri Whipple are always coming out with amazing stuff. I am also excited to see what the artists at Copper Palate Press, Captain Captain, Poor Yorick and the Guthrie are up to, as well as some up-and-coming artists like Casey-Kawaguchi, Annastasia Copeland-Rynders, Nic Annette Miller, Rachael Carver, Ben Meeks, and so many more.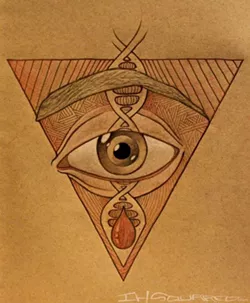 Gavin: What are your thoughts on the galleries we have in town and the work they're doing to promote local art?
Isaac: I love the galleries in town. My favorite night in the month is Gallery Stroll night. I hope to see galleries in the future focusing more on the local talent.
Gavin: As part of an artistic collective, what's your take on the collectives we have around town and the work coming out of them?
Isaac: I feel as though there is nothing more inspiring than working in a creative and collaborative atmosphere. Each collective is showing a unique side of the talent in Salt Lake.
Gavin: What's your opinion on the art festivals we have in SLC and how they've helped the art scene?
Isaac: They are all great and I love any opportunity to get together with other artists. It helps the art-scene network and encourages a more creative community. My personal favorite is Craft Lake City. I believe it is exposing a demographic of talent that can be overlooked by larger art festivals.
Gavin: What can we expect from both yourself and IHSquared over the rest of the year?
Isaac: I have a handful of projects I will be working on throughout the year. Expect several collaborations with local artists and companies, as well as several time-lapse-video projects. I am going to have a large outdoor plakat that will be showcased in July on Third south. I will also have a booth at Craft Lake City on August 11 at the Gallivan Center.
Gavin: Aside from the obvious, is there anything you'd like to promote or plug?
Isaac: To follow my art, check out these links: Facebook, Twitter, Tumblr, Pinterest and Instagram to see my daily sketches from @IHsquared.
| | | | |
| --- | --- | --- | --- |
| Follow Gavin's Underground: | | | |