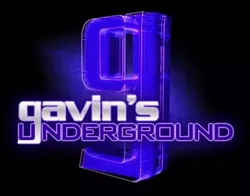 This Saturday, the Main Library will become home to the Alt Press Fest, the biggest gathering of independent zine makers and printers in Utah. --- The six-hour festival will feature creators of several publications both well known and extremely underground, artists who create works of the DIY fashion from journals and cards to pull screenprint designs, musical entertainment to the side and several oddities for you to glance over. It's completely free to attend, with many products free to take or purchase on the cheap.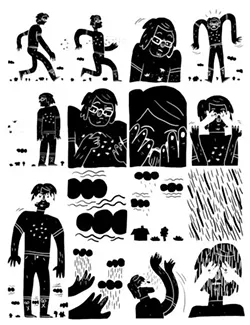 Before the festival kicks off tomorrow, we take a look at one of the artists involved: Jess Smart Smiley. Smiley has been creating cartoons and miniature publications for several years, creating children's characters, illustrations, album art, portraits, comic books and more, even having his work featured on Conan O'Brien's website. Smiley will have several of his works on display this weekend, but before that, we chat with the man himself about his career in art and thoughts on the local art scene in general.
Jess Smart Smiley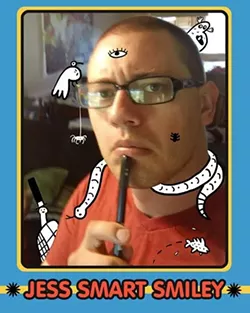 Gavin: Hey, Jess. First thing, tell us a little bit about yourself.
Jess: Hi. My name is Jess Smart Smiley and I was the tallest kid in class from kindergarten until the fifth grade. I recently shaved my head after having a ponytail for, like, forever. And I draw pictures.
Gavin: What first got you interested in art, and what were some early influences on you?
Jess: Wondering is just something I've always done. I used to invent things when I was a kid, and I would draw pictures to visually describe how my inventions worked. I picked up on the way other people drew things and brought clarity to their subject matter, and it stuck with me. It didn't take long for me to see drawing as an education, in all sorts of things. I also loved that I could draw things that didn't exist -- I could make what I believed. I grew up on a steady diet of comics and library books, and am still addicted to both.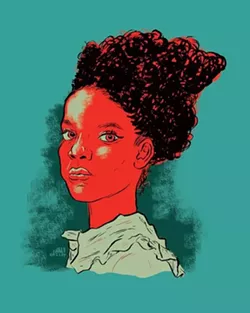 Gavin: What drew you towards comics and illustration as a medium, and what was the appeal for you as an artist?
Jess: Stories. I love the way that illustrations and comics are able to tell a story, without telling the whole story -- they leave just enough room for the imagination to fill in the gaps, and that's important to me. I've seen too many movies lately that leave no room for imagination; they spell everything out for the audience, so there's nothing left to ponder.
Gavin: For college, you went to Utah Valley University. What made you choose UVU, and what was it like earning your degree through its program?
Jess: The illustration program was a blast! In high school, I won a scholarship to UVU for a short stop-motion film I had made, so it made for an easy decision. My biggest resource in drawing class were the 25 other students who were trying to solve the same visual problems that I was. Art history, typography, and the fundamentals of graphic design were some of my favorite classes, and I was fortunate to meet some new lifelong friends through the program -- Andrew, Gheybin, Rob, Aaron; I'm talking about you!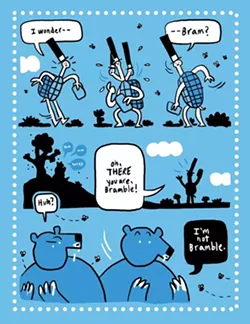 Gavin: During that time, what made you decide to start creating your own smaller comics and titles and releasing them for people to check out?
Jess: I had never stopped making comics from when I was a kid, and I took illustration classes in the hopes that I would learn more about making comics and getting them published. I don't think I learned anything about comics in school, but that drove me to look for the answers outside of class, and to start submitting to books and magazines on my own. I must have started 10 different graphic novels in college, and I never finished a single one. Smaller comics were much more manageable, so I sent them out to everyone, spending a good eight hours a week contacting publishers, agents, artist reps, printers and distributors.
Gavin: What was it like for you branching out on your own as a professional and working on projects?
Jess: The best struggle I've ever had! I got some work as a freelance illustrator during college, and was able to continue after graduation, between working as a graphic designer and a picture framer. I was fortunate enough to get hired as the creative director for Ology (it gets college students through all their math in eight weeks), doing all their advertising and marketing. Ology trusted me to create fun promo items, like stickers, flyers, air fresheners, playing cards and something called The Human Drawing Dispenser. They were great at finding ways for me to add my own personality and design aesthetic to their company image, and I worked hard to make ads and campaigns that showed how incredible they are. When I left Ology in early 2010, I decided to work full-time as a freelance illustrator and designer, and have been making comics and illustrations full-time since.
Gavin: What's the process for you when creating a new comic, from first idea to final product?
Jess: Each comic begins in a different way. Usually, though, it comes from something in my sketchbook. I'll start drawing something, or writing about an idea, and it just starts to take off on its own. That's, I think, how my best ideas come about. The not-so-great ideas come when I try to force a story into a drawing, or when I'm drawing with certain expectations. One fun way is to put three characters you've made together, and start an idea map (or idea web) and jot down little ideas about each character -- what they like to eat, what they do all day, their interests and desires, what they hate and where they live; things like that. Then, start connecting the ideas. What if this character likes to eat something that this characters hates? How would this character react? Just have fun thinking about it, and see where the ideas go. The important thing is to let the ideas run themselves -- don't impose any story or moral on them, just put them in a room together and listen to them talk. Once you've connected enough ideas, you'll start to notice a sort of thread running through them all, and your brain will just come up with a way to string them all together. Write down all your ideas about this "story", and just pay attention to them. Write down all the ideas that come to you, even over a period of days. I give one- and two-hour presentations on this creation process, so there's a lot I won't be able to share in this space. I do, however, regularly put up process posts on my blog about different methods of creation.
Gavin: Do you tend to mess around with your creations a lot, or do you usually see an idea out from the start?
Jess: I tend to come up with ideas that beg to be messed with. Plus, I really like exploring an idea from many sides, to see what all it has to offer and what the idea really is. For my own projects, I spend about 50% of my time with the idea -- getting to know its nature, exploring its boundaries and finding its place in my life.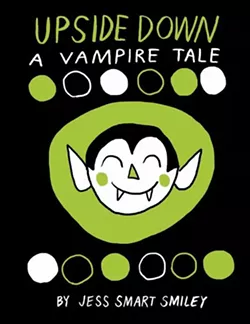 Gavin: What made you decide to get into creating zines, and how much of a change was that from what you were doing?
Jess: In fifth grade, I started making zines by photocopying my drawings and comics. I came up with poems and fake classifieds, word searches and puzzles, and I interviewed kids from my class. I called it MEGA-ZINE. It was this big collection of everything I was doing on paper at the time, and it was an easy way to share my ideas with my friends.
Gavin: Some of the more popular titles you've had are A Map In The Dirt, Upside Down: A Vampire Tale, and Welcome To Emanata. What do you think it is about those books that caught on with people?
Jess: The stories and artwork are pretty playful and a little offbeat, I guess.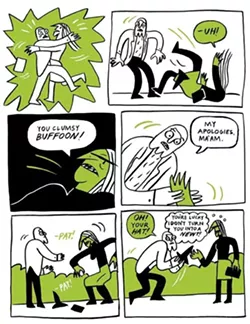 Gavin: You've managed to design works for mobile-phone games, T-shirts, album artwork, logos, comics, portraits and even work for some major companies. Why have you dabbled in so many areas rather than stick to one and master it?
Jess: My whole life, I've been developing my visual vocabulary and I'm able to apply it in a bunch of different ways. We live in a time where we see more pictures every day than anybody else at any other point in history. Our world has become very visual, from logos to street signs to app icons and even live bands on stage. They all use visual language to communicate their messages, and I'm very curious about how else visual language can be used. Not only that, but I'm interested in how I can contribute to and learn from the human experience. It probably sounds pretentious, but we're all trying to make sense of things in our own ways. My way happens to be through pictures.
Gavin: You were actually featured on Conan O'Brein's website at one point for some work you did. What was it like for you to see that kind of exposure?
Jess: Yeah! Crazy, huh? They showed a handful of my portraits on his show, too! I love Conan. It was pretty wild -- I made 75 portraits of Conan O'Brien over a period of three months in the hope that he'd invite me on his show and talk about my graphic novel, Upside Down: A Vampire Tale. It was a long shot, but it got a lot of attention, and I've met a lot of great people because of it.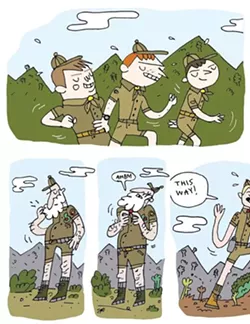 Gavin: Tell us a little bit about what you'll have on display during the Alt Press Fest.
Jess: Of course! I'll have copies of my freshly printed Comics Grab Bag, filled with collected short comics, monster T-shirts and coloring books, bigfoot look-n-find posters, temporary tattoos, comics and original drawings. It's gonna rock!
Gavin: What are your thoughts on the festival in general and the work the library is doing to promote this artform?
Jess: The Salt Lake Alt Press Fest is going to be amazing! Mark Todd and Esther Pearl Watson are the guests of honor, and I've been following their work for the last seven or eight years, just eating it up. They literally wrote the book on zines! There is a HUGE zine culture right here in Utah, and the SLC Library is just the place to host such an event. Rachel Getts is a gal who really knows her comics, zines, and graphic novels, and I couldn't think of a better person to organize the Fest.
Gavin: Going a bit local, what's your take on our local art scene, both good and bad?
Jess: I love it. There's so much diversity and plenty of room for everyone to express themselves. The only real downside, I suppose, is the people who don't look hard enough for opportunities to see work or share their own, and just write Utah off as nonexistent on the art map. Shame on them. There didn't use to be such a wealth of gallery spaces, concert venues and publications, and I feel fortunate to have it all so close by.
Gavin: Is there anything you believe could be done to make it more prominent?
Jess: In all honesty, I think that we have an amazing arts culture, but you'll never know it unless you decide to get involved and participate in it. Take your nieces and nephews to a gallery, or stroll through a museum with grandma and grandpa. Submit your own artwork to a gallery, join a figure drawing group or sell pictures at a farmers market.
Gavin: Who are some local artists you believe people should be checking out?
Jess: Oh, gosh. Where to begin? Alex Bigney is an incredible artist and author, with an unbelievable story. Sarah Samuelson paints the best tulips I've ever seen. Derek Hunter makes all kinds of great comics and illustrations, as do Jake Parker and Nathan Hale. Will Terry is an artist's artist and someone to watch for.
Gavin: What do you think of the state of zines and independent publishing in Utah and the impact they have on the local scene?
Jess: Zines and independent publishing are bigger than ever! Now that the general population has access to printers (and not just Xerox machines!) and distributors, the sky is the limit!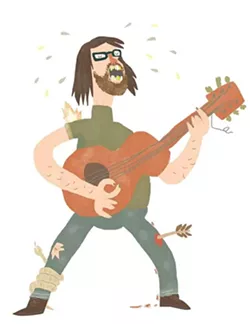 Gavin: What can we expect from you and over the rest of the year?
Jess: A slow and steady decline? Yikes. I hope not! My first graphic novel, Upside Down: A Vampire Tale, comes out in October, from Top Shelf Productions. I'm working on the sequel now, but don't tell anyone. I'm also working on my first children's book (it's about a worm), and I just wrapped up artwork for the catchiest, most mind-altering children's album since They Might Be Giants' No!. There's a lot happening, so check my website often, and subscribe to my blog for peeks at my processes, working methods and influences.
Gavin: Aside from the obvious, is there anything you'd like to promote or plug?
Jess: Tattoo Club is about to blow your mind. I'll just leave it at that.
| | | | |
| --- | --- | --- | --- |
| Follow Gavin's Underground: | | | |