While our entertainment scene as a whole has been seeing some steady exposure over the past few years, the truth is that, as far as major cities go, we still have a large hill to climb. --- From a purely promotional standpoint, many of the events and gatherings we have in Utah aren't promoted as highly as they could be, and many connections that could be made that would help boost the level of awareness aren't capitalized on. It isn't necessarily a bad thing, just someting that needs work, and in that void of cross promotion and cultural awareness, a brand-new concept is starting to take shape.
The Suspension Lounge was founded earlier this year with the intent of showcasing the array of talent in Salt lake City by creating a cultural hub for everyone to find each other and be exposed to everything the city has to offer. Spanning across film, music, art, gaming, performance and several other fields, the intent of the Lounge is to create events and exhibitions aimed at bringing all those fields together for both the public to become more aware and to bring those in the industry closer in their own endeavors, much like the recent PIXEL event did at The Gallivan Center in late June. Today, we chat with the Lounge's founder, Veronica Lynn Harper, about her career in art and video gaming, the Lounge, projects she's started and a few other topics. (PIXEL photos: Todd Collins Photography; Harper photo: Marta Petrucci – Rome; Graphics credit: Suspension Lounge.)
Veronica Lynn Harper
Gavin: Hello, Veronica. First thing, tell us a little bit about yourself.
Veronica: I'm a professional painter/sculptor. My current position is Senior Character Artist of Electronic Arts, Salt Lake City. I have seven professional years in the game industry. Aside from involvement in the game industry and curating events, other organizations I've developed are the Suspension Lounge, PIXEL2012 and Sketch Cabaret and Artistique Theatre. My game career has included several roles as senior character artist, art lead and art director, working with studios: Sony SCEA, NBC, Electronic Arts, Nickelodeon, BottleRocket Entertainment, to name a few. I also appeared at the Ottawa International Film Festival in 2005 with a short film for kids called Opposites Jamboree.
Gavin: What first got you interested in art, and what were some early influences on you?
Veronica: Art is in everyone -- art is emotion. Children are the reminder of imagination. I was given a life to grow up slow, having the time to imagine while refining my talents. My parents gave us the opportunity to express our interests; we were able to try new things we were intrigued by and given the emotional support needed to follow our dreams. My earliest influence was, and still is, Disney. Walt Disney's love for character, story, culture and community ran deep, as it does for me.
Gavin: What specifically drew you toward video games and designing characters?
Veronica: My love of character stems from a love of emotion. The thought process of a character is complex both visually and mentally; it's a challenge. Think of what it takes just to get to know someone. Now, think -- for an artist -- a blank sheet of paper and coming up with everything. Emotion is everything when it comes to character. A pretty drawing will never give you back such energy as one with true character development. It's about the heart, and it's about paying close attention to the world around you and those you are interacting with, as well as the mirror. The best art comes from those who give themselves in a piece they create, and that, along with finding your personal style, is one of the hardest things for most artists. Video games is a fun industry to work in, as is film – if you don't mind a bit of a roller coaster at times. Working in games for the past seven years has been amazing. I learn new things and teach others everyday. I sat next to and worked with some of the most amazing artists I have ever met.
Gavin: You studied at Lehigh Valley College in Pennsylvania. What made you choose LVC, and what was its program like for you?
Veronica: LVC was a fast-track program: 18 months for an associate's degree in visual communication. I am mostly self-taught. Not many artists need a degree reach a dream, just a great portfolio, personality, respect for others, a strong work ethic, passion and drive.
Gavin: How did the opportunity come about to work for Electronic Arts Salt Lake, and what was it like working for them the first time around?
Veronica: Electronic Arts recruitment team found me via LinkedIn – social-networking site for our industry. They moved me here from San Diego only one year ago with an offer for a full-time position with benefits as a senior character artist. I had two days for my interview here last April and said, "YES!" Electronic Arts has been one of the best studios I have worked for. The video-game industry is a culture full of diversity; it takes all backgrounds of talented personalities to make great games and a fun, creative, and inspirational atmosphere -- don't forget your NERF guns. Electronic Arts has all of that in the cards. There is a great culture in the studio as well as support for innovative ideas to further the community's knowledge of the digital industry. Find me via Linkedin here.
Gavin: Since that time, you've actually worked for two other companies before returning to EA Games in March 2011. What made you decide to head out and try other companies, and what eventually brought you back to EA?
Veronica: Some gigs I took were contract jobs allowing me to have more free time to do personal art and community projects.
Gavin: What was the transition like for you moving from California to Utah for the new gig?
Veronica: Utah -- Salt Lake City in particular -- has been amazing. There is a culture here I haven't found anywhere else. I have a job I love, time for side projects, time to spend with friends, as well as time to enjoy nature. The transition was smooth; as I love new things and the learning curve that come with it -- in all, it makes me a more well-rounded person and San Diego is only a few hours flight away. I still host two events a year for artist's in video games and feature film in downtown San Diego. The mountains here are my new waves! Salt Lake City is now my home.
Gavin: What is a typical day like for you as a character designer?
Veronica: Most character artists -- modelers -- have concepts artists. Those artists create the 2-D digital sketch of the character from which the model is based off of. Once approved, the design is sent to us and we then build the character in 3-D. I have mainly used MAYA, Zbrush and Photoshop as my main programs throughout the day. Assets complete go through testing and items are adjusted. Character modelers are also responsible for rigging characters as part of their pipeline.
Gavin: How did the idea for the Suspension Lounge come about?
Veronica: Suspension Lounge was a concept I had always looked for or wanted in a community, to put all of my inspirations in one place. Moving to Salt Lake City, the vision came together. To quote our mission statement: "We are artists, musicians, entrepreneurs; creatives destined to weave the fabric of our culture. We are living, breathing visionaries, worthy of identifying the potential in many, with acknowledgment of the substantial forces within; forces deserving union and amplification. Our talents and crafts are our tools of expression; to reach out to those who are lost and to guide them, to share our journey through images and sounds. We are a sanctuary – of higher thought and imagination, creating synergy amongst our human existence to further invest ourselves in technology, music, art and entertainment to better our person and the world around us. We are the softening edge of our technical and sharp world, we bring the human element and stop in the whirlwind around us to observe the beauty we co-create."
Gavin: Why did you feel that this particular kind of venue and support was needed in Utah?
Veronica: Salt Lake City is filled with great talent of all backgrounds: artists, musicians, performers, designers deserving of this effort, and from our past events they showcased the interest to support the vision.
Gavin: What's the overall goal for Suspension Lounge and what do you want to achieve with it?
Veronica: Our goal is to connect the community to their dreams and goals as creative individuals by exposing them to a fresh and innovative lifestyle by tapping into all of their human senses as tools of expression and experience. We have deep respect for the traditional arts as our human history and ongoing documentation of society. We are inspired to move into a dynamic future by connecting to new media and evolving technology. We are more than just a venue, we are home to a growing and exciting creative movement.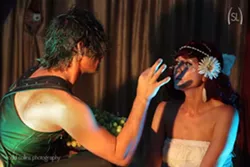 Gavin: Right now, the lounge has no physical location and is simply an idea in the works. What are you currently doing to help bring this idea to life?
Veronica: Suspension Lounge is a developed pitch to the City of Salt Lake for a premiere arts and entertainment lounge to serve our city and state, as well as an online creative society to the world at large. We will be showcasing leading arts and entertainment in the digital, traditional media, performance arts and music industry. We aim to properly expose the amazing talent this city and state has to offer by blending it seamlessly with national and international talent into one cohesive whole. Suspension Lounge will be a cultural center for everyone, from celebrity talent, world-class artists, elite musicians and performers, executives, inspired students and the general public with a passion for the arts. We will be hosting lectures, workshops, expos, receptions and special events geared towards professionals and students in the film, game, sound-design and fine-art fields or those just wishing to be a part of our soon-to-be-thriving culture. With top-of-the-line facilities for exhibits, dining, entertainment, business meetings, presentations, demos and screenings, we can host a wide variety of affairs, all with a touch of class and museum-quality presentation steeped in raw imagination and creativity. Currently, we are working with the city and Downtown Alliance to push this concept.
Gavin: Recently, you held the Pixel 2012 event at The Gallivan Center. What was it like for you putting that event together?
Veronica: It was showcasing a one-night glimpse of what Suspension Lounge would offer to the community on a full-time basis. I had the challenge of creating a seamless transition of several entities that make up my vision into one event in only four months.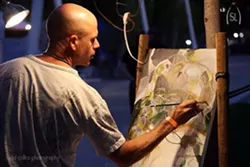 Gavin: What did you think of the reception from that evening and the response from those who came?
Veronica: We had a success in showcasing to our city the value behind this industry. This social-networking event was aimed at bringing the work of the local digital-entertainment industry to local business and residents, showing that Salt Lake City has a creative presence worthy of international recognition. For annual PIXEL events to come, I wish to showcase international talent with art and technology, speakers, workshops and demos. Our goal is to inspire new talent, expose the community to the industry and build on the entertainment arts culture. We encourage individuals to seek education in our field, motivate students to stay in our city to seek jobs and to provide a space for those already in the industry to share ideas, network and grow what we see as the most exciting new culture in Salt Lake City.
Gavin: For those interested in helping bring Suspension Lounge to fruition, what can they do to help you out?
Veronica: Contact us via e-mail: LOVE@suspensionlounge.com. Subject: Support.
Gavin: Do you have any more events in the works, or will you mainly be focusing on behind-the-scenes things for now?
Veronica: The Sketch Cabaret is an open-t-the-public monthly social-networking event for creatives. It will be held every third Friday after Gallery Stroll, 8:30 p.m. until 1:30 a.m., starting August 17.
Gavin: What can we expect from you and the project over the rest of the year?
Veronica: Forward development on Suspension Lounge with assistance from the state of Utah and the city of Salt Lake as well as the Downtown Alliance. Sketch Cabaret is an ongoing monthly event -- contact: SketchCabaret@suspensionlounge.com. PIXEL is an annual event -- contact: PIXEL@suspensionlounge.com. General questions regarding Suspension Lounge -- contact: LOVE@suspensionlounge.com.
Gavin: Aside from the obvious, is there anything you'd like to promote or plug?
Veronica: The pleasure of your company is requested by Sketch Cabaret. Enjoy an evening of inspiration through visions and sounds ... and our fabulous friends, of course. Network with some of Salt Lake City's finest artists in traditional and digital media. Ambient and acoustic tunes will be provided by local musicians; spinning and dancing throughout the night. Chocolates, wine, and treats are for your taste buds. This event is not your typical weekend party, this is an opportunity re-energize what drives us, to meet other local artists, performers, musicians, and dreamers while immersed in a creative environment full of rich music and art. It's going to be an incredible evening – we'll see you there. Click here for more info on the Sketch Cabaret event.
| | | | |
| --- | --- | --- | --- |
| Follow Gavin's Underground: | | | |