When I was a kid, I used to think that ham-fried rice was the ultimate in Chinese cuisine! Little did I know then that fried rice in China is mostly just a way of using leftover rice -- it's not intended as a main dish. --- It's often eaten for breakfast, in fact.
Well, I still love it and I make it at home as a main course, accompanied with edamame, bok choy or other veggies.
This recipe is for chicken-fried rice, but you could use ham or shrimp instead if you prefer. They all work well.
The key to successful fried rice is to a) have a really hot cooking vessel b) have all of your ingredients lined up and ready to go, and c) work quickly -- there's no "down time" when making fried rice; it's a rapid-fire recipe. The entire cooking time should be under 10 minutes.
Ingredients:
Cooked long-grain white rice -- 1 1/2 cups uncooked. I usually cook the rice in the afternoon and let it dry a bit before using it for dinner. Leftover rice works really well.
1 boneless, skinless chicken breast, diced into small cubes
2 eggs, whites and yolks whisked lightly in a bowl
1/2 medium onion, minced
1 small carrot, minced
1/2 cup peas, fresh or frozen
1 1/2 Tbs. soy sauce
1/4 c. canola, peanut, or vegetable oil
salt and black pepper, to taste
Method:
Heat a wok or large skillet over high heat until very hot. The wok should start smoking a little.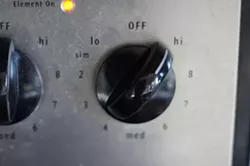 Add the oil to the wok and allow it to heat. This should only take a minute or so if the wok is really hot.
Working quickly, add the eggs to the wok, stirring continually until the eggs are scrambled and browned a bit, about a minute.
Next, add the chicken, carrots and onions.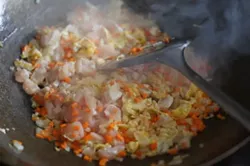 Continue to cook over high heat, stirring and moving the ingredients around almost continually.
When the chicken is cooked through and no longer translucent, add the rice and the peas and continue to stir constantly.
Add the soy sauce, along with salt and pepper to taste and stir, stir, stir.
Continue to cook until the rice has browned a little and everything is completely cooked through. The entire cooking time can be as little as 7-8 minutes.