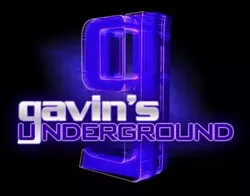 One of the great benefits podcasts have going for them are the fact that they're not restricted to the standard FCC rules and regulations that broadcasters have to deal with. --- Aside from the ban on foul language and the occasional taboo subject matter, most popular podcasts in the state (and their hosts) are fueled by beer and alcohol, bringing about conversations that you'd only find in a bar, which is quite refreshing.
One of the local podcasts making waves for that kind conversation and turning out excellent shows is the Salt Lake City PubCast. Hosted by local bar veteran Ben Raskin, each episode simply grabs a local SLC celebrity from most any profession to sit down and discuss any number of topics, from local liquor laws to social media to entertainment at large. Today, we chat with Raskin about his career in bartending, starting up his blog, forming the podcast, thoughts on the medium and several other topics.
Ben Raskin
Gavin: Hey, Benjamin. First off, tell us a little bit about yourself.
Ben: I was born in El Cajon, Calif., raised in Las Vegas, educated in Reno and live in Salt Lake City. I have a sister and two brothers. The great Raskin diaspora occurred a decade ago with the entire family living throughout the United States. I enjoy home improvement, drinking, writing, podcasting and podcasts, playing basketball and golf, boxing, hiking, reading non-fiction and gardening. My girlfriend, Erin, and I have three dogs and we live in Sugar House.
Gavin: What first got you interested in podcasting, and what were some shows you tuned into early on?
Ben: My friend Phil Nielson turned me on to podcasts four years ago with a show called The Bugle. We were coming down Millcreek Canyon when he started explaining to me about podcasts. To the best of his ability, he described it as radio on-demand. Like most people, I disliked it at first because I didn't understand it. It wasn't until I got a job at ARUP Labs did I figure out the benefits of podcasts. I started to listening to The Adam Carolla Show from the very beginning and became hooked to having a free-flowing conversation with limited commercials and no language restrictions. I moved on to the BS Report, WTF, The Nerdist, Sklar Brothers and a baker's dozen more. I started my own podcast when I figured out both how easy it is to do it and there was nobody talking about Utah stuff. Most local shows are techy or geeky. I am neither. I am a buffoon of a man who enjoys talking into a microphone with people about Utah stuff. I started the SLC PubCast to take all of the baloney conversations I have had behind the bar and make them available to people through the Interweb.
Gavin: Going back a little bit, you originally started writing during college at the University of Nevada, Reno. What was your time like in its program and how did you enjoy being a columnist?
Ben: I won first place in the human interest column division in high school. So, when I went to college, I asked the editor, my buddy now, Marcel Levy, if he had space on his newspaper for a columnist. He hired me and I started writing Raskin's Rhetoric. I was influenced a lot by Dave Barry and the way he makes a lot out of nothing. I am a natural-born complainer and writing about the metaphysical hangnail was easy for me. I wrote about everything from fraternities to cafeteria food to living in Reno and all points in between for four years. It was a great gig. They paid me $10 a week to write a bunch of babble and I'd even get to deliver the paper later. The real takeaway from working on The Sagebrush was working within the confines of print journalism taught me the importance of teamwork and the value the newspaper brings to the community. In the end, I was just the guy who told booger jokes.
Gavin: What eventually brought you to Utah, and what made you decide to stick around?
Ben: I came to SLC in 1999 with a guy who I played rugby with. He was a little bit older and considerably wealthier than me. He set me up at his place under the auspices of me going to law school. Neither thing worked out. I am clearly too dumb to get into law school -- thank God! -- and we had a falling out. I eventually moved out and re-started my glorious career as a bartender. At first, I didn't like Utah. I didn't understand the roads, where to buy a bottle of hooch, was confused about the politics and I didn't know where to get a decent bite to eat. After three months, I finally started figuring things out and made some friends. I became a defender of Utah after the winter games. The experiences during the 2002 Olympics were shaping for me in developing civic pride in Salt Lake City and better appreciation for what Utah has to offer her citizens.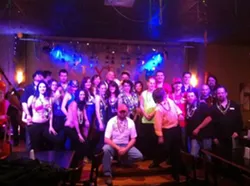 Gavin: You're the founder of The Woodshed bar in downtown SLC. What was it like for you taking over the place and turning it into a venue?
Ben: Biggest mistake of my life. Little-known fact about opening a bar in Utah — it is incredibly easy to open a club and almost impossible to keep open. I tip my hat to anyone who has the stones to run a bar in Utah and I have the deepest appreciation for those who make a go of it. I opened The Woodshed because I thought I could do a better job of running a club than my boss. I was sorely wrong. Somehow, I was able to keep the place open for three years before I surrendered the place to the current owners. I am glad that The Shed is still in business and operates as a music venue for the city.
Gavin: What made you decide to eventually sell the place, and what are your thoughts on its current state?
Ben: I sold it when I was getting ready to close the doors because I ran out of money. I haven't been back since I signed it over.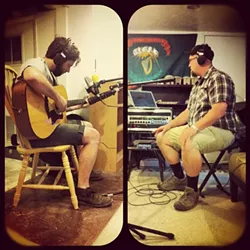 Gavin: You've written that the aftermath of selling it nearly destroyed you and eventually pushed you to write again. What kind of aftermath did you have to deal with, and what eventually led to your blog, Behind The Bar?
Ben: Two things needed to be addressed. The damages I did to myself and that which I did to other people. I literally was working 18-hours a day for months without a break. I wasn't exercising, I ate like a feral raccoon and drank like a sailor. My blood pressure had skyrocketed and my weight ballooned. I needed to get healthy again and retake control of my health. I started sleeping again and went back to the gym. Second, I had to make amends with friends and family who I harmed during the time I owned the club. I acted out of character and made horrible decisions with people who I cared about. I was so terrified of losing the club that I put relationships in jeopardy. I acted horribly and needed to do right by folks. I started writing again to have a written record of what happened during The Woodshed years. Eventually, it became more of a blog about bar life in Utah. Writing became therapy for the sins of thinking I could run a successful club.
Gavin: Over time, you changed it to Raskin's Rhetoric and adjusted the format. What led to these changes, and what do you think of your blog today?
Ben: I thought Behind The Bar was limiting in what I could talk about. When I moved from Blogger to WordPress, I changed the title back to my college column name and started treating the blog a more of a weekly, or bi-weekly, human interest column. I liked the fact that WordPress had an app that I could use from my phone -- a lot easier to track downloads and make edits. I am proud of the podcast but I love my blog. I love the freedom of writing about whatever I want to discuss and start conversations with observations about anything that draws my attention. I work hard to be original, not use bad language and use commas right. Mostly, I like the way it looks, and every so once in a while, I write something that I think is funny.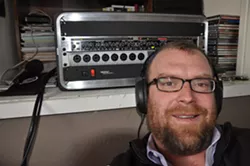 Gavin: When did the idea come about to start up a podcast ,and what was it like planning out how it would work?
Ben: The podcast came from the same place that The Woodshed came from. I was listening to a lot of podcasts and I thought I could do a better job than them. I figure since I was always babbling on behind the bar that I should record these conversations and put them out. First step was learning a little bit about recording equipment and sound editing. I took both of these crucial parts of the process and threw them out the window. I don't edit the show and I try to keep it as raw as possible. Where the blog doesn't use bad language, the podcast is nothing more than 90-minutes of profanity laced conversation. The biggest asset in getting the podcast started was my friend Gwyn Fisher helping out with the technical side. He helped build the website and got me on to iTunes. With no Welshman there would be no SLC PubCast.
Gavin: What was the process like in figuring out the format of the show and how you'd record it?
Ben: I model the show after Chris Hardwick's The Nerdist. I like a short introduction with me speaking by myself and then use a little bump music into the interview. I have enough equipment now to either record at home or on the road. I actually prefer taking the show to the people because I feel like I am a lot more focused when we do the interview.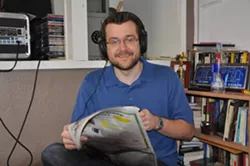 Gavin: How did you go about deciding what guests to bring in and what you want to talk about?
Ben: Anyone is welcome to be on the show. I prefer folks from Utah and people with an angle. Dave Baker has been my favorite guest -- both times -- because he is a lot like me. We like the sound of our voices and we are good at banging back the ping pong ball of conversation really well. I like to have a single question to ask the guests to start the show. I like it to be a big hairy onion that we can spend 30 minutes or so peeling back. From there, let the conversation take on an organic feel and just discuss whatever we want.
Gavin: How was it for you after the first recording and what made you decide to continue afterward?
Ben: First show was the worst one to date. We did a show after watching the Super Bowl and the soberest person on mic would have been arrested for a DUI. I was more interested in talking about the halftime show than working the sound board. Learned a valuable lesson: If you want to PubCast, make sure you set up your equipment earlier.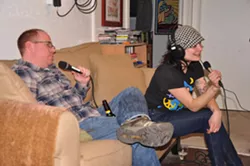 Gavin: As a solo host, how is it for you essentially being a one-man-band and the host to the entire show?
Ben: Unlike the blog which has my name on it, the podcast is just me talking into a microphone. I don't want to simplify it more than that, but the show is really about the process of people getting together and talking. Some of the shows have been one-man affairs even with a guest. As host, all I am responsible for is driving the show. If other people want to do the talking, I'll let them go ahead. More often than not, I do most of the talking because I get excited about being on microphone. I have an idea where I would like the show to go but I am really comfortable for us to start one place and move another. Nothing really shocks me anymore, which is good because I like having friends on the show more than strangers. I guess this will probably change when I start doing cold interviews with people.
Gavin: How much of the show do you plan in advance, and how much ends up being spur of the moment?
Ben: The vast majority of the show is spur of the moment. I don't like the idea of having canned answers ready when talking with people. Feels fake and the listeners know it when you are going off script. It is better to go with the flow and trust your guests to help you out with making it a good podcast.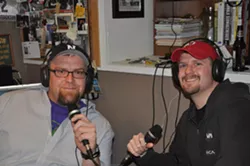 Gavin: Do you prefer the open-mic conversation style of the show, or do you wish it were more of an edited and heavily produced format?
Ben: I paint with a shotgun, not a rifle. I think it would be weird if the show was heavily edited. The best thing about podcasting is that you get to go long-format and really talk about an issue. There is no time issue and we can discuss whatever for as long as we like. I think the best shows have been the ones were we let ideas germinate and finally let them bloom. I really try to take the conversations I have at the bar and make them into a show. Formatting the show any different would not be my style.
Gavin: Are there any plans to expand the show and add additional elements, or are you sticking to the format you have now?
Ben: The only thing that I want to do with the show is to get better at putting up one a week and start leaving my circle of friends and bring on new voices. We are putting a podcast studio above the club shortly and I think that will make it easier for us to get different voices on the SLC PubCast.
Gavin: Going more local, what are your thoughts on the podcasts coming out of Utah these days, both good and bad?
Ben: The more the merrier. The biggest problem with podcasts is that a lot of people don't know how to listen to them or haven't found a place to listen to them. Since I work at night, I listen to them while I work on the house or take the dogs for a walk. I like having them play on my truck's stereo when I am driving around town. A lot of people haven't figured out how to use them yet and it makes it hard having to educate folks on the benefits of podcasts. I like what Brian Staker does on The Awkward Hour and, of course, The Geek Show. Brian is good at his show because he is really honest about what he is doing. The Geek Show is awesome because they have great personalities on the show and you know what you are getting on their show.
Gavin: Is there anything you believe could be done to make these shows more prominent?
Ben: iTunes currently has over 400,000 podcast on it for free. Whatever you are interested in, there is somebody doing a podcast covering that subject matter. I would say that the market isn't even close to saturated yet with podcasts and those shows that are good will rise to the top. Good podcasting means posting regularly and having decent-quality recording. Not everybody can be Adam Carolla or Bill Simmons, but if you get your show out there regularly and people can easily listen to it, then I believe it will get some traction and build an audience.
Gavin: Do you have any favorite local shows you listen to and recommend?
Ben: Listen to Brian's show and Geek Show. I have listened to JM Bell's The Left Show before and it is pretty good.
Gavin: Where do you see the medium going both locally and nationally over the next few years?
Ben: I think the world is one's podcasting oyster. I think folks are going to get a lot more comfortable with the medium and, hopefully, it destroys terrestrial radio. Radio-on-demand speaks directly to the audience and allows folks to listen to what they want.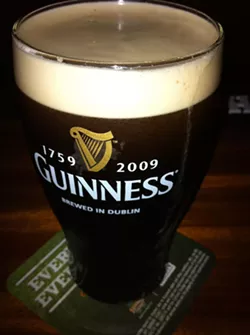 Gavin: What can we expect from you and the show over the rest of the year?
Ben: Live podcasts. I am working with my boss to start doing a monthly show at Keys On Main. I'd likedto see if I have built a large-enough audience to get some butts in seats for a live show.
Gavin: Aside from the obvious, is there anything you'd like to promote or plug?
Ben: Read Raskin's Rhetoric, listen to the SLC PubCast, eat more vegetables, get some exercise, call your mother and tip at least a $1 a drink. Also, watch Cabin In The Woods. That movie was awesome.



| | | | |
| --- | --- | --- | --- |
| Follow Gavin's Underground: | | | |