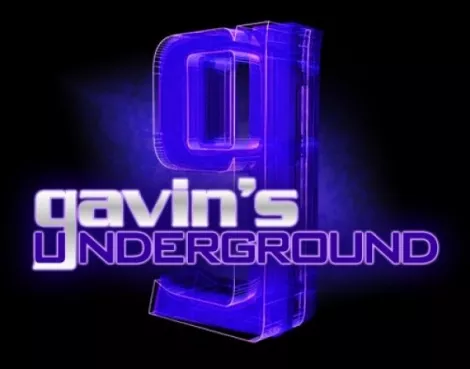 I don't know how the rest of you spent the weekend, but I spent it with a summer cold, which made for an interesting experience. --- Let me tell you, there's nothing like sweating with a fever in triple-digit weather while dragging around a sore throat and a stiff neck, not to mention enough congestion in the ears to assure yourself that earplugs are not required. Whoever gave this disease to me, you're a dick and deserve whatever groin kicks are due.
In any case, I braved the euphoric feeling of mixing DayQuil with 127 proof whiskey to walk down State Street and all the way over to Bar Deluxe, where Saturday night we saw our old friends in YYBS along with The Brumbies playing a two-band show in one of the best air-conditioned rooms in the city (or at least at that point in the evening). Today, we chat with the latter band and have pics from the evening's showcase for you to check out in this gallery here.
The Brumbies (Zach Hardy, John Avila, James Hardy, Joe Plumber and Conor Papineau)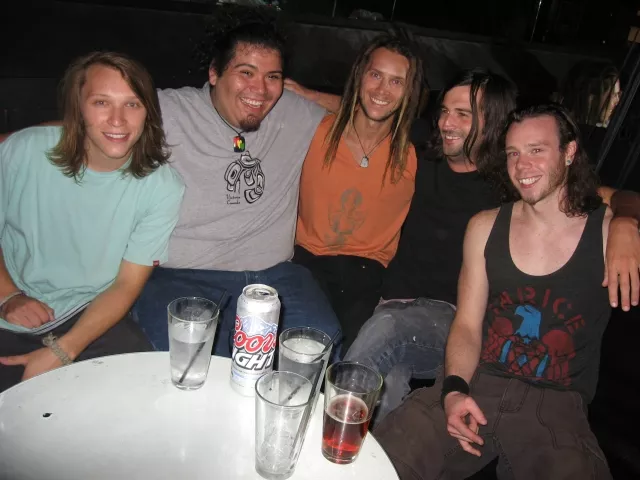 Gavin: Hey, guys. First off, tell us a little about yourselves.
John: Well, my name is John Avila aka MC Afro, and I am doing great. We started playing music about seven months ago with the five of us. Before it was a year, it was little bits and pieces of us coming from other projects to form The Brumbies. James found me behind a Rite Aid, battling against old ladies for some chocolate. Thank goodness he saved me because they where kicking my ass.
Gavin: What got you interested in music, and who were some of your favorite acts and musical influences growing up?
John: My favorite acts growing up had to be KC and Joe Joe, Tupac and Biggie (yes, East Coast and West Coast did not matter to a 13 year old), I loved me some Bob Marley, Alice In Chains, Rise Against -- so random acts from all genres inspired me to write music and to learn how to flow.
James: I remember being super-young and getting hold of a small vinyl in my parent's record collection that had "La Bamba" on it. I would put it on and go crazy around the living room running, jumping and singing. I wanted so bad to be able to rock out like that over and over again.
Gavin: How did you all come together to form The Brumbies, and where did the name come from?
John: James and Joe had been playing together for some time and they called themselves The Wyld Stallyns. So, I had joined James on a camping trip up at his cabin and everyone had gathered around the fire to play some music and goof off. This one kid stands up and wants to flow with the beats and wanted to battle; me being me decided, okay, I'll spit my mad fire, and, well, that's how I became a Brumbie. The name came to James in a dream after running the Boston Marathon and running faster then most horses can. Also, I think the movie The Man From Snowy River had a part in this also.
James: Joe Plummer "The Drummer" and I were playing as a duo around SLC, calling ourselves The Brumbies. We had a couple of other cats fill in for a bit, before my little brother Zach "Sheriff" Hardy moved back to Utah from Hawaii. When Zach joined up, the whole dynamic switched. He and I are both bass players, both guitarists, both vocalists and both songwriters. Zach would throw down on the bass for songs I'd written and then float the bass over to me for his songs. MC Afro was the next Brumby initiate. We were at my cabin around the fire, jamming to the moon, when a rap battle erupts between John and some other kid. We took the energy from that night and then we were four. Conor "Shred Master" Papineau was the final piece. Papineau was a close friend to all and had been playing lead guitar in a metal band. He'd come out to every Brumby show, and always at the end would talk to me about wanting to play with us. After a few months, we finally took the time to fully work Papineau in. And then, The Brumbies were five. The name for the cover band Wyld Stallyns comes from the movie Bill & Ted's Excellent Adventure. In the movie, it is the band the two of them are in that aligns the planets and brings the world into harmony and peace. When it was time to move beyond cover band, I liked the theme of a lot of wild horses, so I drew from one of my all-time-favorite horse movies, The Man From Snowy River. It's an Australian movie that is set in the outback, where they call the pack of wild horses that roams free the Brumbies.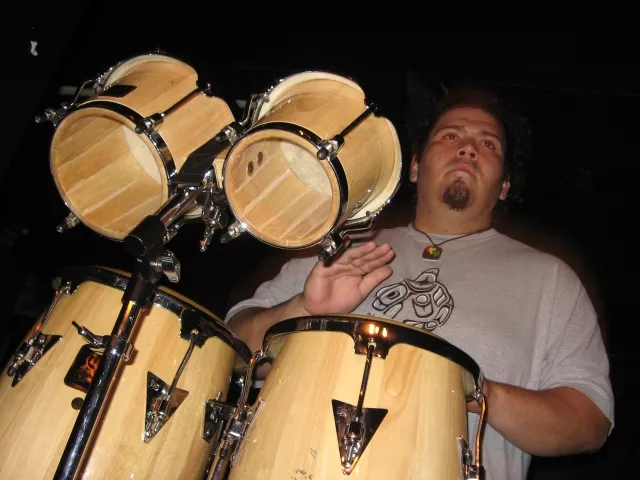 Gavin: You've kinda mixed together a number of genres including reggae, hip-hop and rock, and because of that you don't have a really defining sound. What was it like hashing out that sound as a band?
John: Well, we get asked this question a lot, but we make it work. The sound comes from all of our backgrounds and lays the foundation for what I think in my mind is a fun and powerful type of music. If you look at us all, we bring something different to the table. James is the rock man, Zack can slap the base better then any blues player I know, Joe plays some of the fastest and sickest drum beats this side of taffy town, Conor can shred a guitar better then I can shred cheese and I can flow on anything these guys give me to play with. At the end of the day, we come together like almonds and raisins. It may look weird, but it tastes great and you know you are going to be craving more.
James: It's been a blast, piecing our sound together. Our official genre is reggae/rock/hip-hop, which I think is not too crazy of a mix. Look at Damian Marley and Nas mixing it up right now. Sublime already slammed the reggae/rock home. And then 311 has always had a nice mix of flows and melodies in their vocals.
Gavin: You've been together about a year now. How has it been for you playing around the state and building a following?
John: It has been awesome; building a following has been great. You know you have fans when they know the lyrics to a lot of your songs and sing them back to you while you are onstage. Playing around the state has given me the chance to meet a lot of great people and other cool bands to play with. I think the best is when we come offstage, drenched in sweat, and we look at each other and smile and realize the crowd is on their feet, cheering and chomping at the bit for more.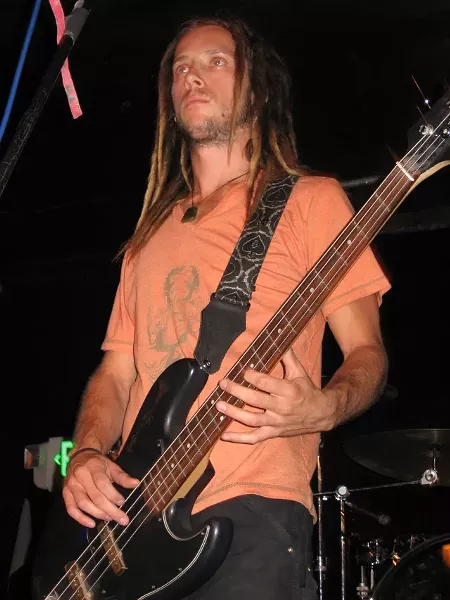 Gavin: You have a couple of songs online right now. Are there any plans in the works for recording an album or an EP?
James: We recorded our first single at Boho Digitalia Studios with Bruce Kirby. We could not have asked for a better experience working with Bruce and were elated with the mix he produced. The plan is to get the money together in the next couple of months and go back in and knock out the EP.
John: Yes, the EP is on the way. We want to put something out that everyone is going to enjoy and love and also we can look at and be, like, we have given birth to something that is just going to grow. But don't you worry -- when it drops, the whole state is going to shake and groove to the tunes of what we do.
Gavin: Have you given any thought to touring out-of-state, or are you sticking to home for now?
John: Touring out of state could be fun; it is on the check list of things to do.
James: Absolutely! We have a full online profile through the site Reverb Nation and are resubmitting ourselves for out-of-state opportunities every day. Also, the more we play out, the more we are networking with other out-of-state bands, so we are looking at piecing together our own tour in connection with those friend bands.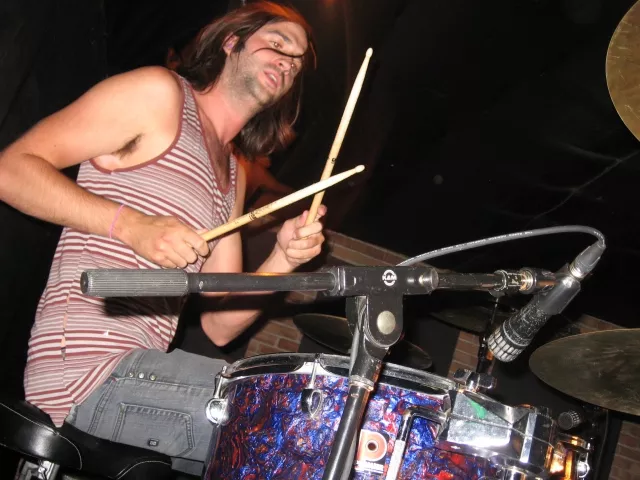 Gavin: Moving on to statewide stuff, what are your thoughts on the local music scene, both good and bad?
James: There is so much amazing live music in this town right now, thanks to awesome venues like Bar Deluxe, The Garage -- welcome back! -- and Urban Lounge, just to name a few.
John: The good: We have a lot of great bands that come from Utah and rock the stages; they play pretty hard. The bad: There happen to be a lot of people who feel the need to try and take advantage of this young talent and take what they want and run away like a thief in the night.
Gavin: Is there anything you believe could be done to make it more prominent?
John: More free radio time for local bands. When a local band can play during the rush-hour commute with some of the big names on the radio, I think some Utahns are going to be amazed that sitting in their own backyard are some of the grooviest tunes they could have asked for.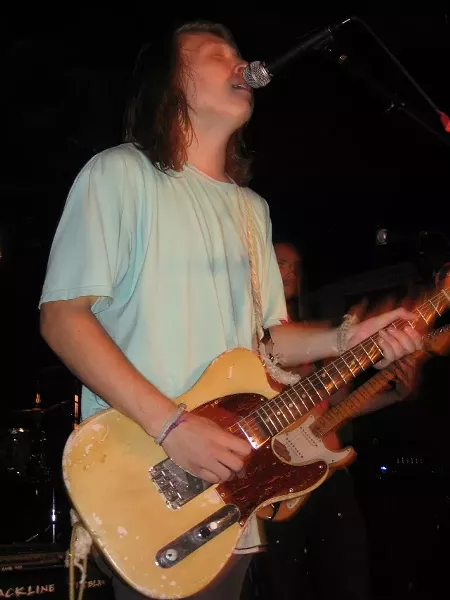 Gavin: Not including yourselves, who are your favorite acts in the scene right now?
John: Me, personally, I am a big fan of Funk N' Gonzo. We played with those guys, and I was standing on my feet, watching and rocking and having a great time. Also, the Junior Giant boys know how to put on a kick-ass show to rock to, and both the bands know how to work a crowd, so you know I am taking notes.
James: Junior Giant, Herban Empire, The Suicycles, DNA, YYBS, South of Ramona, Parlor Trix, Watches, Cody Jordan Band, Funk N' Gonzo, Cornered By Zombies, Burnell Washburn, Blues Dart, Ken Shaw, Folk Hogan, Sam Smith Band and KHP.
Gavin: What's your opinion on the current airplay on community radio and how it affects local musicians?
John: I feel it takes along time for a band to actually get any airplay time on community radio, I can understand that everyone is feeling they deserve as much air time as the next band, but there just are not enough hours in the day. But, I feel if we had more stations focusing on local bands, we can start to reach way more and get way more air time to use.
Gavin: What do you think of file sharing these days, both as musicians and music lovers?
John: Well, file sharing is something of taboo to me. I did it once and it was cool, but I felt dirty, like I needed to scrub off in the Great Salt Lake. As a musician, I feel it is a double-edge sword. On one side, you are reaching a bigger audience and people are throwing the song you wrote onto the playlist while they go running, work out or host a party; the other side is you can't make much money, or any money. But in some sense, it was because of file sharing that bands started to take off and make it big because everyone got a few songs for free and really enjoyed it and decided to invest money into something they enjoyed. So, I guess to answer this I would say it is okay a few times but then I think you should start to pay for it and support the band that you enjoy. Also, as a music lover, I still buy music from the stores. I rep the CDs hard.
Gavin: What can we expect from all of you over the rest of this year?
James: The EP, the first few out-of-state tours, awesome merchandise.
John: Well, in the grand scheme of things, I want to say an EP, merchandise, another music video, possible a beer named after the band or one of our songs, and a few weekend-warrior tours.
Gavin: Is there anything you'd like to plug or promote?
James: Our music video on YouTube.
John: Yes, check out the music video we have on YouTube called "Surviving and Rising," and check out our Facebook for up-to-date Brumbies news. If you want, you can buy our single and throw us a "like" and help spread the word of Brumbie. Stay sexy, Utah!
| | | | |
| --- | --- | --- | --- |
| Follow Gavin's Underground: | | | |