While most of the independent theatre companies are located in Salt Lake City, much of the talent commanding those stages iscoming from Provo. --- Yes, Provo has its own supply of theaters and theater companies located throughout the city, but most of it is traditional theatre with the annual array of Our Town, Oliver and that one Technicolor musical we won't mention by full name. For actors looking for a challenge, pickings are slim, and there's even less room for playwrights looking for a spot to expand.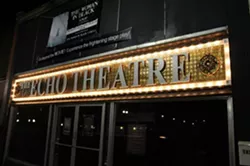 Just a few months ago, the 100 Block of Provo gained a new performance spot called The Echo Theatre. Taking over the former home of the short-lived Death Star, between music venues Velour and Muse Music Cafe, the small, upstart company transformed the large storefront location into a small theater complete with seating and the ability to transform the room into whatever they'd like with few restrictions, with plans to expand with local playwrights to bring original works to a Provo stage. Today, we chat with co-founder Jeff Blake about the company, as well as thoughts on local theater.
Jeff Blake
Gavin: Hey, Jeff. First thing, tell us a little bit about yourself.
Jeff: I've been working in film for the past eight years, working in sound on several low-budget feature films, as well as writing for commercials for various radio stations. I've also been an actor and a photographer. I love high-concept photography. I was a producer/editor at BYU. I am working now on getting the theater up and running and spreading the word about what we're doing here. I should mention, however, that I'm not the only "founding father" of the Echo. I started it with my wife, Julianna Blake, her brother, Matthew Boulter, and his wife, Nicole Boulter. All of us have a strong background in theater, music and film, and we are passionate about what we're doing at the Echo.
Gavin: When did you first take an interest in theater, and what were some early influences on you?
Jeff: I've been working in theater since I was six. My mom was a drama teacher at the local high school. I've always enjoyed it but I never thought I would go back into it. I found this space in February, and I just thought ... this will make more sense. This seems really right.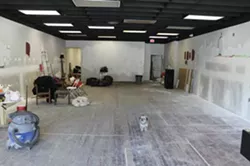 Gavin: What first got you into acting, and what were some of your pre-college experiences like?
Jeff: I've been acting since I was little, but when I moved to Utah, I began doing it professionally -- Utah's version of professional, that is. I've appeared in several commercials, including ones for Bajio and Subway. It was fun. I haven't had as much time to do it lately, even though it is something I really do enjoy.
Gavin: You studied both at BYU and BYU-Idaho for your degree. What specifically drew you to BYU's programs, and why the switch between the two schools?
Jeff: I actually only took a few summer courses from BYU. I'm a full BYU-I alum! I think that school was a good fit for me.
Gavin: Since then, you've actually become a BYU employee, working with KBYU as a producer. How did that opportunity come about and how has it been for you working there?
Jeff: It was great at BYU. All the things you hear about working for a church organization are not true. It is a cool place to be. I stopped working there in January, but I truly liked it there. It was a very educational experience.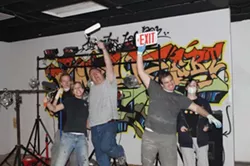 Gavin: You've had a somewhat active theater career beyond college, including working with the Orem location of Hale Center Theatre. How has it been for you striking out in that direction?
Jeff: It's always been something that I've enjoyed but never pursued. Now that I'm doing it full time, I really do enjoy it. It's a much more rewarding form of acting. I think I should make it clear, however, that I don't plan on being in every production of The Echo. I think that would be incredibly foolish, and delusional of me. It's just sometimes people drop out at the last minute, and sometimes there are roles that are just too juicy to pass up.
Gavin: How did the idea come about to start up your own theater company?
Jeff: We were doing Woman In Black as an independent production, and all the other places we wanted to do it were falling through. We had planned to do it at an old house, and then some other locations. Then I saw this place, and it's a location that I've looked at many times. It made perfect sense, even though the building was completely trashed. The company basically came with the play. I've always wanted to form a theater company; It's something that seemed incredibly rewarding.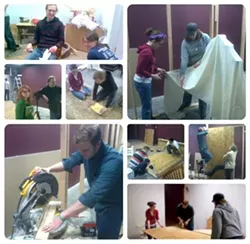 Gavin: Why did you decide to form one with its own location rather than form the company and take up residence in a theater in the area?
Jeff: Well, quite simply because there aren't a lot of other theaters in the area that aren't either booked full up or don't cost an arm and a leg to rent.
Gavin: How did you come across the old Death Star location on the 100 Block and what was the biggest appeal of the place for a theater? How is it being between two of Provo's biggest music venues?
Jeff: I had my eye on the venue for quite a long time because it's always sad to me when a building in such a great location is vacant. When we needed a location for Woman In Black, it made sense to check it out. It's great being between Muse and Velour. They have been very supportive of us, and we enjoy being on the 100 Block with them.
Gavin: What was it like for you taking the old venue and turning it around into a seated performance area with a proper stage and equipment?
Jeff: It has been an exciting adventure to take a dilapidated space and turn it into something new. I wouldn't necessarily recommend it for everyone, unless you want to spend long hours scraping adhesive off floors and fixing leaks in the ceiling and whatnot, but the challenge has made our experience at the Echo even more rewarding. And we've been lucky to have a lot of support from friends and family who don't mind coming over and spending an afternoon helping out.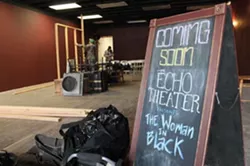 Gavin: What was it like for you choosing your inaugural season, and what plays did you finally decide on?
Jeff: We kicked it off with Woman In Black, then moved on to an original play called Accident, West Virginia, and we currently are playing The Complete Works of William Shakespeare (Abridged), which we would recommend to anyone who needs a good laugh. We have also rented the space to a few different groups. We are delighted to have Mortal Fools in the space for October, presenting Jekyll & Hyde (the play, not the musical), and we will be staging an original musical in November entitled Zuppets, which stars zombie puppets. And who doesn't like a good zombie puppet?
Gavin: You opened back in April of this year, after everything had been set up and ready to go. What was your first show like in the new theater?
Jeff: It was a little like flying an airplane while you are still building it. It was incredibly challenging to build a venue while we were in the final rehearsal stages, as well as setting up marketing and everything else that goes along with mounting a performance. But, the show went incredibly well. We had a fantastic cast, and a great response from the audience.
Gavin: One of the most appealing factors to the company is that you take on playwrights with original works. What made you decide to take that step rather than fill the schedule with familiar works?
Jeff: One of the drawbacks to theater in Utah County is that the same 10 plays and musicals seem to get recycled over and over. While we love old standards as much as the next guy, we want to bring some new material to the stage. We still will perform familiar plays and musicals, as well, but we want to take advantage of the great talent here in Provo and the surrounding communities.
Gavin: Considering Provo is a college town with a strong performing-arts community, how is it for you working with that kind of talent pool coming out of the area?
Jeff: Fantastic. Not only do we have great actors, musicians, directors and writers in the area, but we also have people who are supportive of the arts. And that is an exciting prospect for us.
Gavin: Also knowing how conservative the city and most of the residents are, does that affect what kind of content you intend to bring to the stage, or are you simply going to put on whatever you feel like?
Jeff: It's always a challenge to find that balance between "art for art's sake" and art that pleases the patrons. The lifeblood of a theateris the audience. We don't want to alienate our audience by constantly staging works that are too cerebral or confrontational or offensive. But we don't want to pander. Good theater, no matter what the genre is, will attract an audience.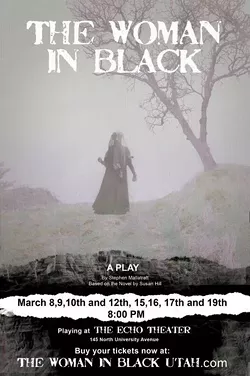 Gavin: For most Utah theatre companies, it seems as if you either create strictly parody plays and musicals or you're creating serious works both social and political. Are you aiming to be one or the other, or will you be aiming for a balance?
Jeff: We think both sides alienate large groups of people. We're not out to be shocking, or to take a political stance, but we're also not focused on getting cheap laughs. We want to produce quality theatrical productions, and to have a nice variety of comedies, dramas, musicals, and every genre in between. We want to appeal to all ages, not the stereotypical older audience that only wants to see Oklahoma and Fiddler On The Roof.
Gavin: Being an independent company, what are the biggest challenges for you to gain an audience compared to the bigger touring acts and established organizations in town?
Jeff: It can definitely be a challenge to be the new kid on the block. Not only are we competing with more established playhouses in the area, but we're also competing with movies and all other kinds of activities that can seem more appealing to modern audiences. Our biggest challenge is to get the word out about our new space and convince people that plays are worth seeing. Once we get patrons in the door, the quality of our shows will keep people coming back. It's just getting them in the door that can be tricky.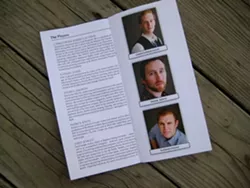 Gavin: One of the goals you've set is to fill the gap left behind by other theaters and venues that shut down, including doing improv nights and showing films. How close are you to filling that void and what will you show?
Jeff: We feel that we've already started to fill that void, but we have lots of plans in place to keep that momentum going. Last weekend, we had Thrillionaires in the space, and it was well-received. In August, a new improv troupe, Improv Friends, will be performing. And we have plans to screen some independent films in the near future.
Gavin: What's the overall goal you have in mind for the Echo Theatre, and what kind of an impact are you hoping to have on the community in the long run?
Jeff: Our philosophy is that everyone can create, but they need the space and the opportunity. We want to provide people with both.
Gavin: Moving on to statewide stuff, what are your thoughts on local theater, both good and bad?
Jeff: We love local theater, and we're very supportive. We commend any group who spends long hours creating something that they're passionate about. We hope to add to that creative community by providing some more variety.
Gavin: Is there anything you believe could be done to make it more prominent?
Jeff: There are a million ways to make The Echo more prominent. Our goal is to take it one step at a time, focusing on creating quality productions so patrons want to spread the word about us. We can use all kinds of marketing techniques, but the most important thing is that our shows are worth seeing.
Gavin: What are some of the productions you've enjoyed this past season and are looking forward to next season?
Jeff: All of our shows have been enjoyable, for different reasons. We're really looking forward to Zuppets this winter, and having a complete season next year.
Gavin: What's your take on the large improv community in Utah, and is it a good thing or a bad thing to have so many involved with improv rather than theater?
Jeff: Our roots are in improv. We love improv, and think improvisers can add a lot to the theatrical community. Some of the best actors we know are improvisers, and we've certainly put a lot of them in our plays.
Gavin: What are your thoughts on the Utah Shakespeare Festival and the work they do in Cedar City every year?
Jeff: The Utah Shakespeare Festival is incredible. What more can we say?
Gavin: What can we expect both yourself and the Echo Theatre over the rest of the year?
Jeff: Expect great things and tell your friends. Now that our "plane" is just about finished, we can focus more on flying it to greater heights. And avoiding mountains. And avoiding crashing into mountains. And I'll stop with the plane analogy and just say that you can expect more great shows from the Echo.
Gavin: Aside from the obvious, is there anything you'd like to plug or promote?
Jeff: We'd love to plug Dallin and Tracy Blankenship, who are amazing artists and puppeteers. You can see some of Dallin's fantastic work at TheGoldenGlueGun.blogspot.com, and Tracy's work at BlankFX.blogspot.com. We'd also like to plug our photography studio, Echo Studios, which you'll hear more about soon.
| | | | |
| --- | --- | --- | --- |
| Follow Gavin's Underground: | | | |