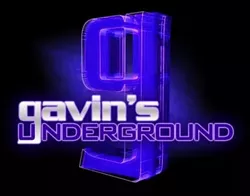 One year ago, I interviewed the new owners of Muse Music Café in Provo about their plans for the venue and the road ahead. ...My, oh my, what a difference a year makes. --- Since that time, the venue went through several small changes. These included hanging new art on the walls, changing up its booking and removing the cafe portion of the venue, which were met with mixed reviews. And then, just a few short months ago, the ownership changed again, out of the blue!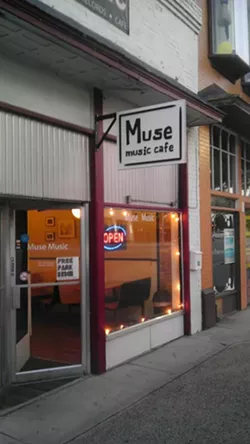 While the changes may make some wary, others are happy to see that it's now in the hands of two of Muse's hardest-working individuals. Darcie Roy and Debby Phillips have had a hand in the venue's growth over the past year, and this June, the duo took over controlling interest, with previous owners Colin Hatch and Justin Hyatt still holding a smaller percentage. So, what does this mean for what's currently one of the oldest music venues in Utah County? I chatted with Phillips and Roy about their time in the scene, taking over Muse and the changes on the way, thoughts on the local scene and a few other topics. (Photos by Gilbert Cisneros, Trevor Christensen and and Molly Teas.)
Debby Phillips & Darcie Roy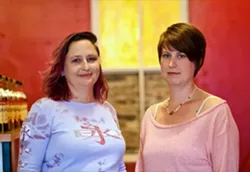 Gavin: Hello, ladies! First thing, tell us a bit about yourselves.
Darcie: I was born and raised in Canada, mostly in Ottawa. After graduating from the literary arts program at one of the nation's top arts-magnet schools, and after sailing tall ships throughout the Great Lakes region and along the East Coast, I moved down to Massachusetts. I helped restore a 35' sloop, then sailed it down the East Coast and up into the Gulf of Mexico. In my spare time, I edited manuscripts and wrote, mostly poetry and various forms of fiction. Nowadays, I pretty much live and breathe the local music scene. I sometimes spare a few hours here and there to sleep.
Debby: I feel like I'm on a dating site with this question! I was born in Tacoma, Wash. I was raised in Hawaii and California and spent almost half of my life in the San Francisco Bay Area. I had a career as a successful veterinary-practice manager prior to working in the music industry, so I have a strong affinity for animals and have two dogs and three cats. I'm a Sagittarius, and my creative outlets are jewelry making and knitting. How's that?
Gavin: That was quite excellent. What first got both of you interested in music, and what were some early influences on you?
Darcie: I've always been interested in music. Some of my earliest memories are of sing-alongs to my Michael Jackson Thriller album in my Fisher Price cassette player and of dancing with my cousins to movie soundtracks. All through middle school and high school, I spent my allowance and paychecks on CDs and concert tickets. After I moved down to Massachusetts, though, music kind of took a back seat to other life priorities and interests. Then, in April of 2010, I went to a Chris Cornell concert in Boston. I mark that as the trigger of my reawakening, especially to live music. After seeing how a predominantly electronic-based album -- Scream -- could be so effectively reproduced live, my faith in the future of music was restored. Pretty soon, I was traveling up and down the coast and into the Midwest to see shows, heading out on "mini-tours" that spanned from Virginia to New Hampshire.
Debby: I have been singing along to music for as long as I can remember. My mother is a huge John Denver fan, so that was probably my earliest exposure to recorded music. I went to my first concert at 8 years old, and have played piano, flute, tenor saxophone and guitar over the years. I do not consider myself a musician, rather a music fan. I listen to a variety of music -- with an ear toward commercial alternative radio -- the most common thread being a sense of connection with the lyrical aspect of songs. In regular rotation for me are bands such as Of Monsters and Men, Metric, Neon Trees, Snow Patrol and The Ramones. I have been an avid concert-goer since my teens, and have a tendency to combine travel and shows. What better reason to go to England than to see Depeche Mode perform at Wembley Arena? I can no longer count how many shows I have been to, but have traveled the world and made new friends, thanks to music.
Gavin: Both of you in your own right perused music in a behind-the-scenes fashion, Debby through college and Darcie with the traveling aspect. What made each of you choose your respective way of getting involved?
Darcie: I didn't consciously choose to get involved. I'd only planned on attending shows – lots of them. I'd figured I'd move out here and once again be inspired to write. I suppose it was my assertive nature that made me more active in the local music scene. Last September, I'd decided that I wanted some of my favorite local bands to play a show together for my birthday, so I reached out to the bands and set it up. I had so much fun putting that show together -- and, of course, enjoyed seeing its success, particularly because the show was a mix of genres, from folk to funk to gutter country -- that I decided I wanted to book more shows. It became both a creative and a social outlet for me.
Debby: I had reached the top of my field in veterinary medicine and found that I was no longer as passionate about it as I once was. Having become friendly with Neon Trees, I was doing lots of social-media promotion for them and thought perhaps I could find a new career in another field that I loved. I was researching different programs and found San Francisco State's music recording industry program; I could apply all of my management, marketing and general business experience to music! I specialized in merchandising -- particularly direct-to-fan offerings -- social-media marketing and Web-presence design; during my internship and subsequent employment with Fame House, LLC., I worked with artists such as DJ Shadow, The Gift, as well as author and IFC TV personality Broke-Ass Stuart.
Gavin: How did you each find your way to Utah, and what made you decide to stay?
Darcie: My music-related traveling introduced me to the good folks of Neon Trees, who frequently spoke of the rad little music scene in Provo. Some major changes in my personal life allowed me the opportunity to move anywhere in the country. After much debate about whether to move to California or Utah, I decided Utah would be much more affordable and the music scene would at least offer me some entertainment while I figured out what I wanted to do with my life. I flew Debby in from California, we loaded my stuff into a U-Haul and, with my van in tow, we drove across the country, where I moved in with a friend I'd only known through Twitter.
Debby: To be honest, Darcie did all of the hard work researching and settling down in Provo and then I just jumped on the bandwagon. I found the area to be beautiful, and the idea of being able to afford to rent a house instead of an apartment sealed the deal.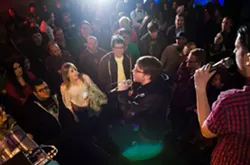 Gavin: What were your first impressions of the local music scene in the state, and what drew you most toward the Provo scene?
Darcie: When I first moved to Provo, I was only really going to shows at one local venue. Thus, I was only really exposed to the indie-folk scene. The bands were great – are great – and broadened my musical tastes, but I still felt like I was missing something. It seemed that in order to find that rock scene of which I'd grown so fond, I'd have to drive up to Salt Lake City. Then I discovered other venues in town and realized that the rock scene existed, it just needed some support. There is an amazing amount of talent in this town, in all genres of music.
Debby: The first time I heard of Provo was from Neon Trees, I figured that a music scene that could spawn musicians of their caliber must be interesting. However, my true first impressions came via Darcie once she moved here and immersed herself in local music and the 100 Block. I was a semester into my music program and loved hearing her stories of all of the great music she was being exposed to. During my frequent visits during breaks from school, I got a taste of the variety of music and the talent that resides in Utah.
Gavin: How did both of you end up working for Muse Music, and what did you think of the venue when you came in?
Darcie: I was spending all my money attending shows, mostly on 100 Block. I realized I needed to find more affordable ways to get my live-music fix, so I started volunteering at Velour. Then I found out I could get paid -- (and fed! -- working at Muse, and that was pretty much it. Muse had a different vibe than the other venues I'd been frequenting: more casual than Velour, more comfortable to me than Urban Lounge or Kilby Court. A lot of the comfort was due to the familiar faces. I've fully admitted to "creeping" on a lot of Utahns via Twitter and Facebook, months before I moved here. The majority of those people – and especially the majority of those who made me feel welcome here -- were Provo locals.
Debby: I joined the Muse team due to good timing. Justin and Colin were looking for someone to manage the business side of the venue in an office manager-type capacity and I was more than happy to be able to attend shows for free! And I suppose I had been spending a bit of time there since Darcie was there most of the time.
Gavin: When did you both first meet each other and become friends?
Darcie: Debby and I met through Twitter. We became friends after a lengthy conversation centralized around a complete miscommunication. We'd been acquainted based on our shared taste in music, but didn't actually meet in person until Debby decided to go to a few Neon Trees shows with me back east. We first met at the airport, when I picked her up. Looking back on it, I'm pretty relieved she didn't turn out to be some kind of psychopath.
Debby: Yeah, Darcie and I met through Twitter, of all places. We bonded over a particularly comical conversation in which we both were talking about something completely different than what we thought we were. We found that although we had very different personalities, we were of the same mind on a variety of topics. We took a concert tour/road trip through the Northeast for my birthday in 2010 and from there it developed into the close friendship that we have today. At the root of our friendship is our love for music, so it is amazing that we now own a venue/recording studio together!
Gavin: What were your thoughts on the way Justin and Colin were running the venue, and how did the idea come about to take over ownership?
Debby: We didn't have any particular thoughts about how Justin and Colin were running the venue; rather, we had ideas of what we could do as a team to improve the business. Darcie and I would talk about creative ways we could make improvements without a lot of money being spent, such as making our own sound curtains. We found ourselves becoming very passionate and had mentioned to Justin that we would be interested in possibly buying in at some point. Our timing was apparently great, as Justin and Colin invited us to buy in two weeks later.
Gavin: What was the deal you worked out with both of them, and what was the transition like switching between ownerships?
Debby: Darcie and I purchased 80% of the business and are now the managing owners. The transition has been very smooth, thanks to Justin and Colin's management style of openness to staff ideas and feedback.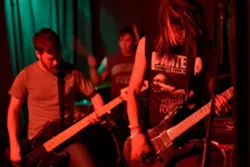 Gavin: One of the biggest changes that happened over the past year was the closure of the cafe. You've commented in other interviews that you're bringing it back. What kind of menu are you hoping to present?
Debby: We are looking to present a simple and affordable menu of hot snacks with a twist. It will be the kind of food that you can share with friends before a show or to keep you going while you study or work. We plan on launching the new menu at the end of August. Meanwhile, we have added iced tea, Red Bull and Red Bull mixed drinks to our drinks menu and will be offering an Italian soda flavor combo special each week, as well. We also just upgraded our Internet connection to be able to offer Wi-Fi to our patrons while they visit the cafe.
Gavin: To a degree, Muse is kind of an all-in-one stop for some fans, seeing how you have both a venue and studio, plus music to sell, food, art on the walls, etc. What kind of pressure does that put on you to be that kind of venue, and to almost represent the Provo scene, to a degree?
Debby: We don't think any one business can fully represent any scene. Every venue, gallery and eatery are a part of the Provo scene, as a whole. We want to be a place where talent, old or new, can be shared with the community.
Gavin: Part of your agreement with Justin and Colin leaves them with 10% ownership apiece. What kind of role will they continue to have, and what kind of work is expected to happen with the studio?
Debby: The team of owners will continue to meet on a bi-weekly basis, with Justin working mainly behind the scenes and Colin focusing on the recording studio.
Gavin: You've both pretty much handled most of the booking for 2012; now, you're both managing and booking it full-time. What kind of changes are we going to start seeing in the music, both from local and touring acts?
Darcie: I've been handling most of the booking since September of last year. It's a learning process and always will be. I'm continually developing relationships with musicians and booking agents – both locally and nationwide – in order to ensure we're offering a balance of both new and established talent, in all genres. We love the idea of more experienced artists pairing with and mentoring what we lovingly call "baby bands," musicians who have talent but haven't yet had much opportunity to perform in a public forum. We also want to help local bands foster relationships with musicians in other regions to make touring more feasible. Just in the last few months alone, we've had some great touring bands come through, really cool people with whom both the venue staff and local musicians have bonded. It's all about building a community, and there's no reason to limit that community to the confines of one region.
Gavin: Seeing how Muse is a big part of 100 Block, how is it for you to keep the venue on par with the work being done by places like Velour and Black Pyramid?
Debby: We see 100 Block as a community, with Muse being one of the pieces of that puzzle. We have high standards and will always be looking for ways to continue to support local musicians/artists and provide a variety of experiences for the community. Once a month, we host The Porch, a storytelling night. We have weekly open mic nights, we have hosted comedy as well as poetry readings, and showcase an artist's work each month in our cafe.
Gavin: Aside from some of what we've talked about, do you have any grand plans for the venue in the coming months, or any big changes you hope to bring to the venue in the next year?
Debby: We are excited to announce that we have secured Gretsch Guitars as our main sponsor for our Fall Battle of the Bands! They are helping us put together a fabulous prize package for the winning band that we think will thrill everyone.
Darcie: But the grandest plan is to rebrand Muse Music Café in its entirety. Using our venue's brick walls as inspiration, which have been signed by patrons and bands alike over the past decade, we'll be encouraging people to make their mark at Muse in some new and creative ways, which we'll be sharing soon. We're taking community involvement to the next level. I'm really excited to make Muse a place to hang out, a place to feel like part of something, a place to belong.
Gavin: Going statewide, what are your thoughts on the local music scene, both good and bad?
Darcie: Distance has made it a bit of a challenge to fully experience the music scene across the state. And while a good deal of bands from Provo travel up to Salt Lake City to play, significantly fewer travel down from SLC to Provo. (Though bands will travel to Provo from Logan or Cedar City). There's a misconception that Provo is only for indie/folk bands, and that needs to be amended. There's a little bit of everything here: rap, metal, punk, electronica, rock, and yeah, indie and folk too.
Gavin: Is there anything you believe could be done to make it more prominent?
Darcie: I think the key to getting more bands to travel from other parts of the state is getting them to realize that performing is just as much – or more -- about exposure than profit. Unless you're playing a bar, you're not likely to make even enough money to cover the fuel it cost you to travel. But this is Utah: 62.2% of residents are LDS (according to the Salt Lake Tribune, April 15, 2012), so the majority of them may not frequent bars. There's also a lot of colleges in this state, which means a lot of underage students. Playing all-ages venues like Muse is one of the best ways to get your name out there. It's more effective than advertising, and I'm sure more fun, too.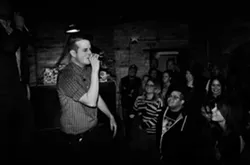 Gavin: Who are your favorite acts in the scene right now, from any genre?
Debby: Some of the local bands I am currently enjoying are Pale Rooster, M.A.D., Eli Whitney, Eidola, and from Salt Lake, The Suicycles. I also really like the collaborations that Apt/Lewis have created with local musicians such as Cody Rigby, Scott Shepard, John-Ross Boyce and Jack Mergist.
Darcie: My two favorite Salt Lake bands right now are The Suicycles and The Weekenders. I am really loving the emerging rock scene in Provo -- bands like Eidola, Regal Beast, BB Gun, and Pale Rooster are really getting back to the roots of rock & roll. Despite Despair has opened my mind to hardcore music, a genre previously beyond my grasp. Chance Lewis, Apt, and Yze did the same thing for me with hip-hop. My tastes in music have grown so exponentially since I moved to Utah, it'd be impossible to list everyone. But I love that my MP3 player has more local music on it than anything else. I love that I'm more excited to hear an Eli Whitney track come up on shuffle mode than, say, Chris Cornell.
Gavin: What can we expect from both yourselves and Muse Music over the rest of this year?
Debby: Expect to see me working the door and soundboard at a lot of shows. My schedule currently allows me to be present for most shows, while Darcie is still juggling a full-time position elsewhere with her Muse responsibilities. I am working on a way to share my knowledge base with local musicians who are looking to expand their skillset to include promotion, marketing and merchandising.
Darcie: As a venue, we are planning on filling out our staff with interns to help with promotions, sound and behind the scenes in the office. We are also currently recruiting for our volunteer program; volunteers will provide door support during shows and for every three shows they work, they will get two tickets to a show of their choosing.
Gavin: Is there anything you'd like to promote or plug?
Darcie: August 9-11, we have the honor of co-hosting Fusion Fest, a multi-genre festival featuring local musicians and artists. Profits will be going to The Provo Bicycle Collective and Artists For Local Agriculture (AFLA). A $10 wristband gets you into three days worth of shows, with too many artists to list here. We're still looking for sponsors, so if any local businesses are interested in getting involved, they should send an e-mail to fusionfestutah@gmail.com.



| | | | |
| --- | --- | --- | --- |
| Follow Gavin's Underground: | | | |