Boardwalk Pizza and The Secret Handshake join forces to improve on a culinary masterpiece.
I'm always impressed with a solid invention. I'm not talking about original inventions, I'm talking about elevating everyday crap to the next level. You see, we humans have a long history of scratching our noggins and saying, "Okay this is nice but can we make it better?"--- For example:
- Hate sitting up to play video games? We got this.
- Sick of putting on socks in the morning? Done.
- Wanna move your luggage while looking like a mobile penis? Voila!
However, I'm a firm believer that our greatest achievements are in the culinary field. When multiple foods form into one solid vision I'm always impressed. I've actually written about makeshift food mash-ups before and I like to think of myself as somewhat of an expert. So, when I saw a video a couple of weeks ago that featured pizza and burgers fused into one gluttonous concoction, I was more than inspired.
Hey, funny guy, you can't order burgers at a pizza place. Whaaa?!
This franken-pizza is designed and perfected by Pizza Hut Middle East and is, without a doubt, awe-inspiring. The only problem is that currently Pizza Hut has no plans for it to ever touch American soil. This is heartbreaking. I've been to the UAE before and they really do have the food game on lock. They have flavors you wouldn't even imagine. I guess it only makes sense that Pizza Hut would debut something this good, so ridiculously far away. So, what do you do when you realize you'll never taste a Crown Crust Burger Pizza? Damn it, you take matters into your own hands.
When I saw the Crown Crust Pizza for the first time, I knew I needed to have it. I made a solemn vow: That one day, somehow, a pizza of this caliber would pay a visit to my mouth. But since I'm not going to Dubai anytime soon and I can barely make cereal, I knew I couldn't do it alone. After all, it probably took those Middle-Eastern pizza scientists years to perfect the Crown Crust Burger Pizza. In order to make this dream a reality I made a phone call to my buddy Kyle Kafentzis, owner of Boardwalk Pizza & Pasta, to see if he were interested in joining my quest…
Kyle: You're saying you want to add burgers to the outside of a pizza?
Me: Yes.
Kyle: Hmm ... OK, let's do this.
Kyle and his brother opened Boardwalk in Sandy roughly a year and a half ago and have recently debuted a new location (2148 S. 900 East) only a few blocks from my spot in Sugar House. This was to be our laboratory. When I met up with Kyle last Thursday, we immediately started discussing the game plan. Both of us agreed that the Crown Crust Pizza looked good, but we felt some major adjustments needed to be made. It had to be big enough for the average hungry American, but not too big that it wouldn't fit on a standard pizza tray. It had to be functional and not turn into a giant mess; this meant getting rid of that giant salad in the middle. Also, we wanted it to have plenty of options so that no two pizzas would ever be the same. To do this, we decided to let it come with whatever toppings your heart desires. But most importantly, it had to be tasty. We knew it wasn't going to be easy:
Like a pro, Kyle had already cooked up the burger patties before I arrived.
Our first attempt was too small -- the dough on the outside couldn't withstand a burger. Plus, it was taking too long to make.
It turned into a waiting pie.
Jackpot. Kyle invented a burger-mold cutter from a Tupperware lid.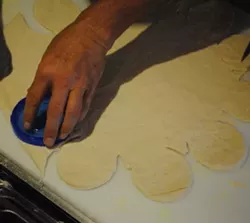 Dough can be an unforgiving bitch, but it was all coming together nicely.
Kyle carefully pulled it out of the oven and it was clear that the burger-pizza was mathematically sound. I was speechless.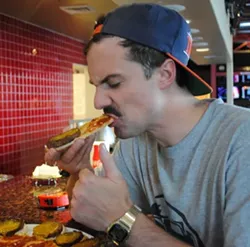 It sure as hell tastes like America; with every bite you can almost taste eagles and handguns.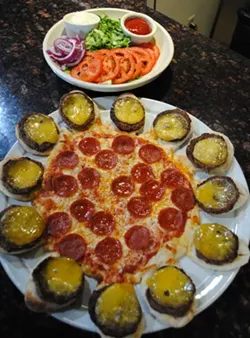 Kyle proudly stated, "I have a dream, a dream that one day pizza and burgers would one day be equal."
After sampling this bad boy, we decided that something this delicious had to have a worthy name. We bounced a few ideas around and eventually ended up with an appropriate title: We called it the Secret Handshake Burgizza (I also wanted to call it the Pizzurger, but oh well). Though the concept was spawned in the Middle East, the Burgizza is distinctly American, and like true Americans, Kyle and I immediately figured out a way to eat it like sandwich.
For optimum flavor crossover, we suggest the sandwich fold.
OK, now, I know you're excited, but there are a few things you must know about The Secret Handshake Burgizza:
1. It runs $31.95 and comes with your choice of three toppings and all the burger fixin's.
2. If you think that's expensive, take a breather. It feeds three hefty dudes handily. One slice and I was partially full. Plus, Boardwalk Pizza is featured in the CWStore so you can score some sweet deals on your Burgizza.
3. Eating a Burgizza is being a part of history. Word is bond.
4. The Burgizza is a limited-time off-menu item, meaning Boardwalk Pizza will only have these available till next Saturday (August 4) and they're only making 100 of 'em. So if they're out, they're out.
5. Calories: I don't know, who gives a shit?
6. It's only available at the Sugar House location and you must, I repeat you must, order in advance. Remember, you're dealing with a one-of-a-kind item and it takes time and love to prepare.
Cheers to you, Kyle. You've done Sale Lake City a huge solid and you've made this dream a reality. They say you've truly made it when a restaurant names a sandwich after you. I'm not sure what it means when it's a Burgizza, but I'll take it.
To order a Secret Handshake Burgizza, call 801-486-0636
Twitter: @WolfColin