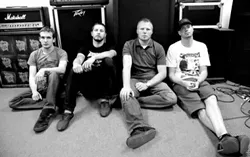 We're clearing out the rest of July and heading into August, but not before talking about some big releases for the year coming out this week. --- First up on the list is the latest from Visigoth! The heavy-metal rockers from Salt Lake City have been touring hard around the state over the past year and riding out their cool demo release Vengeance from late 2010, but rumors started earlier this year that a new album was on the way. A couple of weeks ago, we received a digital copy of their brand-new EP, Final Spell, which brings out the band's loud guitars and scorching vocals far greater than the demo. The official word was that the album was being released this month, but you can't find the album online yet. You'll just have to attend a show and ask them for a copy.
Next up is an oddity from the Web called I Was A Wave, an alternative project that feels very much on the pop/radio side of the genre, led by a band of unknowns. Well, to be fair, they sound like accomplished musicians with a lot of talent, but it seems none of them wanted to put their name to this project. In any case, they released a four-track self-titled EP a couple of weeks ago; its worth at least a listen. You can download it for a "name your price" tag on their Bandcamp page.
Moving to acoustic material, this month we get the debut full-length album from Jesus Or Genome. For those of you not familiar, this is the solo project from Loom guitarist Mike Cundick, who has been playing acoustic shows at Poplar Street for over a year now to growing crowds. Last year, he released a 7" single called The Veil Is Lifting to some positive reviews. Now, he has a full-length album online called The Book Of Michael, which is essentially his entire setlist, recorded and polished. There are very few physical copies floating around; if you want one of those you'll have to see Cundick, so for now, your best bet is buying a digital copy off Bandcamp for $7.
Next on the list is a demo album from sludge-metal band Burn Your World. These guys have been going strong for roughly two years now, mostly playing gigs around SLC. The band actually had a self-titled EP out last year that got some exposure but not a lot of attention from fans. Now, the band have released a demo album, which, if you think about it, is kinda going backward as far as releases are supposed to go. Demo 2012 has two tracks and that's about all there is to it. You can download a copy for a "name your price" tag from their Bandcamp page.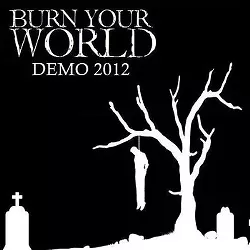 Moving on to shows, we're actually talking about one that happened yesterday from SLC rock band Settle Down. The five-piece group have been kicking ass around town for nearly a year now, a favorite of Burt's Tiki Lounge, with a sound that combines parts of metal and punk to a slower beat. The band took the time to put together a self-titled 7" and released it last night at Urban Lounge. So far there are no online copies that we could find, so you'll have to snag a physical one from them. The next couple of shows the band has coming up are August 10 for Fusion Fest and then playing with Yob and Norska at Burt's on September 8. Oh, and it was guitarist Eric Rose's birthday bash yesterday -- be sure to send him belated good wishes.
For shows happening the rest of the month, first up is the debut album from Provo alt-indie band The Arcadians. We already chatted about this group briefly when I went down to Provo last month for Velour's Battle Of The Bands, where they took home top honors in the competition as the summer champs. The four-piece group made up of Matt Orr, James McIntyre, Clark Wiesenberg and KC Hooker have been plugging around Provo for a while now, first under the name Friends & Friends for roughly a year before switching over to the new moniker. Now, the group have put together this full-length album, She Smiles In Monotone, which from the previews sounds a lot more upbeat and rocking than their Velour showcase gave them credit for being. It's worth at least a listen, and fans of the genre will enjoy the vocal arrangement along with the catchy drumming. You can catch the band at Velour for their release show tomorrow night, along with Mad Diving Barons, Brady Parks & The IndiAnna and Lady & Gen;. just $6, starting at 8 p.m.
Meanwhile, we'll see the long-awaited release from The Pleasure Thieves. Some (schmuck) writer colleague put together an article on the band in this week's CW issue, which I highly recommend reading, so I won't try to simplify the history of the band or how good the album is. Just go read the article and then head to Urban Lounge on Saturday to catch the band for the release show for their debut full-length album The Empire Never Ended, where they'll be playing with Nautical Sons and Light Black; just $5, starting at 10 p.m.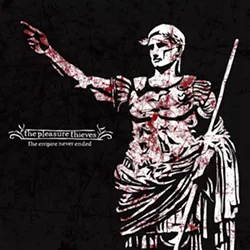 Moving off of shows and back to just releases on the horizon, one of the most anticipated albums of the year comes out on Tuesday -- the latest album from Gaza! The juggernaut hardcore band out of SLC (seen above) that's earned tons of praise across the country for their EP and and two full-length albums, not to mention dedicated touring and just being one of the best fucking bands Utah had from the last decade, have returned with a brand-new album set to be released on Black Market Activities. No Absolutes In Human Suffering marks the band's third full-length release, and the advanced copy I got shows the band not only becoming better with every release but with every single track, as you can almost hear growth from start to finish. My description won't do it justice, and even the single track floating around online titled "Mostly Hair And Bones Now" doesn't give you the full impact of this album. Just go find the thing, and while you're at it, go find their green and yellow "Jazz-like logo" T-shirt and buy it. The album officially comes out Tuesday before the band kick off a short Western U.S. tour.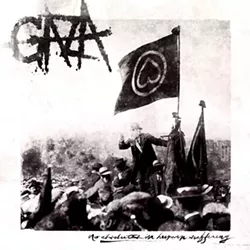 And to round out the end of the month and kick off the next, we have the latest release from South Of Ramona. The four-piece folk-rock group out of SLC have been busking around the valley for about a year and a half now; you might remember them from an interview I did for the blog back in January. At the time, they had just barely released a five-track demo and were working on getting some new works out, and they finally did it in the form of their brand-new EP, Step Inside. At the time of this being written, there's only one track available for listening on the group's Bandcamp page, but the album is due to hit iTunes (and most likely other spots) on August 1. The track itself is very light and has some nice banjo work going for it; the album is probably worth a listen once it drops this Wednesday.
Head out, love music, buy local!