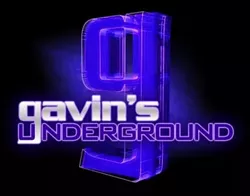 Hello to all you popcorn-eating, ticket-buying, thriller-viewing, moment-enjoying, movie-watching enthusiasts! --- Rather than focus on the big movie-going story this week, I'd like to share my own for a moment: I absolutely enjoyed the new seats over at The Broadway! I can't tell you how many years I've had the uncomfortable feeling of sinking in my seat into the ground. Sitting in those new, baby blue seats to a viewing of Moonrise Kingdom was one of the best experiences I've had at The Broadway -- next to being insulted by Dennis Hopper, but that's a story for another time. The 337 wall actually went through a couple of updates since last we spoke. This one below only lasted for five days before being replaced, but now you get to check it out.
We're going straight into events this week, and we'll kick it off with the Geek Show Movie Night taking place tomorrow night at Brewvies Cinema Pub. This month, you'll get to see Sylvester Stallone destroy the future in the best way he knows how with a double feature of Demolition Man and Judge Dredd. This month also marks two special occasions for the show, as this week was the four-year anniversary of the Geek Show Podcast, and this Sunday they'll be recording three new episodes for live audiences, starting at 1 p.m., for fans to check out, which will feature original panelist Derek Hunter before he sets off for Los Angeles to work on Adventure Time. Head on over, buy those geeks a shot and enjoy the films kicking off at 5 p.m.
The majority of the week is concert-filled with very little happening until the weekend, so if we're gonna talk concerts, we'll talk about the next Rooftop Concert Series show. On Friday, August 3, Issac Russell (formerly RuRu) will take the stage along with Book On Tape Worm and John Allred. As always, the show is completely free to attend, kicking off at 8 p.m. on top of the Provo Town Square parking terrace immediately following Provo's Gallery Stroll.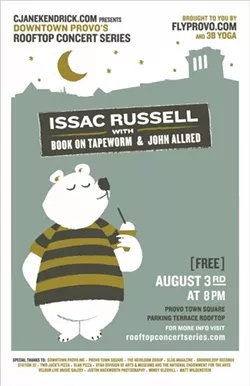 Next Saturday will be the first of Plan-B Theatre's first sneak peak and one of its more provocative plays coming down the line. Simply titled 8, a reading of the play by Dustin Lance Black (writer of the film Milk) will be shown for two days over August 4-5 as part of the Script-In-Hand series. Take advantage of this opportunity while you can, as big premieres like this tend to sell out quickly. You can check out more info about it on Plan-B's website, as well as purchase tickets via ArtTix.
Moving on to next Tuesday, the Music At Main series continues throughout August with four more performances lined up every Tuesday night at the Main Library -- local music at its finest presented in the outdoor amphitheater for all to enjoy, absolutely free! Here's a list of what you can check out during August.
Speaking of local music, we'll have more to say about this event in the blog down the line, but we need to mention Fusion Fest happening in Provo. Kicking off on Thursday, August 9, the Provo Bicycle Collective and Muse Music will be the home to a three-day festival of local sounds from all around the state. It's probably one of the cheapest festivals you'll see -- wristbands are being sold for $10, which will get you into every single show throughout the weekend. Proceeds go to benefit the collective, as well as AFLA. Check out the entire lineup below.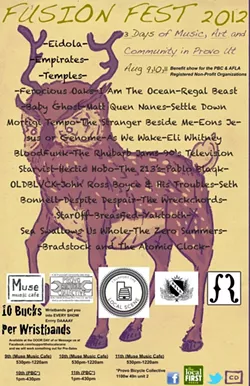 Moving on to Friday, August 10, we have a pair of events in the southern end of the state. First up will be the Festival Of Flavors. At Brian Head for two days, a dozen of the state's best breweries will converge on the Double Tree Hotel and Cedar Breaks for a weekend of competitions, tastings and entertainment. Check out the info below for more details, and be sure to head down for a drink or two.
Meanwhile, a tad northeast in the city of Torrey (look it up, it's the definition of "middle of nowhere") will be the 6th Annual Women's Red Rock Music Festival! Two days of women musicians and bands, surrounded by red rock and fresh air, will command a stage just outside of the rural community. You can find more details on their website.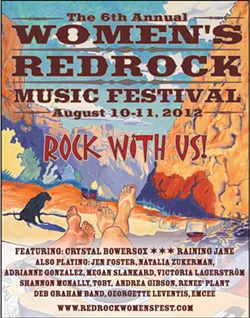 Then in two weeks is another pair of events. The first I can't elaborate on much, as SLUG Magazine is my other job (for full disclosure's sake). Craft Lake City will take over Gallivan Plaza from Noon-10 p.m. with a TON of additions and new artists. I can't say much else, but no worries, City Weekly will have you covered and will have tons of pictures for you to check out later. You can find more details of the event on their website.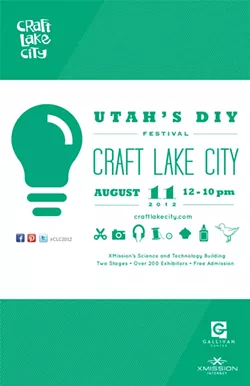 But across town later that evening, the Wasatch Roller Derby will be throwing the Summer Shovin' event, a cross promotion between its league's Hot Wheelers and the visiting Utah County gals from Happy Valley Derby Darlins. This looks like it could be one hell of a match to check out; tickets are $10 in advance and $15 at the door, starting at 7 p.m.
As for the blog: As I write this, a lot is getting switched around. I can at least tell you I'll have some concert coverage, a chat with an underground artist in Provo, some crafty cards and a festival preview. The rest is in the works as we speak, but if all comes through, there should be some interesting material lined up. As always, we'll see what happens.
| | | | |
| --- | --- | --- | --- |
| Follow Gavin's Underground: | | | |