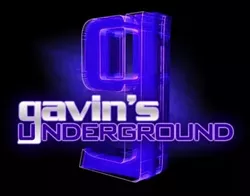 So, if you've been looking on the CW website this week, you may have read about that Pleasure Thieves album that came out over the weekend. --- If not, here's a cheap plug for that story, which you can read here. Seeing how the weekend was a mixed bag of locals playing with national touring bands, I decided this particular release show was a good one to pop in and see what else was happening.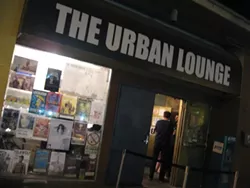 Aside from the kickass performance from the Thieves at the end of the night, what I got treated to were some very unexpected surprises from two awesome bands who haven't been around very long, Light Black and Nautical Sons. Since I've already covered Pleasure Thieves in depth, I interview the first two bands of the night for today's entry, along with over 200 photos of the entire night for you to check out in this gallery here.
Light Black (Carrie Wakefield, Josh Asher, Levi Lebo & Danielle Mariott)
Gavin: Hey, Carrie. Tell us about Light Black.
Carrie: Well, basically, we are four individuals who love music and thought it would be fun to play together. Our lineup consists of myself on bass and vocals -- from AZON, KNVZ, The Wolfs, SubRosa, and Furious Fire; Levi Lebo on guitar -- The Kill, New Transit Direction; Danielle Mariott on guitar and backup vocals, and Josh Asher on Drums -- of Nautical Sons, New Transit Direction, Accidente, Clear, and Youngblood. Actually, some of us have played in previous bands together already, although on different instruments.
Gavin: What got you interested in music, and what were your musical influences growing up?
Carrie: Well, I can only speak for myself, but I can't remember a time when I wasn't interested in music. It would probably be hard to count how many influences we have between the four of us. I like almost any style of music, as long as it's good. I grew up listening to a lot of punk, metal, hard core, classic rock, experimental noise stuff, jazz, folk, indie rock. Ya know, where does the list end when it comes to the things that have influenced your style in one way or another? I'd say a couple of my personal influences for this project are True Widow, Fever Ray and Chelsea Wolfe.
Gavin: How did you all come together to form Light Black?
Carrie: My husband, Levi, and I had been writing some kinda mellow, folk songs on acoustic guitar, as a cure for boredom, while chilling on the couch at home. We decided it would be fun to take some of those ideas, plug in and make them heavy, while keeping the vocals sort of relaxed and dreamy. That is the goal, at least. Most of my past experience singing has been for punk bands. Therefore, I have a lot of experience screaming and shouting, but "singing" is a new concept for me. Playing an instrument while singing is also a new, but fun, challenge. When we decided to form a band, we asked two of our favorite people -- Josh and Danielle -- to join in the collaboration. That is truly what it is. One person will show up with an idea and everyone adds their own thing to it. The same goes for lyrics. Danielle and Levi have written the words to several of the songs, and I love it! We all have a voice in the music.
Gavin: You've been together for roughly half a year. How has it been trying to build a following so far?

Carrie: Honestly, our main focus has been writing songs, having fun and developing a sound together. Ultimately, that is the whole point ... writing music that WE would want to listen to and, hopefully, create something that our friends will enjoy and rock out to, as well.
Gavin: You've got a couple of tracks on Bandcamp so far. Are there any plans in the works for recording an album or an EP?
Carrie: Yes! The Bandcamp recordings are pretty rough. We recorded them on Garageband as a reference for ourselves. We have more than enough material for a full-length album. Our goal is to record one this fall.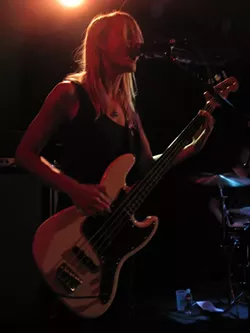 Gavin: Have you given any thought to touring yet, or will you be staying around Utah for now?
Carrie: We do not have any plans to tour any time soon. Recording and playing some local shows will be our first order of business.
Gavin: What are your thoughts on the local music scene, both good and bad?
Carrie: I think there are a lot of great musicians in town, and there have been for many years. I'm also sure that, since the time period that I started playing music here in SLC, that there is a whole new generation of musicians and bands that I may or may not have even seen yet. I would certainly hope so! I don't have any "bad" feelings about the local music scene, but I do think it would be cool if more people were forming bands and playing shows, simply because it is fun! The more the merrier! Local support is always the key to a good scene. People, MYSELF INCLUDED, have to be willing to get out of the house -- and, well, SHOW UP -- for a sense of community to thrive. Some of my favorite local acts recently played at the Doom & Gloom Festival, such as INVDRS, All Systems Fail and Eagle Twin -- heavy duty! I recently saw a new punk band called Dead Bod that was really cool, too -- high energy! I remember thinking at the show how fun it is that so many of my friends are still rocking so hard, and even though I haven't played in a band for a couple of years, it inspires me to continue to dive in to musical projects, just for the FUN of it! Whether there is a current music scene out there to embrace it ... well, that is yet to be seen. Either way, music has always been my "go to" place for entertainment, and I know I'm not alone in that.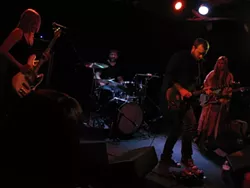 Gavin: What can we expect from you over the rest of this year, and is there anything you'd like to plug or promote?
Carrie: On August 29, we will be playing at Urban Lounge again, with Chelsea Wolfe. After those shows, we will be diving into recording the songs that we have, so we can write ourselves a whole new album. Good times.
Nautical Sons (Jake Hawley, Josh Asher, Kevin Ivers and Andrew Curruthers)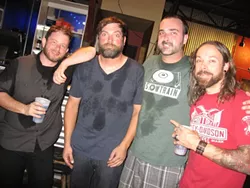 Gavin: Hey, guys. fiFst off, tell us a little about yourselves.
Jake: Aside from music, I like dogs, motorcycles, and tools.
Kevin: I'm an exceptional sleeper and I also push the envelope with my sleeping.
Gavin: What got you interested in music, and who were some of your favorite acts and musical influences growing up?
Josh: I've always loved music, which sounds a little generic but it's true. I started playing guitar out of boredom when I was 13 and it's been an addiction ever since. My favorite acts growing up were Fugazi, Lungfish, Jawbox and Bouncing Souls.
Andrew: My dad was a bluegrass musician so there were always instruments being played in the house. A friend needed a bass player for a Metallica cover band, which got me hooked on bass and the rest is history. Josh and I grew up together to similar bands but also we would listen to stuff like Sade, The Police, and U2.
Kevin: I was just drawn to the drums -- I don't remember a real "a-ha" moment. My parents were very supportive and took me to concerts and clubs all over the D.C. area.
Gavin: How did you all come together as a group to form Nautical Sons?
Kevin: We've all been friends for a long time. I've played with Josh in Skull Fuzz and Accidente, played a one-off show with Jake backing Danny Vesper, and always wanted to play with Andrew after seeing these guys play in The New Transit Direction at Kilby Court 10 years ago.
Josh: Andrew and I have been playing in projects, bands, and recording in our basements since we were 14 years old. We talked about getting another project going years after TNTD parted ways, and we approached Kevin and Jake because they are great friends and they rule! We found a practice space and it's been evolving for the last two years.
Gavin: What was it like coming together and hammering out a kind of indie-rock sound without making it sound too much like every other "indie" band?
Josh: Haha ... it's been a bit exhausting! We've been writing and scraping ideas for almost three years now and we really had to push ourselves to nail down six songs to be ready for the show this weekend. It might all be up to interpretation if we sound like other people out there. We feel like we've created something unique but people might say, "You sound like Old Transit Direction!" or maybe they will say we sound like barking spiders. In the end, we did this to hang out, drink beer and have fun writing good music together and we have accomplished that.
Gavin: You haven't been together all that long; you don't even have social network pages up. How has it been for you building a following and establishing yourselves from the start?
Jake: We set up a MySpace page and haven't done anything with it; it's kind of like having a pager.
Kevin: We are relying on word of mouth for this first show, but we are planning on recording and having something out on the Web soon.
Josh and Andrew: Do we have a following?
Gavin: Are you recording any material at this time, or are you still in the creative phase before you hit the studio?
Andrew: We are going to record at least two or three songs within the next few months to get something out there for people to download, and then shortly after that head into the studio to record a solid EP.
Gavin: Have you given any thought to touring out-of-state, or are you sticking to home for now?
Josh: I'd love to hit the road for a bit with these guys.
Jake: I'd be up for short out-of-state trips, but not really a long tour.
Kevin: Yeah, it would have to be a pretty huge opportunity if we were going to really hit the road.
Andrew: All of us have families, careers, and homes here -- we are old fuckers. I could be convinced to sleep in a van for a couple of days for old times sake, but I agree -- I'm not too interested in touring.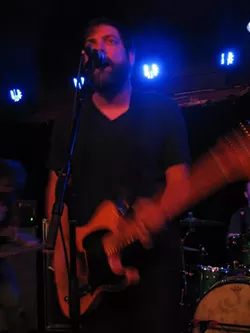 Gavin: Moving on to statewide stuff, what are your thoughts on the local music scene, both good and bad?
Kevin: Crucial Fest has been huge for our city.
Josh: Crucial Fest blows my mind! It's all good -- we have so much talent here in SLC and a great sense of community.
Jake: I don't really know much about the scene anymore. My girlfriend, Sara, helps keep me informed. She is heavily involved and always supporting people. That's the good thing about the local scene, the people involved really seem to care.
Gavin: Is there anything you believe could be done to make it more prominent?
Kevin: More festival-style collaborative efforts.
Gavin: Not including yourselves, who are your favorite acts in the scene right now?
Kevin: INVDRS and a ton of others.
Josh: There are so many amazing bands -- if I have to say one that blows me away, it would be Eagle Twin. That redhead dude that plays drums slays.
Jake: INVDRS, Eagle Twin and Tolchock Trio.
Andrew: I agree with all the above. I also think it's rad that there is a growing diversity in local music, from super-heavy to alt-country and folk and even some pretty killer hip hop. The crazy thing is that it's all damned good stuff.
Gavin: What's your opinion on the current airplay on community radio and how it affects local musicians?
Andrew: KRCL is killing it these days -- we are lucky to have such a great community radio station.
Gavin: What do you think of file sharing these days, both as musicians and a music lovers?
Kevin: I'm a fan of it. We plan on putting our own recordings out for file sharing.
Jake: Go for it!
Andrew: Let's face it, no one really makes money off CD sales anymore. We would rather have as many people hear our music as possible. The face of music has changed and there is no use in sitting around bitching about it.
Gavin: What can we expect from all of you over the rest of this year?
Josh: We will definitely be putting out a recording.
Kevin: And a few more shows.
Gavin: Is there anything you'd like to plug or promote?
Andrew: Watch Heavy Metal Parking Lot. It's a classic.



| | | | |
| --- | --- | --- | --- |
| Follow Gavin's Underground: | | | |