When you think of graffiti and pasted street art, more than likely the city of Provo doesn't come to mind. --- But that shouldn't come as a shock -- with a city full of so many street ordinances and police officers just dying to enforce them and write up tickets, it's no wonder there's little-to-no artwork anywhere in the city. But as is the standard no matter where you live, wherever there are strict rules, there's someone looking to break them.
In recent months, Provo has been seeing artwork pop up from a local artist going by the handle Leuven. The work has graced random locations throughout residential areas in the city, as well as skate parks and other community areas, showcasing both a love for the geek-esque designs and commentary on social society. Today, we chat with the elusive artist about his work, posting around town with popular designs, thoughts on local art and a few other topics.
Leuven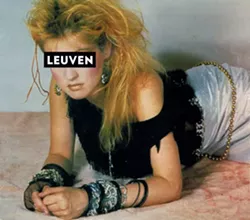 Gavin: Hey, Leuven. First off, tell us a bit about yourself.
Leuven: I love cartography, bicycling, street art and Danny Boyle movies.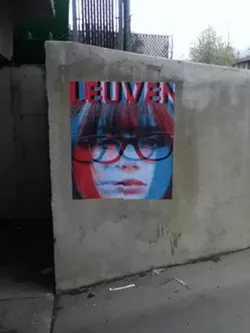 Gavin: How did you first take an interest in print works and graffiti art?
Leuven: I made a lot of stencils when I was younger. I painted some wings on the side of an abandoned wall. People would go up and stand in front of them and take pictures. I guess I liked that interaction. I liked how informal and personal it was; unlike an art gallery, where there always seems to be distance between art and the viewer. So, I kept making stencils and paintings. One piece I was working on was a multilayered stencil. The police showed up while I was waiting for a layer to dry. The judge told me "the world is not your canvas." I kind of disagree.
Gavin: Did you seek out any college in arts or are you more self-taught?
Leuven: I grew up doodling on notebooks, homework, and sometimes school desks. I don't consider myself an expert; I am still figuring things out.
Gavin: What first inspired you to start posting your works around Provo for people to see on the street?
Leuven: I was bored. After I got caught, I didn't do graffiti for a while. So when my fine was paid off, I wanted to do something a bit faster. That's when I first tried wheat pasting. You can prepare the design beforehand and then stick it on a wall when it's ready.
Gavin: How did the idea for the name Leuven come about and why did you choose it as your handle?
Leuven: Leuven is a city in Belgium. It's cool because it's mostly just a college town like Provo with an active art and music scene. I stopped by Leuven on a trip through Belgium and noticed how much the community supported graffiti and public art. I started using the name when I began wheat pasting.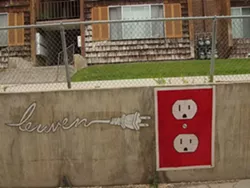 Gavin: What was it like for you learning how to post it and making sure it stayed for a while so the public could notice?
Leuven: I Googled wheat-paste recipes and just started trying it. I made some small "paste-ups" and experimented with creamier vs. thicker pastes. It was all trial and error. After I felt like I had it down, I spent a few days working on a massive typographic design. When I went to paste it up, it fell apart. I ended up having to piece together a new design out of the torn, soggy pieces.
Gavin: With the different types of artwork you can do, what's your personal -avorite medium and why?
Leuven: I love wheat-pasting sharpie-drawn designs. When the paste dries, the paper becomes part of the wall. When you run your hand across the paper, it feels like the texture of the wall.
Gavin: Is there ever a plan behind where you end up placing stuff or is it completely random?
Leuven: I usually bike around, scoping out walls or abandoned buildings around Provo. I might see a piece of concrete hiding behind bushes and try to imagine some image peeking from behind. I used to have a map sketched out of walls and utility boxes. Now, I have list of locations in my head. I like pasting on parking garages in apartment complexes because there is so much concrete. I try to frame each piece on a fitting surface.
Gavin: Much of your artwork has revolved around pop-culture items such as Facebook, cartoon characters, video games, etc. What influenced you to start using those in your art?
Leuven: Sometimes, I am trying to convey a message or concept. Other times, concept doesn't matter as much. I made a huge NES controller and posted it on a wall in a parking garage. For me, that was just an iconic image from my childhood that looked cool on a wall. I try a lot of different things; I feel like I am still exploring. You can tell a piece was painted by Blu without him having to tag it. I would love to develop a style that's recognizable, but it's too hard for me to commit to one right now.
Gavin: One of the biggest items that has caught on is the "Provo Bike" logo, which the community has really taken to heart. What inspired the logo, and what do you think of the effect it's had on the Provo scene so far?
Leuven: I was riding my bike when I looked down and saw "ovo" in the shape of the bike frame. It just clicked, so I made a design and pasted it on a wall. Later on, I pasted smaller versions of the work on utility boxes at traffic lights where both bikers and motorists could see it while they were waiting for the green. I hope if anything, it has inspired people to ride bikes.
Gavin: Have you taken any flack from the city or observers, or have you managed to avoid being a part of your work with the alias?
Leuven: A cop drove by once on center street as I was working. He had to have seen me, but he didn't pull over. I think people don't really know what I am doing when they see me.
Gavin: Knowing the city ordinances in Provo and how city officials feel about people just posting stickers, what kind of precautions do you have to take to make sure you're not nabbed and fined?
Leuven: A lot of planning goes into each piece. I try not to think too much about getting caught. I don't feel like I'm doing anything overly destructive.
Gavin: What's are the responses you've gotten from your work, and what's your reaction to that feedback?
Leuven: You're never sure what people are thinking about your work. I did a piece consisting of Jimmer Fredette with his name misspelled and the words 'Big in Japan' in Japanese characters. People seemed to like it. Overall, I receive a lot of positive feedback. I read a really angry blog post about someone wanting to cover up some of the paste-ups. I'm fine with that. I don't expect everyone to like the art. If you hate it and want to cover it up, go for it. Sometimes, I'll paste something up and it will be torn down within a couple of hours.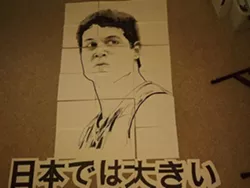 Gavin: You've primarily based yourself in Provo, but through social media, your work is starting to be seen by many involved in the Utah art community. Have you given any thought to branching out into other places, or are you simply looking to affect the city you live in?
Leuven: I used Facebook because it was fast and easy. I should do a blog, I'm just not cool enough. I have thought about moving into other cities. There are so many more spots and walls in Salt Lake City. I mostly work in Provo because I see it everyday.
Gavin: With the response you've received so far, have you given any thought to making your artwork more commercial and creating promotional items for yourself and those in the scene?
Leuven: I've been approached by some businesses who understand the influence of street art as marketing. I don't think I would want to do anything commercial. JR doesn't claim ownership over his art; I feel the same way. That's why I put it in the public. Like I said before, if people don't like it, they are free to tear it down or cover it up.
Gavin: What's the overall goal you have in mind with your works, and are there plans to use other forms of artwork as part of the displays?
Leuven: I'm not sure if I really have a goal. I just want to put art out there and maybe inspire people to do the same.
Gavin: Going more statewide, what's your take on the street art you've seen in SLC and Provo, both good and bad?
Leuven: I haven't seen very much in Provo. Every now and then a stencil pops up, or someone pastes over my stuff. That's cool. Even if it's not my taste, I like that people are creating art and putting it in the city. I love the stuff in SLC. There are some great murals. Every time I visit, I find the most perfect blank walls.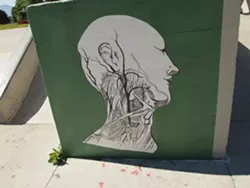 Gavin: Is there anything you believe those artists could do to showcase themselves and the art better or make themselves and it more prominent?
Leuven: I don't think I'm very prominent, but I think putting work all over your city will eventually get people to pay attention. I feel the primary goal of a street artist should be to enjoy seeing art in their community. Street art doesn't pay very well.
Gavin: What's your opinion of our art scene as a whole and the impact it has on our community?
Leuven: There is a lot of talent. It would be cool if Provo suddenly transformed into this art hub in Utah. I think the city should get more involved in promoting art. It's an investment, but I think it really pays off. I would love to see Provo get covered with street art.
Gavin: In recent years, our street art has jumped to become much more active in political and social causes. How do you see this as benefiting those causes and the art itself?
Leuven: I think when you offer people on the street something to think about, it makes the area so much more interesting. Street art can have an entertainment value. I don't think it has to be political, but it is a powerful way to make a point. It seems like people pay attention to graffiti more than they do to flyers or advertisements.
Gavin: What can we expect from you over the rest of the year?
Leuven: I guess just more street art. I really do hope to branch out to other areas besides Provo.
Gavin: Is there anything you'd like to promote or plug?
Leuven: Try doing graffiti and don't get caught.
| | | | |
| --- | --- | --- | --- |
| Follow Gavin's Underground: | | | |