Taste of the Wasatch at Solitude Mountain Resort was an overwhelming success this weekend -- to fight hunger in Utah while simultaneously making for the local food event of the year.---

The fundraiser to help "end hunger in Utah" was a bigger success than they had hoped for, said board member Lisa McCune. She gives a rough guess the day after the event that there were 1,100-1,200 in attendance -- including chefs, volunteers and staff -- to earn a whopping $15,300 at the live auction, over $15,000 at the silent auction and the collection of $90 and up for single tickets, which will collectively be donated to Utahns Against Hunger, Utah Food Band and Ogden Weber Community Action Partnership, Inc. To read CW dining critic Ted Scheffler's preview, which includes more information on the event and its evolution, go here.
To donate after the fact and for more information about the event, go to TasteoftheWasatch.org.
I sampled my way through the high-elevation menu. With nearly 50 restaurants and catering companies, needless to say, I had a swollen belly at the end of the day. But those extra pounds gained this week are for a good cause, I keep telling myself. Here are a few of my favorite dishes and scenes that I was able to capture at the event. For a full tasting menu, check this out.
Might as well start with the best -- or at least my favorite item of the day -- right? Here is Franck's French toast with pork cheek and maple
foie gras
ice cream. Dear lord, it was amazing.
Chefs serving chefs: Pallet Bistro serving bone-on bacon with stone fruit mostarda and
frisee
salad (my second favorite dish of the day)
More pork cheek, this time pork-cheek corndogs from The Farm at Canyons Resort
Aside from pork cheek, tomato-and-watermelon gazpacho were all the rage with chefs this year (and, as I remember,
last year, as well
). Blue Boar Inn pictured above.
And Empire Lodge demonstrates that the two can go together: A lamb meatball with a watermelon shooter.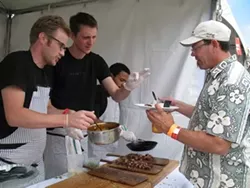 Speaking of going together, the gentlemen of Communal demonstrate teamwork by dishing up a dose of teriyaki-glazed Christiansen's Farms pork belly (aka meat candy).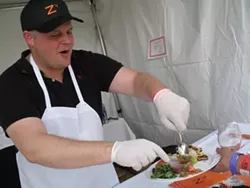 The folks at Zy Food, Wine & Cheese show that the sous vide method works exceptionally well with fruit -- even better, actually, Chef Michael (not pictured) said.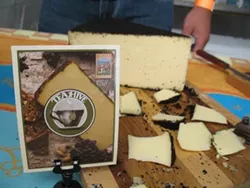 Beehive Cheese sampled some of its freshly awarded Teahive Cheese, an aged cow's-milk cheese rubbed with black tea and
bergamont
.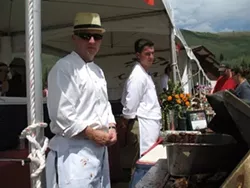 When it comes to ribs, Zane Holmquist of Stein Eriksen Lodge is always dead serious.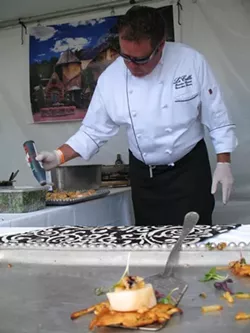 OK, so it wasn't all about pig and gazpacho at Taste of the Wasatch. La Caille made this delicious scallop, and the photo at the very top was Westgate Grill's crab cake with mango aioli.
Get it while the gettin's good: Plum Alley/Copper Onion were of several restaurants that ran through nearly 1,000 servings in a matter of two hours.
Tunes were provided by Mr. Jesse Walker.
Dessert time: Sometimes, it's not enough for chefs to cook the food -- sometimes, they have to feed their patrons.
I arrived too late to try Vinto's whiskey gelato (see, this is why you always have dessert first!), but the basil and spicy honey varieties were amazing.
A view from afar.