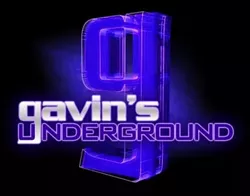 Coming up on Thursday, in the heart of downtown Provo, the Fusion Festival will kick off in one of the more unlikely venues in town. --- The Provo Bicycle Collective will play host to the event, as its owners will be working with Muse Music Cafe to bring you three days of music between the two locations, all to benefit the the collective as well as AFLA, not to mention bringing out more awareness of the local music scene.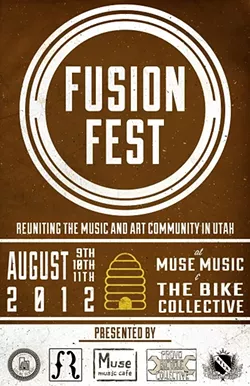 Today, I chat with one of the minds behind the PBC, Kate Chandler, about their brand-new group called I Support The Local Scene, the Collective itself, the upcoming festival, thoughts on the scene they're supporting and a few other topics. And be sure to join them starting on Thursday! (Photos courtesy of Kate Chandler.)
Kate Chandler (with Scott Manning)
I Support The Local Scene on Facebook
Gavin: Hey, Kate. First thing, tell us a little bit about yourselves.
Kate: We are a power couple on a mission to make Provo weird. I have lived here for about two years and Scott for about nine. We are both founding members of The Provo Bicycle Collective, representatives for Local First Utah's Provo Chapter, professional photographers, band managers, and full-time UVU students majoring in the fine arts with an emphasis in photography. I am also minoring in music and business.
Gavin: How did the two of you first take an interest in local entertainment, specifically in art and music?
Kate: I was involved with music and art from a young age because of Boise's great music scene, as well as my own personal endeavors in bands that I have performed with. I first realized I wanted a career to focus around it when I had a photography series called The Creeps featured in a touring art show for the West Coast that was presented at different Visual Art's Collective along with bands from the areas. Once I moved here, I realized that Provo has a lot of talent, as well, just not very many people are fully aware of it, which is why I started to get involved in the promotion aspect of it all. Scott is also a music and art lover with an instinct for marketing and a love for our community. So we decided to pool our talents and start I Support The Local Scene off with a bang, which led to Fusion Fest 2012.
Gavin: When did the two of you first meet each other and become friends?
Kate: We met at work. I was actually sent to Lindon to help train a new site for Apple's technical support. I was there with a work friend and we decided to pull names out of a jar to see who was going to work with who, and I pulled Scott's name out of the jar. We hit it off really well and I decided to accept a transfer from Idaho to Utah through the company. We fed off of each other's energy really well and realized that our relationship was a great fit. Eventually, we were able to quit our jobs with that company and focus all of our attention to things that mattered to us, like music, art and community.
Gavin: Both of you are going to Utah Valley University studying fine arts as well as business management. What made you each choose UVU and how is its program treating you?
Kate: Well, we were going to go BYU, but Scott has a beard so I guess we settled. Really, though, we weren't too picky about college, we just wanted to go. I personally love school because I'm a complete nerd and Scott is enjoying it, as well. UVU is a great school because it's pretty small. We both like having classes of about 25-30 rather than huge lecture halls. The program so far is treating us really well and is surprisingly competitive, which we like.
Gavin: What made the two of you decide to get involved with the local scene, and what specifically motivated you to start with opening The Provo Bicycle Collective?
Kate: I have always been involved with my local community, probably because growing up, my mom would get mad at me going to a grocery store when we had a local green house two blocks away. Scott and I have a lot of friends in bands, and we enjoy going to shows, so why not get involved with the local art/music scene? As far as The Provo Bicycle Collective goes, we just really like bikes and we know a lot of other people that do, as well. Zac Whitmore is the one that came up with the idea, and as soon as Scott and I heard about it we knew we had to be a part of it. The Collective has been a catalyst for everything we have wanted to do and has given us a lot of connections with the community as a whole. If it wasn't for the collective and Provo, we wouldn't be where we are today.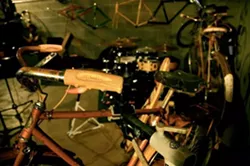 Gavin: How has the Collective worked out in Provo, and what specifically have you helped bring to the local biking community that it didn't have before?
Kate: The Collective has worked out beautifully and is growing even quicker than we were expecting. One of the benefits the Collective brings the bicycling community is the fact that it is a DIY nonprofit bike shop with professionally trained bike mechanics. So if you don't have the money to go to a local bike shop to get a tune up, you can bring your bike into the Collective. We teach people how to fix their bicycles for five dollars an hour and use our tools, that way they learn the skills they need for proper bicycle maintenance. The fact that we are a nonprofit also gives more members of the community a chance to have a safe and functional bicycle that otherwise they would not be able to afford. The Collective has also offered the community a place to host/meet for bike rides, bike-themed events, and community events. We believe that more people on bikes leads to a happy and healthy community.
Gavin: Where did the idea come from for the group I Support The Local Scene, and what's the main goal for the group?
Kate: The idea for the group came about because we felt like sometimes the music and art scene can be segregated. The idea behind this group is to give musicians of all genres, and artists and poets and so on, the chance to let their community know what is going on. There's a lot of cool shit going on in Utah County that no one really knows about it seems. A lot of times, we don't even hear about cool events until after the fact, so we figured that a place where everyone can post everything would be rad.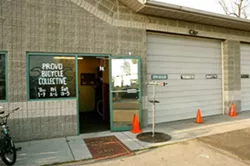 Gavin: Since starting the group, what projects have you become involved with, and how has your outreach grown toward exposing people to the scene?
Kate: Since starting the group two months ago, I Support The Local Scene was involved with promoting Crucial Fest put on by Exigent Records. Scott and I were also given the opportunity to photograph the festival through our photography company -- Cameo Photographs -- which we put on the our Facebook to help spread the word about it. We have also been cross-promoting with some venues in Idaho, as well as Project SLC. Photographing Crucial Fest really helped us out as far as exposure goes. Also, after creating the event for Fusion Fest, we have grown about 40% from our first few weeks, and the numbers keep going up.
Gavin: What made you decide to start your own festival, and where did the title Fusion Fest come from?
Kate: We decided to do our own festival for a few reasons. First of all, we were very inspired by Crucial Fest 2011 and all of the hard work the staff put into this awesome festival. So, we thought, why not bring something similar to Utah County? Secondly, running a nonprofit bike shop isn't easy in the winter. So Scott and I decided to have a festival that would benefit our bike shop, as well as a newer nonprofit called AFLA that's based out of Salt Lake City. As far as where the name came from, we decided to call it that because it is a fusion of genres of music and art.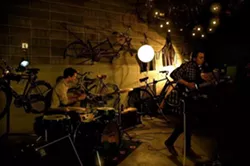 Gavin: Provo has had a history of local festivals that started strong but died off quickly; Sego Festival and Fork Fest come to mind, What made you decide to go forward with it?
Kate: We aren't the type to be swayed by poor odds. We feel like Provo is at a tipping point. The community is ready for festivals like this so we decided, why not try? As much as this Festival is for people that are attending, it is also for the musicians and artists donating their talents. Like we said before, the music scene seems to be pretty segregated, so we are hoping that by having numerous genres in one place, we can foster a mutual respect of music and community among everyone in attendance.
Gavin: What made you decide to hold the fest at both the collective and Muse Music, and how was it getting them on board?
Kate: Justin Hyatt, a co-owner of Muse Music Cafe is a bike lover and has used the Collective's services many times. We initially thought of doing the whole festival at the Collective. However, sound and space were an issue, especially if we were going to get some of the bands that we wanted. So, we decided to approach Justin and his staff about this idea and they were all for it.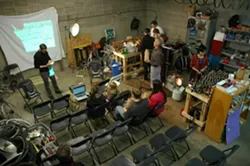 Gavin: What was the process like in choosing which bands to play over the three days, and who are some of the bands you're looking forward to the most?
Kate: The process was a long one because we wanted to be sure that we included every genre. So, we started off with a list of prominent bands and contacted them. We also created a Facebook event and a Twitter very early on in the process so that bands that wanted to play knew how to contact us. We did basic screening, as well as a first come/first serve kind of thing. We were pleasantly surprised by the amount of interest in the festival and ended up adding the extra day --Thursday -- because of it. Honestly, we are really excited to see everyone because we are pumped that they are all so willing to play. A few of the local up and comers to look out for are Eons, Yaktooth and Baby Ghosts. We are also pretty honored that Pablo Blaqk, Hectic Hobo and Jesus Or Genome are playing. But really, it's hard to pick favorites; we are looking forward to everyone and seeing so many genres in one place.
Gavin: What's the overall goal you have in mind for the group, and what do you hope to achieve with it?
Kate: As far as I Support The Local Scene goes, we just want it to be an active and busy page so that everyone know what's going on. At this point, we are just going with the flow and growing a base before we move on and grow into anything else.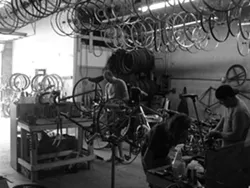 Gavin: Going statewide, what are your thoughts on the local music scene, both good and bad?
Kate: We would love to see more exposure in Utah County, as well as more hardcore shows, as that is probably our favorite genre. Statewide, Utah has some serious potential for growth because bands could hit up Ogden, Salt Lake City, and then Provo, which is something that Jesse Cassar of Loom -- and owner of the Shred Shed -- is working toward. The only thing holding that back, we think, is lack of exposure for all genres. We are hoping that Fusion Fest and I Support The Local Scene will help remedy that.
Gavin: Is there anything you believe could be done to make it more prominent?
Kate: We think that more multi-genre shows will help because it exposes people to bands that they might not take the time to listen to on their own.
Gavin: What do you think about the current state of all-ages venues in Utah, and what do you believe could be done to help them grow and prosper?
Kate: Again, just more multi-genre shows in order to keep focus on music as a whole, which would lead to more community participation.
Gavin: What's your take on local labels, and do you believe they help artists out in the long run or hinder them?
Kate: As far as labels go, it really depends on what the band is wanting. We don't have very much experience with labels, but I know that labels can be beneficial when it comes to booking tours and getting exposure, which can be good.
Gavin: What's your opinion on the current airplay on community radio and how it affects local musicians?
Kate: Radio stations like KRCL offer great exposure opportunities for bands and local events. Really, it all comes down to local musicians deciding to utilize that resource, which we think is very important. We had the opportunity to see a local band, Startvist, who is playing Fusion Fest, play live on KRCL to help promote Crucial Fest. It was great because for one, it allowed local hardcore music to be played live over the radio waves. Secondly, it allowed one local endeavor to become involved with another, which is vital aspect of local community.
Gavin: What can we expect from both of you and your projects over the rest of this year?
Kate: First of all, we do plan on making Fusion Fest an annual event. We would also like to start booking more shows in Utah County, as well as numerous bike events with the city of Provo. As far this year goes, we will remain focused on current projects, but we will also add Local First Utah into the mix. Their kickoff for the Provo Chapter is Fusion Fest, so, hopefully, by next year's Fusion Fest, Provo is even more sold than it is now.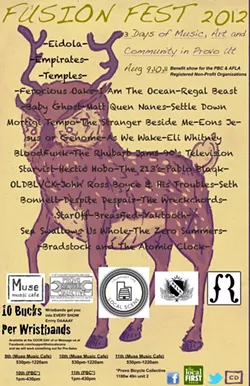 Gavin: Aside from the obvious, is there anything you'd like to plug or promote?
Kate: Not particularly. We have mentioned all of our projects on here and we do encourage people to check them all out on Facebook and feel free to contact us for any comments or suggestions!



| | | | |
| --- | --- | --- | --- |
| Follow Gavin's Underground: | | | |