While there's a great amount of business in auto mechanics and people to turn your car into the greatest multiplatform entertainment system on Earth, classic car shops are becoming harder to find. --- No matter what era we live in, there will always be a fondness for the days when a chassis and body were made of metal, and you could feel the speed and control from your feet to your fingertips -- cars, trucks and motorcycles built the way they were for decades before plastic and automation took over.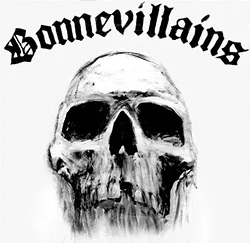 For those in SLC, and in some cases the greater part of the state, who own and care for cars of the classic era, Bonnevillians on 300 West has become a haven. The garage of experienced mechanics has become an all-in-one shop for those needing an experienced hand and knowledgeable minds to repair, rebuild or construct from scratch classic rods and trucks. And for a hint of nostalgia and class, they've even got their own barber shop in the building! Today, I chat with the three men behind the shop about starting the place up and the work they've done to give classic owners a place for their every need. (Photos courtesy of Bonnevillains.)
Dave Clemens, Fletcher Booth and Patrick Carter
Gavin: Hello, gentlemen. First thing, tell us a little bit about yourselves.
Fletcher: Bonnevillains Speed Shop is located in Bonneville, Utah, or, for shipping purposes, Salt Lake City, Utah. We specialize in refurbishing, modifying and hopping-up old automobiles and motorcycles. There are primarily three of us, Patrick Carter, David Clemens and me, Fletcher Booth.
Patrick: We just moved into our new space last December and brought in Dave from Bloody Knuckles Chop Shop to participate. He was looking for a new space and we thought it was a good fit.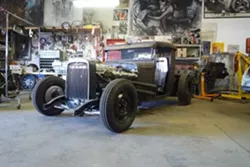 Gavin: How did each of you first take an interest in automotive mechanics, and what was your first exposure to working on a car or motorcycle?
Fletcher: My grandfather had a full decked-out garage where he restored 1955–57 Ford Thunderbirds. When my brothers and I were kids, he bought us a Ford Model T go-kart and we drove that thing into the ground; it was in constant need of repair. So, he'd make us work on it, straightening things, fixing the broken wheels, tuning, you name it. One time I drove right thru an eight-foot-tall ornamental windmill -- he made me fix that, too. All the while we were working with Snap-on hand tools so I developed a love for fine tools and making a fun vehicle work. I acquired my first actual car in 1985: a 1953 Chevy Bel Air.
Patrick: My father was a street racer back in the '60s; he raced '55, '56 and '57 Chevys. He would tell me stories about it when I was young. Needless to say, it left a pretty big impression with me.
Dave: Flangin' on old cars with my old man. His first car was a channeled Model A Roadster and the list goes on from there.
Gavin: Did any of you take any college courses or trade schools to hone your skills, or were you more hands-on and self-taught?
Fletcher: I was more hands-on. But our first intern, Steve Floor, is heading off to MMI in Arizona. Dave's gonna miss him.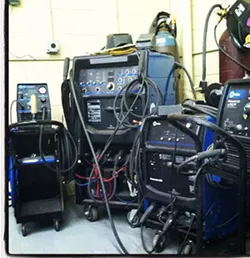 Gavin: What was the first vehicle each of you worked on and completed, and what was it about that particular one that made you want to work on it?
Patrick: A white-trash 1970 Nova SS. It had the '70s muscle car look, jacked up in the back, loud and pissed-off everyone on the road. I enjoyed that the most; pretty sad that I sold it.
Fletcher: I'd have to say my first full-fledged vehicle re-do was a 1970 Triumph Bonneville. It's such a fun motorcycle to ride and I love that feeling of driving an old vehicle that I know really well.
Dave: A jacked-up white-trash 1969 Bronco.
Gavin: Prior to the shop, what professional experience did you have in working in shops and other auto companies?
Fletcher: None, other than occasionally helping out my buddy Ross Fabin at All Things Chopped in Kansas.
Patrick: I worked in professional sweat shops in China starting at age 5 till about 12, then I stowed away in a shipping container and made it back to America. It was trying times, to say the least.
Dave: Bloody Knuckles Chop Shop for the last five years and multiple shops before then.
Gavin: How did the three of you first and eventually become friends?
Fletcher: We aren't friends.
Patrick: But I thought we were friends.
Dave: I can't stand you guys.
Gavin: When did the idea come about to start up your own shop, and where did the name come from?
Fletcher: I mostly wanted a place to work on my own stuff. And then design hot rods and motorcycles.
Patrick: We just felt like there was enough of us that had different skill sets that we wanted to bring that together. We love vintage hot rodding and the Bonneville Salt Flats is the holy temple for that automobile genre. We also live on the bed of old Lake Bonneville. So Bonnevillains was just a play on words. Most people mispronounce it and say Bonnevillians, as in people from Bonneville, just how you'd say Californians, but if you look at the spelling the A comes before the I, so it is pronounced Bonne Villains, as in the bad guys. But either way is fine with us.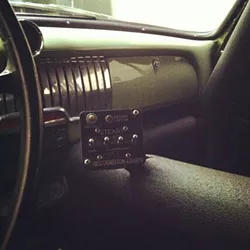 Gavin: How did you come across the spot on 300 West, and what made you decide to use it for the shop?
Fletcher: I drove by it, had a for rent sign, we just happened to be talking about needing a bigger space. The price was right and the location even better.
Patrick: And it just happened to be next door to our good friends Brimley Neon, so it was pretty much a no-brainer.
Gavin: What was the transition like in turning the building into a custom shop, and what difficulties did you have to deal with?
Patrick: It looked so sterile at first but we saw potential -- some paint/color changes, arrange things differently. But turned out it needed so many upgrades to pass code to get the license. Lots of electrical work to run the lift, welders, exit signs above the doors, needed fire extinguishers, signage and it's still not done, really. We are up to code and licensed but need so much more equipment.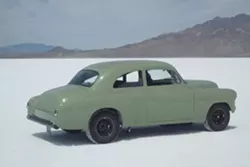 Gavin: How much difference is there between a normal autocare shop and a custom shop such as yours?
Patrick: A shop like ours is more specialized in working on older cars. We don't just fix something to work or pass; what we do is more encompassing, from body work to engine, suspension, electrical. We don't have modern diagnostic equipment.
Fletcher: We can also be selective about the projects we take on, projects that interest us.
Gavin: You opened up the place back in 2004. What were the first few months like and what was your initial exposure like to the community that owned classic cars and bikes?
Fletcher: It was slow going, at first, but I don't think we were trying to do too much too soon.
Patrick: We don't know about initial exposure, exactly; I think a lot of people heard our name and assumed we were just another car club, which we aren't; just a business.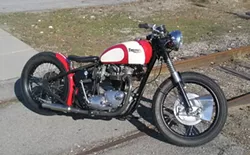 Gavin: As far as the shop goes, what kind of cars and bikes are you best at working with, and how far will you work with people to find and repair parts that people just can't locate?
Fletcher: I prefer early to mid-1950s cars and trucks because I feel I know them the best. But with all of us involved, we have a pretty broad knowledge base.
Patrick: Any old cool project if the customer has money.
Dave: We will work on pretty much anything and do whatever it takes to find the right parts for the customer.
Gavin: Since opening the shop, what's been the best thing each of you have worked on and why?
Patrick: It'd be easier to answer what's the worst thing we've worked on. Actually, we are working on a custom build that is kind of different for us, a 1971 Kawasaki F5.
Dave: Yeah, any '60s-era Cadillac.
Gavin: As a custom shop in SLC, how difficult has it been for you to keep your business going, especially with a changing economy and owners becoming hesitant to spend a lot immediately on their cars?
Patrick: Starting a business is a risk. You have to invest a lot your own money, deal with all the red tape strung out by the government, and pay them a lot of money to remove their roadblocks. It's been difficult, but we've done it all on our own, too. Contrary to popular belief, the government doesn't help build small businesses; in fact, it's quite the opposite.
Gavin: How important do you believe it is for a shop like yours to be available to the public? And what kind of service can you provide that regular shops can't?
Fletcher: The shop is about our brand, we build hot rods and bikes because of the brand, and so it's important for people to be able to visit. Even if all they can afford is a T-shirt, eventually, we want those people to be able to have the hot rod of their dreams built.
Patrick: Also, because we do have passion for these old vehicles, American steel and rubber. Because we know it could disappear. There ARE people who see old cars as symbols of why they hate America, polluting, resource-stealing objects that destroy their planet. We know this couldn't be further from the truth. You could consider us historical preservationists carrying on this American tradition. The internal-combustion engine is what has made America great. How do you think all those hippies in San Francisco get fed?
Dave: Reduce, Re-use, Recycle. What we do probably keeps one more Prius off the road and far more green in the process.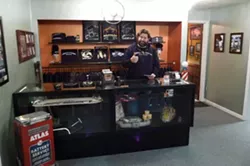 Gavin: What made you decide to open up a barber shop inside the business, and what's it like working with Braxton Brandenburg to have his business a part of yours?
Fletcher: The building has this room right in the middle with two big windows that look out into the shop. Initially, we thought that would be the office. Then we thought how cool it would be if it was a lounge or place to hang out and see what's happening in the shop without the customer coming in there; it's an employee-only area, for liability reasons.
Patrick: We wanted the shop to also be a destination for people to visit. We have a storefront where we sell our hot-rod clothing and art work by various artists like Max Grundy. So, we thought a tattoo parlor or barber shop would be kinda cool to combine with a hot-rod shop. But there's a zillion tattoo shops and it turned out our buddy Braxton was looking to open his own barber shop, so we invited him in.
Dave: It's been great having Braxton there -- makes it easy for us to make our hair-cut appointments; I get one every week.
Gavin: Most recently, you had a "Classic Rod & Cycle" show. How was it putting that together and what was the turnout like?
Fletcher: The turnout was great. Much better than I expected for our first year, and the cops didn't show up. We were, however, doing everything by the book.
Patrick: It was a lot of work because I did all of it.
Dave: Yeah, must be why Pat's wanting to do one every month.
Gavin: Are you looking to expand the business in any way in the future or are you good with things as they are now?
Patrick: We sell a bit of clothing and are always getting interest from overseas distributors. We want to expand there, push the brand further, increase our merchandise, maybe get some of our custom speed parts manufactured.
Dave: We already need more space!
Gavin: What can we expect from all of you and the shop over the rest of the year?
Dave: A lot of sweat and tears. I'm serious -- we don't have swamp cooler yet.
Patrick: We hope to do another Bonneville Classic next year. We also want to race out at Bonneville but haven't had the spare time or capital; we hope to race something next year.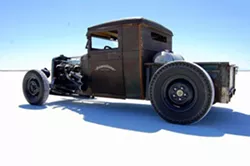 Gavin: Is there anything you'd like to promote or plug?
Dave: Us!
Fletcher: Our website.
Patrick: Our Facebook.



| | | | |
| --- | --- | --- | --- |
| Follow Gavin's Underground: | | | |