Approaching the end of the month, I've got some awesome releases I need to discuss today for the final week of August, most of it falling into all kinds of rock. --- Before I dive into heavy guitars, the first thing I need to look at is the latest from Mark Dago. Rumors are swirling about the next full-length on the way, which is most likely the second and last of the 8-bit soundtracks after the popular Killscreen LP dropped last October. To wet your appetite, Dago just put out a single called "Knightfall," a rap on Star Wars set in the key of the Nintendo version of the Empire theme from the film. I'ts free on Bandcamp and worth a listen, so you can't go wrong.
Speaking of singles, the band Riksha just put out one of their own. The band have been pretty quiet in Utah since releasing their debut EP Night Begins back in the fall of 2011, but have been active around the country as they've been touring frequently, most recently on the 2012 Devastation Tour. In the meantime, the group dropped their single "Pulling Dasies" a few weeks ago. You can snag a copy of the single from their Bandcamp page.
Moving up to EP releases, last week saw the release of the debut ambient-rock EP from Brockband. The one-man project from Woodland Hills resident Spencer Brockband was put together on a whim, and seemingly thrown up on a Bandcamp just as quickly, but the sound has some awesome noise riffs that many who love electronica will find interesting. It's worth a listen. You can download his EP, Happy Day, for a "name your price" tag off his Bandcamp page.
Switching over to releases, we've got two happening, well, tonight. The first being at Carol's Cove, where we'll see the debut release from Maverick & the Sweetheart Rebellion. This four-piece rock band started in the spring of 2011 comprised of Tyler Privett, Cameron Roper, Bill Sparks and Steve Beckmann. The Sandy-based band have been getting some early buzz with live crowds, but mainly they've been playing only occasionally due to having actual lives beyond the stage. In their spare time, they put together their first EP, Revolver, which combined alternative and Americana rock for an interesting radio-friendly sound. You can snag a copy tonight at Carol's Cove as they play with Bastard John, Blues 66 and Buzzy Bee Blues. Just $5, starting at 7 p.m.
Meanwhile over at Kilby Court, we'll see the latest release from The Direction. The Spy Hop-created band started off in the summer of 2009 as your standard put-together band with a mix of talent who were great at what they do but we're still trying to figure out their sound, something very prevalent on their 2010 debut album, From VII To IV. Since that time, they've grown up a bit and parted ways with the label, now releasing material on their own when they put out their first EP, Deal With The Devil. For this album, "growing up" is an understatement, as the band have clearly practiced like hell to become better than when they were originally formed. The mixed vocals prove to work best rather than individual efforts, which aren't necessarily bad, but you can tell they work better together. Overall, it's worth at least a listen. You can snag a copy from them, as the band plays tonight over at Kilby with Your Meteor, Lorin Madsen and Flow. Just $6, starting at 7 p.m.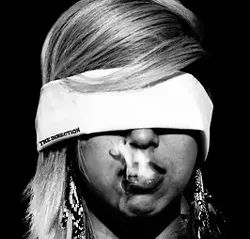 And then, the last one on our list is an official Tuesday release, as we see the sophomore album from SLC doom-metal band Eagle Twin. To say this album has been anticipated is an understatement, as loyal fans have been dying to hear a followup to their 2009 debut album, The Unkindness Of Crows. Since that time, the band have been touring in some odd locations, like the two-week tour they spent in New Zealand and Australia, where the duo of Gentry Densley and Tyler Smith (seen above, photo from Southern Lord Records) drove around both countries in a beat up van. (Hey, if you're gonna tour, you might as well be traditional about it, even down under.) On Tuesday, their second album, The Feather Tipped The Serpent's Scale, shows them moving into a much heavier and occasionally darker corner of the genre that few bands explore. Nothing horrific by most standards, but this album gets heavy and deep really fuckin' quickly. It is a must-own for metal fans. You can actually buy it now from Southern Lord both on CD and vinyl, and look for the duo to announce tour dates soon.
Head out, love music, buy local!