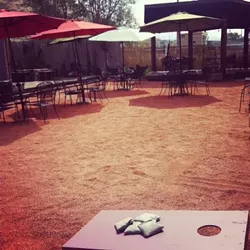 More than three months after a lawn fire consumed part of The Garage's patio and forced the restaraunt/bar to close its doors temporarily, one of the best patios in town is back. And there will be a rock concert to celebrate the reopening tonight, Aug. 24.---
For co-owner Marsha Merrill, the past few weeks have been all about construction and dealing with insurance adjusters, all during the busiest time of year for the pub -- this the aftermath of a lawn fire the morning of June 9 that spread to the patio, but stopped short of the establishment's walls. The Garage had a soft re-opening on July 4 and has been partially opened since, but the back patio wasn't accessible.
The rebuilding of the stage began Aug. 9
"It's been really difficult...but change is good," Merrill says. "It was unasked for, but it definitely gave us the opportunity to expand and modify things for, maybe, a better-flowing layout." Patrons will notice that the east wall that used to nestle against the entrance to the back bar has been pushed back 10 feet, allowing for nearly 300 square feet of extra space (pictured at the top of the blog).
"I really do want to make it known that we are so grateful for the community's support," Merrill says. "Not only from patrons, but the staff and the bands and all the business owners that have helped. It has been a seriously humbling experience." She also acknowledged Morgan Snow, who put together a fundraiser for the staff at The State Room and the Gallivan Center, which donated space and security the night after the fire to play host to blues man Andre Williams.
The Garage burning the morning of June 9.
Two CWMA winners will help light the fire to this reopening tonight (OK, that probably wasn't very funny). Spell Talk and Max Pain & The Groovies will kick things off around 9 p.m., but be sure to get there early for some killer food, like the chicken & waffles. The Garage is located at 1199 N. Beck St.
All photos courtesy of The Garage