Hello to all you eye-squinting, dim-lighting, stage-hoarding, "concert"-avoiding, it's-dark-outside-so-why-is-it-dark-inside enthusiasts! --- I know what I'm about to write won't win me many fans in the music community, but I believe this has to be pointed out. When I go to a show, I'm not just going to hear a band, I'm going to see them, and that's pretty damned difficult when every band in town asks that the lights be dimmed to that of a smoke-filled 1940s jazz club. I'm fucking tired of this trend! I don't care how hot it is, I don't care how sensitive you are to the color green, I don't care if you're afraid of how your ass will look in different light. If you're a musician and you expect to be a venue performer, you're going to need to get used to the idea of having giant lights beaming down on you for 45 minutes. If I wanted to listen to music in the dark, I'd turn on iTunes before I sleep. Give me a damned show I can watch! Anyway, here's my shot of the latest addition to the 337 Memorial Wall.
Diving into events, you may have heard that we've got this Beer Fest happening tomorrow. But do you really need me to tell you that with all these ads flying around my post? I didn't think so. So, later that day will be the Geek Show Movie Night, where the panelists will take over Brewvies Cinema Pub for a double feature that you can heckle. This month, they remind you how racist and insensitive your childhood was while you searched for treasure with The Monster Squad and The Goonies. The films are free to attend, but the booze and food aren't.
Meanwhile, CW's Bill Frost gave me shit a few weeks ago because I don't promote his events. Like he needs my help anyway, seeing how most of the stuff he hosts brings in sellout crowds (and he has it in his own postings, too). In any case, when you're done with the Geek Show, Frosty will be there with a couple of beers in his hands and a nacho plate on the way for Breaking Bad, which will air in the big theater at Brewvies. Go say hi and tell him, "Gavin says you're welcome."
Moving along, Tuesday will be the next installment of the Dr. Sketchy's Anti-Art School at The Metro. This month, the ladies will be dressing up as your favorite girl comic-book character film from the '90s. No, its not The Crow -- we're talking about Tank Girl, the film that was bold enough to dress up Ice-T up as a mutant kangaroo. Come with your best sketching pad and pens to draw characters from this 18-year-old cult-classic film.
This Friday at The Leonardo, those of you who love belly dancing are in for a treat, as Stephanie of Shimmy Studios will be holding Summer Oasis. Performing in the atrium will be over 30 performers to highlight the evolution of dances from Africa to the Middle East. Tickets are just $15.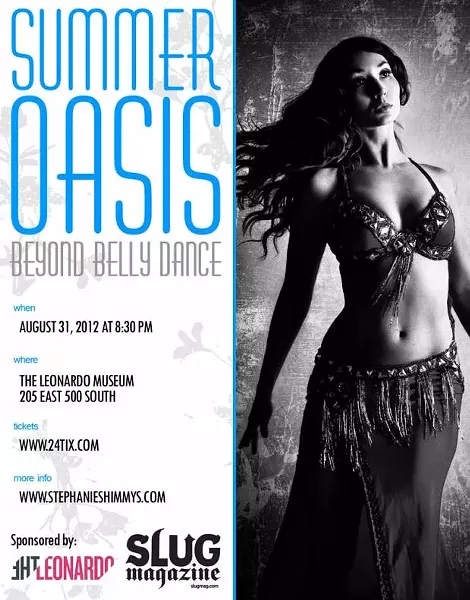 As we make our way into September, we'll kick the month off next Saturday with Salaam Festival. Working with the Farmers Market, from 9 a.m. To 1 p.m. at Pioneer Park, the festivities will include Jambo Africa Burundi Drummers, Eastern Arts with Central Asian Dances, Kenshin Taiko Japanese Drummers, Bird Show by Avian Sanctuary, Samba Fogo, Sol de Jalisco Mariachi Band and Rinceoiri Don Spraoi Irish Dancers. And hey, its free! You might wanna check it out.
After that, the following week dries up. Apparently, no one wanted to book anything awesome during Labor Day -- pussies. So, the majority of the week is a dullard until you get to Friday in Provo for the next Rooftop Concert Series. This month, the hometown favorites Fictionist will be headlining the always capacity-filled event, along with The New Electric Sound and Jenn Blosil. As always, it is completely free, so head down and see what will probably be one of their biggest shows of 2012.
Next is an event I can't speak much about (as my dayjob is with SLUG, for full disclosure), but if you're a skateboarder you might wanna look into the next Summer Of Death competition happening in two weeks. Just pointing that out.
Meanwhile, in the smaller-blocks region of SLC, the Avenues Street Fair will take over 9th Avenue with 200 booths full of artists, vendors, organizations and more and two stages of music -- all free to attend, just before the weather starts to chill for September. In fact, the ASF marks the beginning of the end for city festivals, so go check it out while the weather is still good.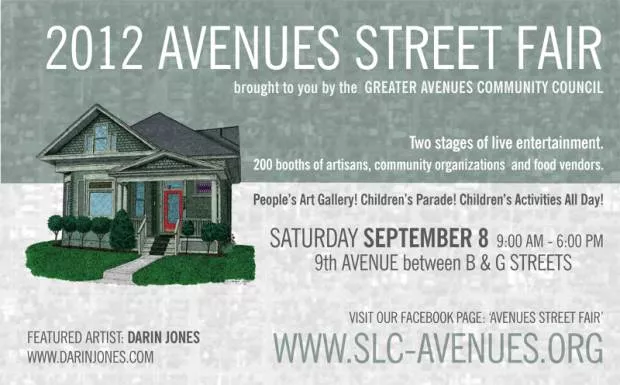 And then finally, that same evening will be the 2012 Art Meets Fashion event. This is a must-attend events that my description and even theirs doesn't do justice -- a chance to meet some of the finest in local fashion and art, as the title would suggest, along with hundreds in local media and entertainment who attend and donate money. The (a)perture Marketing event has switched to Red Butte Garden this year, which will be the nonprofit beneficiary of 100% of the proceeds from the evening. Yes, the tickets are a bit pricey for some, but trust me, this event will sell out!
As for the blog: A lot of things are up in the air right now -- there will be some concert coverage, a look at a zine coming out at an event, two different performances at the Rose Wagner, a look back at some shows and an interesting look at a specific musician and his studio. At least, that's the plan for now. As always, we'll see what happens.
| | | | |
| --- | --- | --- | --- |
| Follow Gavin's Underground: | | | |