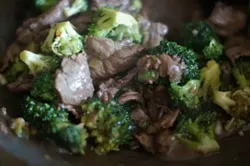 One of my family's favorite Chinese restaurant dishes is beef with broccoli. I like it, too. However, I often find the sauce to be gloppy -- probably from cornstarch overload. This recipe is a little "cleaner," I think, than typical restaurant versions, --- but still retains all the flavor.
The key to success in making this dish at home is organization. Get all your ingredients lined up and ready to go, because once you begin cooking, things happen very rapidly. The actual beef and broccoli cooks in just a matter of minutes.
Main Ingredients:
3/4 lb. boneless sirloin or beef tenderloin, sliced into very thin slices, across the grain. (Note: To cut the beef into thin slices, it helps to put the meat into the freezer for a half-hour or more beforehand, to harden it a bit.)
2 tsp. soy sauce
1/4 tsp. sugar
1/4 tsp. salt
3 Tbs. vegetable or peanut oil
1 Tbs. minced garlic
1 Tbs. minced fresh ginger
1/4 tsp. dried red-chili flakes (optional)
1 lb. broccoli florets
1/2 cup water
2-3 scallions, chopped
Sauce Ingredients:
1/4 cup beef broth, chicken broth or water
2 tsp. sesame oil
1 tsp. sugar
1 Tbs. cornstarch
1 Tbs. soy sauce
1 Tbs. Chinese cooking wine
Method:
First, make a marinade for the beef. In a bowl, mix together the 2 tsp. soy sauce, 1/4 tsp. sugar and 1/4 tsp. salt.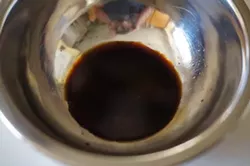 Add the beef to the bowl and stir to coat the beef. Let the beef marinade for at least 20 minutes.
While the beef is marinating, make the cooking sauce. In a small bowl, dissolve the remaining cornstarch into the soy sauce and add the cooking wine, broth or water, sugar and sesame oil. Stir or whisk to mix well.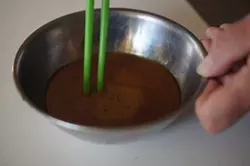 In a wok or large skillet, heat 2 Tbs. of the cooking oil over high heat until it just begins to smoke.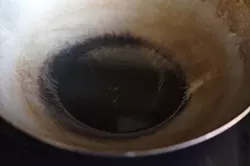 Add the beef to the wok and stir-fry until it's no longer pink. This only takes about a minute or so.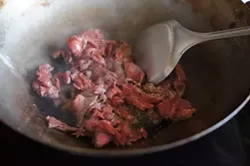 Pour the beef and juices from the wok into a bowl and set aside.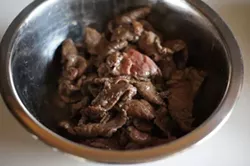 Turn the heat down to medium-high and add the remaining tablespoon of oil. Add the garlic, ginger and chili flakes and stir continually for about 30 seconds. Don't burn the garlic!
Add the broccoli and stir-fry briefly for just a minute or so.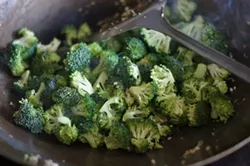 Add 1/2 cup of water to the broccoli and let it steam, stirring occasionally, for a couple of minutes until it's crisp but tender.
Next, add the beef back to the wok, along with the cooking sauce and cook, stirring, for about 2 minutes, just until the sauce has thickened a little and the beef is heated through.
Add the chopped scallions and give the beef and broccoli a quick final stir.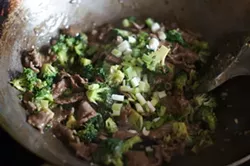 Serve the beef and broccoli with rice.The dish is pictured here with rice and potstickers.