Utah arrived in Tampa with a total of 80 in its formal delegation. This includes 25 at-large delegates, 25 alternate at-large, three from four congressional districts, three alternates from the four congressional districts, and the state party chair, national committeeman and national committeewoman. They are joined by a few dozen Utah guests, media and party workers from Utah.---
Some states dress in a uniform to represent something from their state. The Texas delegation, for instance, had wonderful shirts in the style of the state flag of the Lone Star State with big cowboy hats. Utah's uniform was primarily Sunday dress, appropriate for the state that is home to the Missionary Training Center. However, we all have cool buttons that declare that Romney/Ryan will be "Rockin' Utah."
Many of these delegates are first-timers, and others in the Utah group have been to numerous conventions. For example, Tim Bridgewater has been to five, Gordon and Carlene Walker have been to six, and Ron Fox to 10.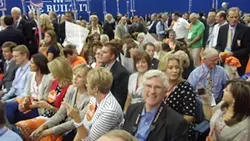 But the Utahn here with the record of the most consecutive conventions attended is Neal Blair of Holladay. Although never a delegate himself, Neal has helped work 12 national Republican conventions.
"My first one was San Francisco, 1964," says Blair, a native of Stockton, Calif. "I was active in GOP politics and was on the volunteer staff for the New York State party." Blair explains that most of the New Yorkers he worked with were fighting hard that convention to help Nelson Rockefeller.
"But I was thrilled to be there supporting Barry Goldwater, much to their chagrin," he says. Blair was in the Cow Palace when Goldwater accepted the GOP nomination and delivered the infamous lines, "I would remind you that extremism in the defense of liberty is no vice! And let me remind you also that moderation in the pursuit of justice is no virtue."
Goldwater went down in a landslide to Lyndon B. Johnson, but Blair was hooked and came back to convention after convention. He was in Miami in '68 when Nixon and Agnew were nominated, and back in Miami in '72 when Nixon was re-nominated. Blair was in Kansas City in 1976 for the contentious convention that nominated Gerald Ford and Bob Dole, and cheered Ronald Reagan on to victory in Detroit in '80 and Dallas in '84.
Blair went to New Orleans in '88 and Houston in '92 to see George H.W. Bush and Dan Quayle nominated. He was in San Diego in 1996 for Dole, and in Philadelphia in 2000 and New York City in 2004 for the second Bush and Dick Cheney. And, of course, Blair was in St. Paul for John McCain and Sarah Palin in 2008 and is here in Tampa for Mitt Romney.
When asked which one of these 12 were his favorite, Blair replies, "Not even close. This one. It has been the most exciting, with the most enthusiastic speakers, and with some really enthusiastic delegates."
Blair says that the Reagan conventions in '80 and '84 were exciting, but "nothing compared to the electricity here in Tampa. Ann Romney was the best spouse speech I've ever heard, and Paul Ryan was phenomenal."
Conventions have changed a lot since Blair's first in 1964. The days of smoke-filled rooms and wrangling for delegates on the convention floor are long gone. The conventions, while exciting, are so tightly scripted that they are more like political General Conference. There are newcomers with shorter speeches, and more senior members with larger time slots. The faithful are inspired and discord is minimized.
David Neilsen is loving the convention, too, but doesn't have the same basis of comparison as Neal Blair. Neilsen is not only one of the many first-time delegates from Utah, but also, at age 26, the youngest member of the Utah delegation.
"It's been inspiring and a little overwhelming," Neilsen says. He compares the experience to running the Ragnar Wasatch Back relay. "The convention sessions go late, we party until later, then we are up early for a breakfast meeting and the craziness continues," Neilsen says.
Neilsen was the College Republican vice chair for BYU and helped send Cougars all over the country to help Mitt in his first presidential bid. He graduated from the Y in political science, was a field coordinator for the state GOP, and is now the campaign manager for Rep. Derek Brown.
After getting involved with Mitt's second White House bid, Neilsen was approached by the Romney camp and recruited to be a delegate on the official slate. "I was really humbled and honored," Neilsen says, "especially considering all of the prominent people who wanted to be a delegate from Utah this year." He was elected one of the alternate delegates for the 4th Congressional District and is now here in Tampa.
He has been a fun, friendly addition to the group, and demonstrated great leadership by organizing Monday's service project of assembling hygiene kits. "I helped with similar projects as a missionary in Indonesia," he said, "and was happy to jump in when the party asked me to."
"This has been a once-in-a-lifetime opportunity," Neilsen says. "And my favorite part has been getting to know our state's elected officials and other delegates in a more casual setting, and seeing their fun personalities come through." Seeing Sen. Mike Lee singing "Piano Man" while Rep. Derek Brown plays the piano, or eating ice cream at midnight with Sen. Hatch are fun things for a young political junkie.
But who knows? Maybe it won't be David Neilsen's last convention. Once bitten by the bug, delegates tend to try to find their way back to the next convention. Just ask Neal Blair.
(All photos by Mike Winder)

- - - -
Mike Winder is mayor of West Valley City and former candidate for Salt Lake County mayor (he came in second to Mark Crockett in the recent GOP primary race). He also made a name for himself recently writing under the infamous pen name of Richard Burwash as a
Deseret News
writer, a lapse he hopes to atone for in his forthcoming reports from the RNC convention.