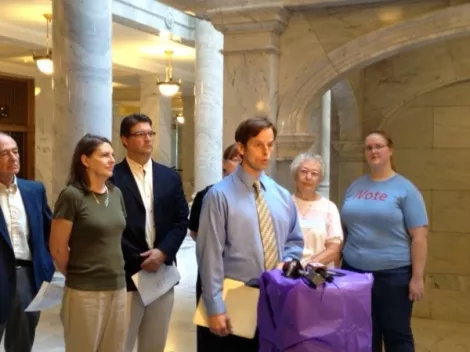 While Utah's economy muscles ahead of others in the nation, low-income advocates worry it's too soon for the state to reimpose new food-stamp restriction on low-income Utahns and have petitioned Gov. Gary Herbert to develop a jobs task force.---
On Sept. 7, poverty advocates with the Crossroads Urban Center in Salt Lake City joined religious leaders with the Coalition of Religious Communities and other groups to ask the state to reconsider reinstating time limits on how long low-income Utahns can participate in the food-stamps program without there being effective jobs programs in place. Federal policy states that able-bodied adults without dependents have to seek work after receiving three months of Supplemental Nutrition Assistance Program support, commonly known as food stamps.
Utah previously had received a federal waiver against imposing this time limit, but since Utah's economy is recovering and the state's 6 percent unemployment rate has outshined the national average, the state will be reinstating the time limit, starting October 1.
Advocates believe this will affect 18,000 Utahns, who in order to stay on the program will have to work 80 hours a month or participate in a state jobs program. For low-income advocate Bill Tibbitts, such requirements wouldn't be a cause for concern except that he and others who work with low-income Utahns say the programs are ineffective at helping their clients find actual jobs.
Lacking effective jobs programs, Tibbitts says resurrecting the time limit will just burden low-income Utahns further.
"They need help finding work, they don't need to be punished for not finding work," Tibbitts said.
According to Allyson Isom, a spokeswoman for the Governor's Office, Utah's decision not to seek the waiver is consistent with moving more unemployed Utahns toward self reliance.
"Those who can work should work, or should, at the very minimum, be trying to find a job or engaged in training and counseling activities," Isom said in an e-mailed statement. "With jobs.utah.gov and more innovative job training and placement programs than ever, [The Utah Department of Workforce Services] offers many options to assist job seekers."
Low-income advocates, however, petitioned the Governor to create a task force staffed with business, religious, nonprofit, adult education and low-income service providers to create better and more effective jobs programs. Rev. Curtis Price of the First Baptist Church of Salt Lake City helped present the petition and argued that the Governor's position was more political posturing than sound policy.
"We're just asking the Governor to replace the programs that look great on paper," Price said. "That's a great talking point when you're running for reelection, to say that, 'Hey, we're requiring people who are getting assistance from the government to work and contribute' but [current programs] don't lead to gainful employment."